How to buy left-handed golf clubs
Get it right when you go left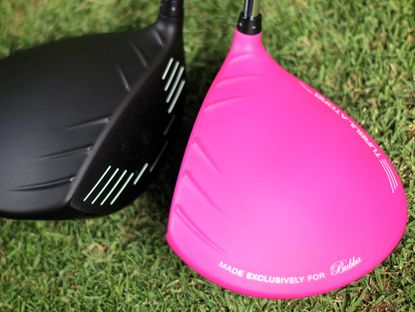 (Image credit: Picasa)
Get the Golf Monthly Newsletter
Thank you for signing up to Golf Monthly. You will receive a verification email shortly.
There was a problem. Please refresh the page and try again.
There can be limited ready availability when it comes to left-handed golf clubs, so make sure you track down the best set for you
Although 10% of the human population is left-handed, very few golfers play left-handed. Many left-handers simply find it feels more natural to play golf right handed. Others have found it easier to learn right-handed as that is what almost all instruction material presumes the golfer will be. (If you wish to learn left-handed, a good instruction book for lefties is On the Other Hand by Steve Anderson, although it can be hard to get hold of a copy as it has been out of print for a while).
Natural left-handers who golf right-handed include Greg Norman, Johnny Miller, Nick Price and Curtis Strange. Conversely only four men have won Majors playing left-handed and three of them - Bob Charles, Mike Weir and Phil 'Lefty' Mickelson - are natural right-handers. Bubba Watson is the only natural leftie to have won a Major left handed.
So if you are naturally left-handed and thinking of taking up golf, you may find it more natural to set up right handed. The trick is, apparently, to look down upon a golf ball, and envisage which direction you would find it easier to hit it in - to your left or you right. If you are unsure, phone the local driving range to check they have some left-handed clubs for hire as well as right, and go down and have a session using both left and right-handed clubs to see which way round you feel more comfortable playing.
Some people even putt different-handed to how they drive. A three-handicapper at a club I was member did everything left-handed on the course until it came to putting, which he did right-handed. This method worked for him - as the club's honours boards testify.
If left-handed is for you, there are plenty of left-handed clubs produced - about 70% of all club models are also manufactured in a left-handed version. However most stores have a narrow range in stock, so hunting them down can be a problem. Whereas right-handers can normally walk into a golf shop and have plenty of clubs to choose from and to try out, left-handers have a more limited choice at point of sale.
But one store where this is not a problem is Left Handed Golf at Silvermere Golf Club in Surrey. As well as a wide range of on-the-shelf stock and demo sets, it also does custom fitting tailored to the leftie.
Otherwise read up on the equipment reviews in publications such as Golf Monthly to get an idea of what clubs you may wish to explore, and then it can simply be a question of phoning round to see who has them in stock - or indeed if that manufacturer does make them in a left-handed version.
But manufacturers vary as to how many left-handed models they produce. As a rough rule of thumb, Japanese companies tend to produce only a few. Being left-handed in Japan is considered unlucky, and as so few play golf right-handed.
But Ping makes every one of its models in both right and left-handed styles. Popular myth has it that this was because Ping's founder, Karsten Solheim was left-handed. But he wasn't. However the CEO of Acushnet Wally Uihlein is left handed, and Titleist manufactures at least 90% of their clubs in left-handed versions, as does Callaway and Cobra. TaylorMade and Wilson produce around 85% of their models in left-handed versions.
However not all models are necessarily available in Europe, as North America has a greater predominance of left-handed players than Europe. This is ascribed to the influence of youngsters playing ice hockey, which has made them more comfortable playing golf with their right shoulder nearest the target.
Also ladies are not particularly well served with left-handed clubs, with around a third of models only produced in left-handed styles. Ping, Callaway and Cobra lead the way in variety of choice for leftie ladies.
When considering purchasing left-handed clubs, Terry Sims, Director of Left Handed Golf advises: "Purchase from a retailer who presents a wide choice of product. Enquire as to what demo clubs they have before you book a fitting or travel anywhere and if possible always get your clubs custom-fitted from a qualified PGA professional club fitter."
Get the Golf Monthly Newsletter
Tips on how to play better, latest equipment reviews, interviews with the biggest names and more.
Contributing Writer Golf courses and travel are Roderick's particular interests and he was contributing editor for the first few years of the Golf Monthly Travel Supplement. He writes travel articles and general features for the magazine, travel supplement and website. He also compiles the magazine's crossword. He is a member of Trevose Golf & Country Club and has played golf in around two dozen countries. Cricket is his other main sporting love. He is the author of five books, four of which are still in print: The Novel Life of PG Wodehouse; The Don: Beyond Boundaries; Wally Hammond: Gentleman & Player and England's Greatest Post-War All Rounder.