The Big Interview: Jamie Spence, Team GB's Olympic Golf Captain
The Senior Tour player talks about leading Team GB's Olympic golf effort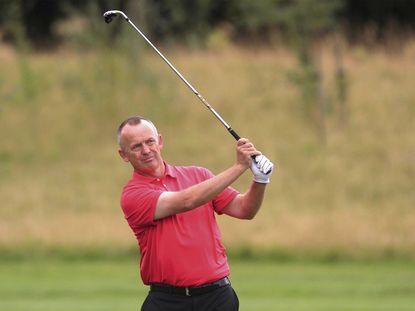 (Image credit: Getty Images)
The Senior Tour player talks to Anthony Rushmer about his busy 2016, where he'll lead Team GB's Olympic golf effort and help out at the Ryder Cup
How does team composition work in the Olympics?
It's picked through the Olympic golf rankings – they run alongside the world rankings, really. If you are in the top 15 of the world rankings, you will qualify – but there is a proviso. There's a maximum of four per country. So if the top 15 on the men's rankings are all American, it's only the top four who will play. After that, it goes down the list and – if you are not in the top 15 – you have a maximum of two players.
Could GB have three players in the men's competition?
We could, yes. At the moment we have two with Justin Rose and Danny Willett. And it's possible that Paul Casey or Andy Sullivan could join them and get inside that top 15 – the points finish the Monday of Open week.
Related: Danny Willett swing sequence
And the ladies?
It has looked like Charley Hull and Catriona Matthew all the way, but Holly Clyburn has played really well and Mel Reid, as well, has had a very good winter. All the names I've mentioned are desperate to go to Rio, which is fantastic.
How did you become team leader?
It was the first job I've ever applied for! You had to send in your application saying who you were, what you'd done in golf and why you wanted to do it. Like all jobs, they came down to a shortlist and I was interviewed, which I enjoyed. I had to do a presentation and say my bit.
What have preparations entailed?
I've been to Rio for a week to have a look at the facilities, the accommodation and the golf course, which is magnificent. In my mind, I think the scoring might be quite low but the course is in really good nick. I've also gone to quite a few different seminars – at Wembley, for example – with all the other sports there. To sit in a room with people who really know what they are doing was quite eye-opening. But they are really nice people – highly motivated, driven and desperate for success. That's always great to see – some passion from people about their own sport.
Has that proved infectious for you?
I'm keen. There are quite a lot of cynics out there, but to take golf around the world using the Olympics as a platform will be fantastic. To have three Majors in the States and one in the UK doesn't cut it for me. We should be in Australia, South Africa and Japan – all around the world.
Do you think Rio will help grow the game and reach out to people who have never seen golf?
That's the idea. Golf is a huge physical and mental challenge – it just throws so many things at you. You have to be patient and resolute, you have to practise hard and you have to be physically fit.
Hearing that, golf really does sit well in the Olympics, doesn't it?
If you look at all the top players in the world, they are flexible, strong and go to the gym every day. Not only that, you have to play soft shots, touch shots, power shots, you have to spin it, you have to putt, deal with your inner demons and you have to concentrate for a good five hours. There are so many aspects to the game that it does sit well within the Olympic ideal.
You're also involved in Europe's backroom team at the Ryder Cup...
I worked for Colin Montgomerie first, then Jose Maria Olazabal, Paul McGinley and now Darren Clarke as sort of a right-hand man behind the scenes. We make it comfortable for the players, trouble shoot ahead and make sure everything works. It is a facilitating role – also a sounding board for Darren. I'll help him manage his week because it is a totally different environment. I think they'd all admit that, it's just incredibly busy.
David joined Golf Monthly in 2015 as a content editor for the magazine and regularly contributes to the website. He has worked in magazine publishing and editing since 2003. He is a keen golfer and up until recently was a member of Blackmoor Golf Club in Hampshire. He has covered various big events and tournaments for GM, the highlight of which was witnessing Tiger Woods win his 15th Major at Augusta in 2019. Email: david.taylor@futurenet.com