4 Things You Can Learn From Watching Henrik Stenson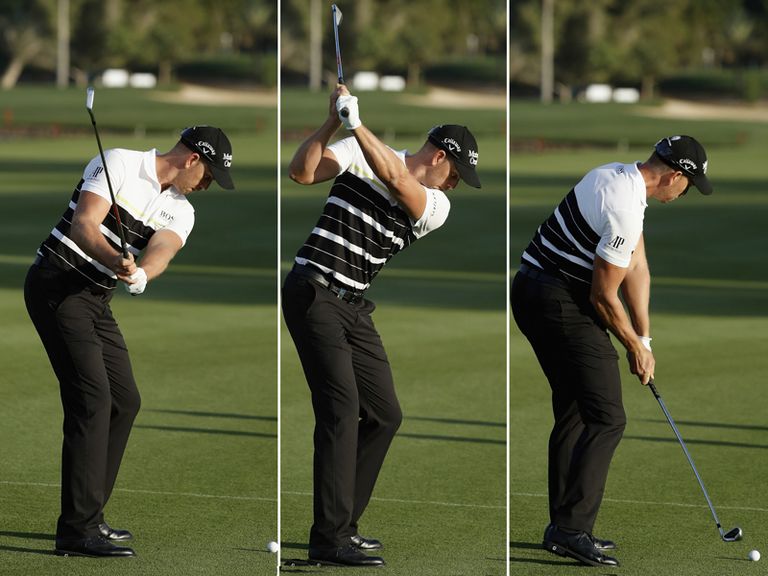 By Neil Tappin
In this exclusive feature, we take a close look at the technique of Henrik Stenson. From his transition to his unique head movement here are 4 things you can learn from watching Henrik Stenson
Henrik Stenson is one of the finest ball-strikers in the modern game. You would be forgiven for thinking that his unique blend of power and control is out of reach for the majority of 'normal' golfers. But there are some key technical points at work that you can copy no matter what your handicap. Here are 4 things you can learn from watching Henrik Stenson.
1 Shaft lean at address
In a recent interview with Golf Monthly Pete Cowen spoke of Henrik Stenson's incredible ball striking. When he makes contact, it produces a 'different sound'. There are of course many aspects to his technique that make him a great ball striker but take a look at the slow motion video below of Henrik Stenson with an iron in hand. Look at how he 'pre-sets' his impact position at address. His hands are a little ahead of the ball and the shaft is leaning back slightly. This simple element is what creates the 'pressure' Pete Cowen talks about - it helps him cover the ball through impact. With a mid-iron your angle of attack should certainly be hitting down on the ball slightly. Henrik Stenson is a master of this and the power with which he strikes down on the ball is one of the key elements to his stunning quality of ball striking.
How to get more distance - power tips for golf
2 Transition
Henrik Stenson is renowned as one of the most naturally powerful players on Tour. One of the reasons for this is the efficiency of his golf swing. There is no excess body movement and the speed of his swing builds steadily towards impact. A great move to watch, and copy, is his transition. As he changes direction from backswing to downswing, there are no fast, jerky movements. The transition is incredibly smooth – it starts with his hips (they 'bump' towards the target) and then the powerful rotation of his body leads his arms through the downswing. This is perfect synchronisation and allows him to create what looks like effortless power. If you can get the correct chain of movements from the top, you will be much more likely to hit straighter, more powerful shots.
3 Delivery position
As we have already mentioned, the sequence of movements from the top are very important to create power with accuracy. As the body rotates at the start of the downswing, notice how Henrik Stenson's hands drop straight down. The angle between his left forearm and the club shaft here is important. This is lag and as he releases the angle in his wrists through impact, he injects speed when he needs it. If you have a propensity to come 'over the top' on the way down, this should be the move to emulate. Drop your hands down as your body rotates and you'll get the club in a much more powerful delivery position.
Henrik Stenson Power Golf Tips
4 Head movement
One of the idiosyncrasies of Henrik Stenson's golf swing is that he doesn't appear to actually look at the ball through impact. This, seemingly unusual move, highlights an important aspect of a good golf swing. We produced a piece on what you can learn from watching Rickie Fowler, we talked about how his head does not lift or dip. By maintaining your spine angle, your ball striking is likely to be more consistent. However, your head can move a little from left to right to help facilitate your body rotation. More importantly perhaps, he doesn't keep his 'head down'. As his body rotates through the downswing so his head turns, following his body turn. For amateurs who have been told by their playing partners to 'keep your head down' this thought can actually restrict the way your body action flows through the ball.