Henrik Stenson Power Tips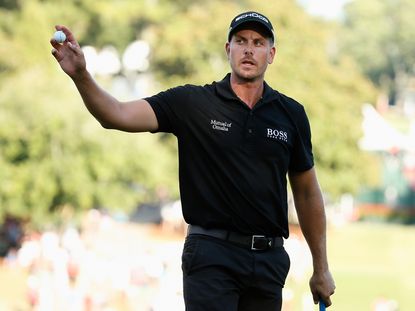 In this exclusive instruction feature, we receive Henrik Stenson power tips direct from the man himself
In this exclusive feature Henrik Stenson offers his tips for hitting the ball further.
There was an interesting stat at Doral a couple of years ago. On the 11th hole there was a big bunker in the middle of the fairway. There was fairway short and past it and so most players were laying up short. However, the stats guys looked at it and found out that the players who hit driver, even if they went in the bunker or missed the bunker and finished in the rough, they were a lot closer to the pin with their next shot. So you gained by whacking it forward rather than laying up. On a lot of courses, the closer you can get to the green the better. Obviously there are some layouts we play where they've been set up with ridiculously thick rough and firm greens where you have to come in from the fairway but in general the further, the better. That shows just how important power is in the modern game.
It's changed a lot as well. As you can see, some of the guys on Tour hit it ridiculously far. I guess I'm somewhere between the average and long hitters and I don't feel like distance is an issue for me. I may have hit it a bit further a few years ago when I was young and strong!
Technical keys
If you are leaking power through your technique then you lose speed and you are never getting optimum pressure on the golf ball. When you are swinging well and playing well you feel like you have that extra bit of clubhead speed. For instance, I did some good work on the range on the Monday of Abu Dhabi week and I felt I added 10 yards to my game just because I was swinging it much better. When you are not quite on and your timing is poor you start to try and muscle it looking for distance. That's when you start losing power. It's a misperception because the guys who hit it far, there are a lot of factors behind it but, they don't go hard at it. It doesn't look like they are throwing themselves at it and yet the ball goes far. If you have an efficient technique, you'll put a lot of pressure on the golf ball and that's essential.
Launch numbers
Power is about pressurising the golf ball in the right way because you have to have the right launch angle and spin to optimise your distance. Amateurs can be very strong – a rugby player or hockey player – and they go at it but they put so much of the wrong spin on the ball that they are never going to get the most from it. So you are never going to be long just because you have big biceps. Getting the right loft, shaft and playing the right golf ball will all help you pick up quite a lot of distance. For me the right launch is spin at 2200 to 2300 rpm and the launch angle is around 12 degrees.
Henrik Stenson Power Tips
My coach, Pete Cowen, uses an analogy of a carousel. As it swings the centre is going the same speed as the outside but if the middle stops the outside wraps immensely. As your arms are coming down underneath your body, if you are in position, then the club will accelerate and in a way you are stopping to accelerate. If you just keep on moving at the same pace you are never going to get that whip effect. Its not easy for me to communicate the message here but at least it's something for you to think about. I know from my own experience that when I'm not swing too well I'm pulling too hard and then you are moving everything at the same time. When you get it right, it's as if your body holds and as a result your arms speed up at the bottom of the swing. That's why it feels easy when you are swinging well and you have that extra power available to you.
Kill your slice
Many amateurs lose power through their slice. I'm not saying you can't hit a strong fade and get it out there but the guys who do that don't hit across the ball too much. Someone like Martin Kaymer, he gets it out there with a fade and Bubba too. To help kill your slice, in general, you want to think about where the lowest point in your swing arc is and tee the ball up a little ahead of that. If you set up with the ball in that position it should encourage you not to chop across it. You also need to stay centred and swing your arms underneath your sternum through impact. If you can do that, you'll hit the ball slightly on the up and get the launch you are looking for. I think it's a misperception as people try to force power out of the swing. The sequence of the movement is lost here and that's where a lot of players struggle. It is easy to start moving with the body and then you chop across it.
Swing, don't hit
Every person who plays has some ability to swing the club but what happens is that players try to hit it and by that I mean they lift the club up and drop it down on the ball. If you told someone to throw a club out onto the driving range no-one would pick up the club and throw it straight down at the ground, they'd release in the way you're looking for in the golf swing. But when the ball is on the ground people often hit down instead of swinging through. So now you know that when I'm throwing a club its not in anger, it's because I'm working on my release!
What's In The Bag?
Driver: Callaway Big Bertha 815
3-wood: Callaway Octane
4-wood: Callaway X Hot
2-iron: Callaway X Tour
Irons: Callaway Legacy Black (4-PW)
Wedges: Callaway Mac Daddy 2
Putter: Odyssey Works Versa 2-Ball
Ball: Titleist Pro V1x
In his current role, Neil is responsible for testing drivers and golf balls. Having been a part of the Golf Monthly team for over 15 years and playing off a handicap of 3, he has the experience to compare performance between models, brands and generations. For 2022 he thinks the main trend in drivers is: "In a word, consistency. Whilst all the brands are talking about ball speed (and the new drivers are certainly long), my biggest finding has been how much more consistent the ball flights are. Mishits don't seem to be causing the same level of drop-off or increase in the spin numbers. This means that more shots seem to be flying the way you want them to!" As far as golf balls are concerned the biggest development is in the, "three piece, non-Tour, urethane-covered section. For regular golfers, these models offer superb performance at both ends of the bag without denting your wallet quite as much as the premium Tour-played options."
Originally working with the best coaches in the UK to produce instruction content, he is now the brand's Digital Editor and covers everything from Tour player interviews to gear reviews. In his time at Golf Monthly, he has covered equipment launches that date back well over a decade. He clearly remembers the launch of the Callaway and Nike square drivers as well as the white TaylorMade driver families, such as the RocketBallz! If you take a look at the Golf Monthly YouTube channel, you'll see his equipment videos dating back over a decade! He has also conducted 'What's In The Bag' interviews with many of the game's best players like Rory McIlroy, Dustin Johnson and Jon Rahm. Over the years, Neil has tested a vast array of products in each category and at drastically different price-points.

Neil is currently playing: Driver: TaylorMade Stealth Plus Fairway Wood: Titleist TSR2 Hybrid: Titleist TS3 Irons (4-9): Mizuno JPX 919 Forged Wedges: Titleist Vokey SM7 46˚, 50˚, 54˚, 60˚ Putter: Odyssey Triple Track Ten Ball: Titleist Pro V1X