Thomas Bjorn, Denmark's Most Successful Golfer
Thomas Bjorn, Denmark's most prolific golfer, talks about his career, the strength of Danish golf and the success of the Made in Denmark European tour event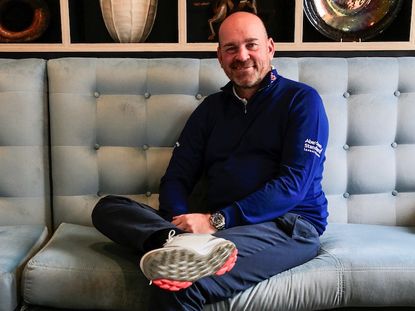 (Image credit: Kevin Murray)
Thomas Bjorn, Denmark's most prolific golfer, talks about his career, the strength of Danish golf and the success of the Made in Denmark European tour event
Thomas Bjorn, Denmark's Most Successful Golfer
Denmark is a small country about a fifth of the size of the UK, with a population of around 5.7 million and around 200 golf courses. Golf can be a year-round sport in this southern part of Scandinavia, but until pretty recently, Danish players on the European Tour were few and far between. One man who changed all that and helped pave the way for others is, of course, Thomas Bjorn, who arrived on tour in 1996 after winning three times on the Challenge Tour in 1995 to top the rankings.
The years since then have brought considerably more highs than lows. Bjorn wasted little time in becoming the first Dane to win a European Tour event when he landed the 1996 Loch Lomond World Invitational, and not much more in becoming the first Dane to play in the Ryder Cup, when he qualified for Seve's winning team at Valderrama in 1997. Two more Ryder Cup appearances would follow, along with 14 more European Tour victories and over €20 million in prize money. This year, he creates another Danish first when he captains the European Ryder Cup side in Paris.
Bjorn has undoubtedly been a trailblazer for Danish golf, but when I meet up with him on a sponsor's day with shoe brand Ecco at The Wisley, he plays down the notion. "Yes, there's no doubt that hitting that 8-iron into the 18th at Loch Lomond and winning that tour event changed a lot of things for Danish golf. It broke down barriers, it broke down thoughts, so from that perspective there was a lot of change," he agrees.
"But the guys that went before me broke down a lot of barriers too. They brought golf in Denmark to a platform I could then step on to and take the steps I did. They paved the way from somewhere down in the basement to a level where it was possible to achieve things. It's not just my doing – it's doings over a lot of years by a lot of people."
That said, Bjorn's success certainly encouraged his compatriots to believe they too might have what it takes. Ten Danish players have now won on the European Tour, and while none has yet matched Bjorn's achievements, the likes of Thorbjorn Olesen may one day run him close. "It was a case of, 'If we want more good players coming through, then we have to win'," Bjorn continues.
"It's not okay just to be out there and play good golf – you've got to win golf tournaments. The generation that came after has lived that and become quite successful, but I think that's just a natural part of the development of a sport in a small country. I wouldn't say that I was their only idol, but they looked up to me and used me as a benchmark for where they wanted to get to."
If Bjorn has been a benchmark for the Danish golfers who followed, who were his role models and sources of inspiration? With no Danish tour winners and few tour pros pre-Bjorn, I assume he may have looked further afield, but he actually started much closer to home. "When you're a kid at a golf club, you live in a world of believing in what's there - that group above you at the club," he replies.
"My brother played Eisenhower Trophy for Denmark in 1988 and we probably had one of the best club teams in the country, so I had that group and that's who you look up to. You make it into that group, and then it's the guys in the national team. And when you become a little bit older and make it there, you start looking beyond. I realised very quickly that as much as the Danish professionals were good players and guys I looked up to as an amateur, my ambitions were driving me further on."
With eyes set on the tour and dreams of unprecedented Danish success firmly on his mind, Bjorn turned elsewhere for a role model to spur him on to greater things. Seve perhaps, I ponder, but it transpires to be someone at the opposite end of the charisma and flair scale – someone who epitomised more than anyone what could be achieved through hard work and sheer dedication.
"Nick Faldo was one of my big idols growing up," Bjorn tells me. "I loved the way he played the game. Seve had that completely different mentality, but Nick was my big, big hero. That drive he had to be the best, to perfect the golf swing and perfect everything he did was something that attracted me quite a lot. That was something I knew had to change the day I turned pro. I had to change the way I practised, I had to change the way I did things, and I did."
Bjorn's earliest days in the game were spent hanging around his parents' golf bags as a toddler at his home club of Silkeborg Ry where this year's Made in Denmark event takes place, and the Dane paints a picture of a more family-oriented environment than is typically the case over here. "On the weekend it was very much a way of life that my parents went to play and we just got left at the golf club," he explains. "There were people in the kitchen and so on who almost became a part of our upbringing and kind of looked after us.
When my parents were out on the course we were always looked after and told what we could and couldn't do. Then as you grow up, you start hitting golf balls, then you start playing with your friends. It was that kind of environment, so the golf club became my second home."
So is this more family-friendly golf experience common throughout Denmark? "Yes, I think it is," he nods. "I think that's a kind of Scandinavian model. People often ask me why Sweden has produced so many good golfers, why a breed of Danish golfers became good, and I think it comes a little bit from that kind of environment – you go and play golf in your jeans, your shorts and your tee-shirt and it's okay. It's just very down to earth."
I ask Bjorn if golf in Denmark has grown since he made it big, and while he firmly believes it has, he's more interested in the bigger picture. "We shout and scream about how we have to grow the game and get more people involved, but I don't necessarily think we've got to do that in this part of the world – that's going to find a healthy place," he reasons.
"I think we've got to grow the game on a worldwide scale. This wonderful game needs to grow in so many other countries if you want golf to have the stature of being a truly global game. It's massively important that we should look towards that. If it grows by 1,000 people in Denmark in 2019, I don't think that's massively important for the game, but if it grows by 500,000 in China, then that is massively important."
This shouldn't be taken to mean that Bjorn isn't interested in the game continuing to flourish at home too, but while he and the likes of Soren Kjeldsen, Soren Hansen and Anders Hansen have helped change the attitude to, and interest in, golf in Denmark, he is aware that things go in cycles and that there is more competition than ever over leisure time. "I grew up in the 1980s and we had one of the best football teams in the world as the national team," he points out by way of example.
"But that doesn't happen in Denmark very often – it comes along perhaps every 50 years, and as a small country you've got to get used to that. The Danish Golf Federation has done a wonderful job in keeping on producing players, and at the moment, we have some really, really strong girls doing well in America, and some really good guys. But there are more people inside the M25 than there are in the whole of Denmark, so you've got to put it into perspective. Danish kids, like any kids in the western world, have a million choices – why are they going to choose golf? The Federation does a good job in keeping kids and people interested, but it's not always going to be that we have that big roll call of players – it's just not part of the size of the country."
Denmark certainly has much good golf to offer, but Bjorn refuses to be drawn on the topics of best and favourite courses when we chat about the country's less-heralded reputation as a golfing destination. "Denmark is a great country to visit, and being a visiting golfer is quite easy because the courses are so close and there are a lot of good ones," he says before adding a caveat of realism. "But it's not like it's a country where we can shout and scream that it's 28˚C for nine months of the year!
"There's probably something in me that thinks, 'Why have we not succeeded in promoting Denmark as a golfing destination through the players that we've had,' but are you going to choose Denmark over Spain when Spain sounds better. I'm not so sure that in the summer time it necessarily is better, but it sounds better. That's kind of what people choose and that's the way it is."
One of those good Danish golf courses is Bjorn's home club in the heart of the country at Silkeborg Ry, ranked in the top ten in Denmark. Its stock looks set to rise further this year when it plays host to the Made in Denmark tournament in late August, a hugely successful event that has grown exponentially in stature and popularity in five short years.
Bjorn is understandably proud of his homeland's unique tour event, where fans memorably donned Thomas Bjorn masks last year to celebrate their local hero's 500th European Tour start. "It's brilliant," he enthuses. "We had a one-off event in Denmark in 2003. It was a good event, but it didn't go particularly well financially, and I kind of got dragged into thinking that maybe the event was too big for the country. But there are a team of people who have created this event, and I think what they've done well is the 'Made in Denmark' idea - making it about the country and the people of the country and focusing early on very much on the Danish players and getting everyone together to grow the event.
"It was a very clever way of doing it in such a small country. It needed to be about more than just playing 72 holes of golf and crowning a champion. It couldn't just be about that because that's not in the DNA of the country. It had to be not for the players but for the public. It had to be not for the sponsors but for the country, and the sponsors had to see the value through what it did for the country and the people. And they've succeeded. I look at that and think, 'This is an amazing achievement by a very small group of people.' It makes you very proud but it also makes you realise that we're very good at what we do when we put our hearts and minds into it."
The atmosphere on Himmerland Hill's iconic tiny par-3 16th has really captured the Danish public's imagination, so I ask what Silkeborg might have to rival that. "Any golf course should create its own history, and that is an amazing thing when you play there, but that is for there," Bjorn tells me. "Danish people are a bit like that. They'll somehow create something - that hole was created out of people just going and sitting there the first year, and it grew from that and became a 'thing'.
"The best things are not created by big grandstands and trying to create an atmosphere. It's a bit like Henman Hill. Danes and Brits have a lot in common in that we take ourselves so seriously until there comes a point where we just realise how ridiculous we are and that we do ridiculous things!"
I try to counter, tongue firmly in cheek, by saying we're not like that at all, but Bjorn is having none of it. "I've lived in England long enough to know that you are!" he laughs. Fair point, I concede!
The Ecco connection Bjorn has been a part of the Ecco golf shoe story almost from day one. We asked the Dane about his involvement with the successful brand…
Does it give you a special sense of pride being involved with a Danish brand on tour? Yes, it does, but also because of the story and being part of it from the start pretty much. When you are a small country, there are not that many things that break through to the greater part of the world, so when they do, you become very proud of it by nature. And then when you're a sportsman and you're involved with one of these companies, it makes you very proud being part of that.
What does it mean to you to see Ecco succeed on a global scale? I've been part of this story pretty much all the way from when it was just an idea that we would try and do something. To see the position they now hold in the market, that's quite an achievement in a market that is so specific. When it comes to the golf brands, they are so specific and people take themselves to golf brands – you know, 'If I'm a real golfer I can only use that, or only play with that.' I grew up with that – I grew up with having to get 'that' pair of shoes when I was 14. So to see Ecco actually break into that world and position themselves in it has been quite an amazing story.
Jeremy Ellwood has worked in the golf industry since 1993 and for Golf Monthly since 2002 when he started out as equipment editor. He is now a freelance journalist writing mainly for Golf Monthly across the whole spectrum from courses and Rules to equipment and instruction. He also edits The Golf Club Secretary Newsletter, a highly regarded trade publication for golf club secretaries and managers, and has authored or co-authored three books and written for a number of national papers including The Telegraph and The Independent. He is a senior panelist for Golf Monthly's Top 100 UK & Ireland Course Rankings and has played all of the Top 100 plus 91 of the Next 100, making him well-qualified when it comes to assessing and comparing our premier golf courses. He has now played well over 950 golf courses worldwide in 35 countries, right across the spectrum from the humblest of nine-holers in the Scottish Highlands to the very grandest of international golf resorts, but put him on a links course anywhere and he will be blissfully content.
Jezz can be contacted via Twitter - @JezzEllwoodGolf
Jeremy is currently playing...
Driver: Ping G425 LST 10.5˚ (draw setting), Mitsubishi Tensei AV Orange 55 S shaft
3 wood: Ping G425 Max 15˚ (set to flat +1), Mitsubishi Tensei AV Orange 65 S shaft
Hybrid: Ping G425 17˚, Mitsubishi Tensei CK Pro Orange 80 S shaft
Irons 3-PW: Ping i525, True Temper Dynamic Gold 105 R300 shafts
Wedges: Ping Glide 4.0 50˚ and 54˚, 12˚ bounce, True Temper Dynamic Gold 105 R300 shafts
Putter: Ping Fetch 2021 model, 33in shaft (set flat 2)
Ball: Varies but mostly now TaylorMade Tour Response