No Memberships, No Hassle: Springfield Golf Are Changing The Way Society Golf Is Played And Here's How You Can Get Involved
Looking to play fun and exciting social golf? Check out Springfield Golf, an up-and-coming events brand who are breaking the mould when it comes to amateur golf events.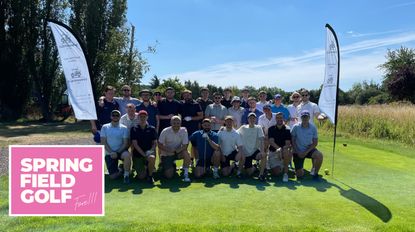 (Image credit: James West)
It's no secret that here in the UK millennials are starting to breathe more life into the game of golf.
But for some younger players, particularly those living in urban areas like London, many are unable to regularly get out on the golf course to play competitively and participate in competitions.
Particularly in these trying times, playing golf with friends has had to take a back-seat for a lot of people below the age of 35, with equipment costs, green fees and transport mounting up to be an expense that many currently find difficult to afford.
Recently, though, I've come across a ground breaking new venture that is shaking up how golfers can get out on the course and compete with each other more regularly.
Introducing Springfield Golf. An exciting new brand who are taking on the golf events marketplace, with a goal to help amateur players meet new people, play competitively and get out on the fairways more often.
What is Springfield Golf?
Described as a 'feel-good' and 'social' approach to society golf, Springfield are taking inspiration from the Barstool Classic, running specialist golf events that are open to all amateur players.
Born in 2020 as the brain child of golf loving entrepreneurs James West and Ollie Blackburn, Springfield golf go 'above and beyond your expectations to deliver more than just a day on the fairways' hosting a range of competitive events for golfers of all ability levels.
Both Ollie and James live in London and found out themselves that getting access to quality courses at good prices was becoming harder and harder, which in part, inspired them to start Springfield Golf.
The guys realised that "there is nothing better than playing golf with all your buddies" and hatched a plan to organise a series of golf events for friends, family and any one who wanted to play social tournament golf.
After a lot of planning, mostly at the 19th hole of the Coulsdon Manor Golf Club in Surrey, which as James says "fittingly ended up being the venue for their very first event", they set out the plan to host their inaugural tournament which took place in May 2020.
And by all accounts it was a massive success.
"Our first event banged and our friends wanted more. We realised that so many amateur golfers crave that sense of competitiveness whilst also having a good time with their mates," the guys said.
"There didn't appear to be many golf events out there for amateurs that combined a competitive element with an entertaining, social and modern approach, so we came up with the 'Road To The Belfry' series.
"It's almost like the largest golf society where quite literally anyone is welcome to join!"
Three years and several events later, including an international trip to Portugal, Springfield Golf has grown to becoming one of the up-and-coming golf events brands in the UK.
It's clear their social and relaxed approach to organising competitive golf events is very popular among younger golfers, with their events regularly selling out, with some even welcoming upwards of 60 golfers.
And a lot of their inspiration to host the events came from a recent trip to America, where the brand noticed some big differences in how golf is played across the pond.
"Having visited last year (and this may just be a Florida thing), golf in the States is on a completely different level in so many ways," said James, who took a trip to Miami last year to sample the golfing exploits the Sunshine State has to offer.
"Inclusive, relaxed, welcoming, friendly," he added. "No wasted tees, buggies with every green fee, meet and greet on arrival. There is so much more focus on having a great day out and not taking yourself too seriously."
After attending several events myself, I can safely say that Springfield deliver on those three aspects, creating a very unique experience that endeavours to ensure every participant meets someone new and has a great time on the golf course.
But this year is set to be the biggest yet for Springfield, as the brand are gearing up to embark on a huge venture, announcing their flagship event the 'Road to the Belfry' - more on that in a moment.
So how does Springfield Golf work?
The company mix all the best parts of a golf day together to create a modern and sociable environment, while retaining a friendly, yet competitive element too.
There is a big emphasis on meeting other players, integration with the whole group and just generally having a great time.
Every year the brand run several tournaments around the UK with players able to sign up to play at any event of their choosing.
There are no membership fees, no subscriptions and you don't need to have an official handicap to play. Experience level is not an issue either, and while all golfers must play off a handicap of 28 or lower for scoring purposes, those who are above that are still able to participate.
All of Springfield's individual player events are played as singles stableford tournaments, while throughout the year the brand also host some team and pairs events which are run in a better-ball format.
In the past, the brand have organised golf weekends up and down the country, at courses like Wyboston Lakes, Coulsdon Manor in Surrey, Woolston Manor in East London and even further afield to the Boa Vista Golf Resort in Portugal.
I travelled with the group out to the Algarve last November for the 'Inaugural Springfield International' and it was a blast.
From the airport taxi to our post round BLT sandwiches, Springfield's professionalism and experience organising large-scale events made the week one of the best golf holidays I've been on. Everything was taken care of and all we needed to worry about was playing half-decent golf!
The great news is that if you're looking to make new friends and play competitively, you can get involved this summer in Springfield's biggest venture yet, the 'Road to the Belfry'.
What is the road to the Belfry?
The Road to the Belfry series is shaping up to be one of the most hotly anticipated golf events in the UK this summer.
Springfield are set to host host five qualifying tournaments up and down the country, with all roads pointing to a grand finale at The Belfry in August.
So how does it work? Well, anyone regardless of age, experience or handicap can enter into one or as many of the Road to the Belfry qualifying events as they want.
The tournaments will run in a singles stableford format, with the top six players at each of those qualifying events gaining a berth at the at marquee event at The Belfry, which boasts a cash prize of £3,500 for the overall winner.
Along the way you'll be able to tee it up at some of the best golf courses in the country, including the stunning Shrigley Hall Country Club, Wyboston Lakes Golf Club, Telford Golf Club , De Vere Wokefield Estate and Tudor Park.
One of the great things about any Springfield Golf event is that you are always guaranteed to be playing at a high quality venue that will test all parts of your game.
And we can attest to that claim, as we have previously written reviews on some of these courses, including the Telford Golf Club in Shropshire, a course that Masters champion Ian Woosnam recorded his first professional win at no less.
But it is clear that there is a demand for spaces already as Springfield say they have already sold out tickets for their tournament at Wyboston Lakes Golf Club. But don't fret though, there are still plenty of other chances to participate in the summer of action.
All you need to do is head over to www.SpringfieldGolf.co.uk and check out their events pages. Here you'll find plenty of information on when the events are taking place, what you'll need to bring and how much each event costs.
Here are the key dates to keep in mind:
So who are the events for and how do they work?
There is no restriction on who can and can't attend a Springfield Golf event. If you like golf and want to enjoy a sunny day out on the fairways then Springfield is certainly for you!
While Springfield say their events are mostly targeted towards a younger crowd, they also state that golfers of all ages are welcome to join in and play.
"We are fortunate to have a really solid core of amazing mates who spread the word," Ollie said. "Now everyone who enjoys a round of golf and a trip away is welcome. Anyone who attends a SG (Springfield Golf) event become part of our widespread society.
"When we say everyone is welcome, we mean it!
"We've had guests who have shot -3 gross, and we've had guests who have shot 130! If you like golf and you like the social side that comes with it, then you'll love a SG event."
And there is certainly a relaxed and inclusive atmosphere at each tournament. You immediately feel like you're part of the Springfield family irrespective of your experience or your handicap.
But the values, traditions and sportsmanship of golf are also certainly not forgotten either.
Arriving at the event, you'll be greeted by one of the hosts, who will immediately integrate you into the group. Bacon sandwiches are always going around and you'll also receive a welcome pack that includes high-quality branded merchandise, including tees, balls, a glove, a towel for your bag as well as a run down of the days events.
That really gives the event a premium feel, but that's only the start.
Things heat up after the opening tee shot is played and there's plenty of healthy competition for the prizes on offer. They will generally include an overall stableford winner's prize and a closest to the pin challenge - obviously a staple of any good golf tournament.
"The first thing you notice when you arrive at a SG event is the atmosphere of the occasion. I say that not in a boastful way, but most of our guests haven't played in a golf competition like SG before," James and Ollie tell us.
"You can't quite replicate that first tee atmosphere. We love the fact that all our guests arrive before the first group have tee'd off, and you can really feel the nervousness and excitement in the air.
"Essentially, it's 60 golfers all hoping they don't slice their tee shot into the lake or trees!
"We always throw a few new surprises out there for each event and we're excited to reveal what we've been working on for this series. We've gone pretty bold and hope to make our presence known..."
One cool feature I love about the events are that you're able to access Electronic leaderboards on your smartphone via an app, which is also where you'll also record the score for your group.
You'll receive real time updates that'll tell you how everyone is playing, where you sit in the standings and more importantly who you've got to beat to win the tournament.
When we say Springfield have thought of everything, we mean it! Even the large oversized cheques that are presented to the winner after you've tucked into your post-round dinner. Or the humorous caddie shell suits that are sometimes worn when there is an 18th hole playoff, akin to what you'll see caddies wearing at the Masters later this week.
What does the future look like for Springfield?
The Road to the Belfry is the biggest series of events the brand have organised but the guys have big ambitions for the future with plenty more events and social tournaments to come later in the Autumn and in 2024.
While Ollie and James are keeping tight lipped on what's coming up, they have implied that there could be another international trip in the works for later this year.
They're also hoping to grow the profile of the sport and attract a more diverse crowd to their events, including more female players.
"One of our big intentions for next year and beyond is to attract more female golfers," said James.
"We are all about growing the game, keeping it fun, light-hearted and inclusive to all whilst ensuring the competitive element remains throughout."
How can you get involved in a Springfield Golf event?
Springfield Golf are always looking for new players so if you want to get involved in fun, competitive golf all you need to do is head over to their website www.SpringfieldGolf.co.uk and sign up to one of their events.
Be sure to also give the brand a follow on Instagram, Twitter and TikTok where Springfield are constantly dropping new and exciting golf content including a very innovative round of golf using ChatGPT as a caddy.
You can also drop James and Ollie a message at hello@springfieldgolf.co.uk or head to their FAQ pages if you've got any questions on the events.
Ed has been playing golf for as long as he can remember and is obsessive about the sport. He is regularly sought after by family members and friends for advice on what equipment to buy and uses his background, having written extensively on golf in the past, to produce equipment orientated content for Golf Monthly.
Having obtained a Masters in Law with Medicine from the University of Liverpool, Ed has recently changed paths into journalism and just last year achieved his NCTJ Sports Journalism Diploma with the Press Association.
He has written for a variety of media outlets over the years and has interviewed some big names in sport, including Premier League managers, All Blacks Coaches and Grand Slam tennis superstars. He has also worked on some huge sporting events, including the 2021 Australian Open and the 2022 FIFA World Cup. And when he's not writing for Golf Monthly, you'll find him producing news and feature articles for the MailOnline's sports desk, where he covers everything from football to rugby union.
During his weekends off, you'll likely find Ed heading out for a round at one of his local golf clubs with his friends, and was, up until recently, a member at the Leatherhead Golf Club in Surrey. Ed also plays the saxophone, can tell you some pretty terrible dad jokes and can knock up a very tasty carbonara!