Fighting Back: Rob Smith Golf Blog 15
Rob Smith, Golf Monthly Contributing Editor, continues his golf blog as he looks to improve his game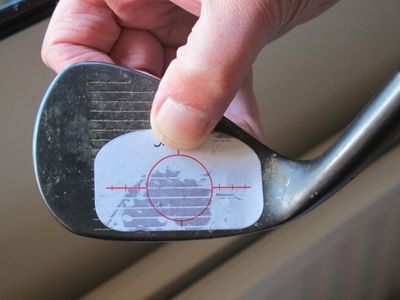 Golf Monthly Newsletter
Golf tips and expert instruction, golf club reviews and the latest golf equipment.
Thank you for signing up to . You will receive a verification email shortly.
There was a problem. Please refresh the page and try again.
Fighting Back: Rob Smith Golf Blog 15
It's amazing how important confidence is for the game. When I was last over at Paul Foston's teaching academy for a lesson, I accidentally left behind my new good friend, my Benross Hot Speed pitching wedge. As I had already leant my last set of clubs to a chum to replace those stolen from his boot, I had therefore resorted to using a rusty, low-tech thing from the back of my garage. It was fine at first, even luring me into a false sense of security with the birdie I mentioned in my last blog. But slowly and steadily it has betrayed me more and more, finally leading to that most destructive of all shots, the sh*nk.
Reunited with my trusty Benross wedge this morning, Paul and I worked exclusively on the shank (eradicating, not enhancing!) which in the last two or three rounds has smacked me even harder in the teeth on a couple of occasions with full-blown examples emanating from my 7- and 8-iron.
Two very interesting things ensued - one an exercise, the other a solution. First, Paul set down two golf balls side-by-side, a ball-width apart. He then got me to play the kind of half-shot that has been causing me most grief, and with consummate ease I immediately reproduced the sh*nk, hitting the further of the two balls at the same time! This I repeated with great ease, and so Paul had a closer look at the shafts of all my wedges. They turned out to be standard length, whereas I am not. We therefore practised with me holding the club a good inch or more lower down on the grip. Much to our great joy, there was an immediate improvement as I made solid contact with the ball and hit it on the intended line.
Having applied impact stickers, we found very clearly that by gripping further down, there was a huge improvement in my ball striking on these shorter irons and half-shots. I now have something extremely positive to take onto the course next week and look forward to removing this most destructive of shots from my game.
Rob's other Blogs
Golf Blog 14 Golf Blog 13 Golf Blog 12 Golf Blog 11 Golf Blog 10Golf Blog 9 Golf Blog 8 Golf Blog 7 Golf Blog 6Golf Blog 5 Golf Blog 4 Golf Blog 3 Golf Blog 2 Golf Blog 1
Rob Smith has been playing golf for more than 40 years and been a contributing editor for Golf Monthly since 2012 specialising in course reviews and travel. He has now played 1,150 different courses in almost 50 countries. Despite lockdowns and travel restrictions last year, he still managed to play 80 different courses during 2021, 43 of them for the first time. This included 21 in 13 days on a trip to East Lothian in October. One of Rob's primary roles is helping to prepare the Top 100 and Next 100 Courses of the UK&I, of which he has played all but nine. Rob is a member of Tandridge Golf Club in Surrey where his handicap hovers around 16. You can contact him at r.smith896@btinternet.com.