Fighting Back: Rob Smith Golf Blog 5
Rob Smith, Golf Monthly Contributing Editor, continues his golf blog as he gets a report on his progress from his coach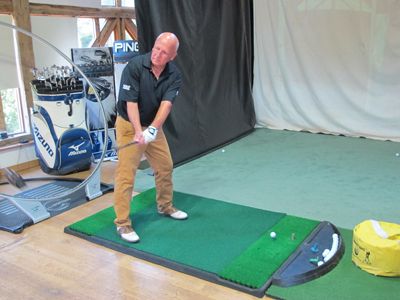 Fighting Back: Rob Smith Golf Blog 5 The Power of Positive Thought
Having greatly enjoyed a return to Bearwood Lakes Golf Club with the Golf Monthly team, I still found myself getting frustrated.
This was because despite my very productive lessons with my coach, Paul Foston, and the confidence that my excellent new BenRoss Hot Speed clubs are giving me, I was struggling to take my new game out onto the course.
This was highlighted when I played in a club competition at Tandridge and managed to come a dismal joint 26th out of 36.
Admittedly, the rough was as dense as I have ever seen it, but the one semi-redeeming element was that my poor play was down to a consistent problem - a low pull to the left off the tee.
The following day I was joined at Tandridge by GM's Digital Editor Neil Tappin, and we discussed this odd pattern of positive lessons and negative performance on the course.
As we approached the second green, Neil explained that he takes great care to picture each shot before playing it.
With this in mind, I played a chip and run from just off the green which disappeared into the hole for a birdie.
But with so many swing thoughts - technical and psychological - the same problem of pulling the ball left persisted during the week.
Therefore, Paul and I worked exclusively on this at yesterday's lesson with very encouraging results.
We opened the set-up just a little and flattened the take-away, and I am off to the driving range this afternoon and back at Tandridge tomorrow evening to see whether these minor tweaks will have the desired major effect!
Rob's other Blogs
Rob Smith has been playing golf for more than 40 years and been a contributing editor for Golf Monthly for over ten years, specialising in course reviews and travel. He has now played more than 1,170 different courses in almost 50 countries. Despite lockdowns and travel restrictions in 2021, he still managed to play 80 different courses during the year, 43 of them for the first time. This included 21 in 13 days on a trip to East Lothian in October. One of Rob's primary roles is helping to prepare the Top 100 and Next 100 Courses of the UK&I, of which he has played all but nine. During the 2021-22 review period, Rob has played 34 of the Golf Monthly Top 200. He is a member of Tandridge Golf Club in Surrey where his handicap hovers around 16. You can contact him at r.smith896@btinternet.com.