Alternative Golfer of the Month
Golf On The Edge author, Ross Biddiscombe, takes a look at the return to form of one of England's brightest young stars, Ollie Fisher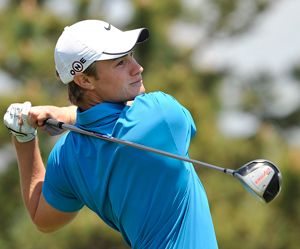 Golf Monthly Newsletter
Golf tips and expert instruction, golf club reviews and the latest golf equipment.
Thank you for signing up to . You will receive a verification email shortly.
There was a problem. Please refresh the page and try again.
The joy of following journeyman golfers is that they provide endless triumphant or tragic stories, these some-time minor men who battle so fiercely out of the major limelight. So, for the month of March 2010, I have nominated the Golf On The Edge Golfer of the Month. And it's partly thanks to Iceland's volcanic ash that it is not a tearful Phil Mickelson (three-time Masters champ) nor the also tearful Marcus Fraser (winner in Korea) who is top man this month. No, it's Oliver Fisher.
Yes, the same Oliver Fisher who burst onto the scene in 2006 and looked almost more like Rory than Rory himself and then last season collapsed. This English prodigy was just 18 when I watched him romp through Q School to get his Tour Card at the first attempt (he was the youngest Briton ever to get through). He was long off the tee, deadly with his irons and refreshingly confident (not cocky, mind you). With his dad on his bag, it seemed that here was the next real prospect from the country of St George.
In his first two seasons Ollie missed a few cuts, but he still had his amateur-status momentum (at 16, he'd been the youngest ever Walker Cup player). There were enough top tens to keep his Card, but then in 2009 he hit the skids.
Ollie's form went south and no one seemed to know why. He'd gotten used to the rigors of travel on the Tour, surely; he'd had to ditch dad as caddie, but that was a while ago; and even a bit of a growth spurt could not cause such a dip, could it?
When I interviewed him last December on his return to Q School, Ollie was a different player than in 2006. You can hear the whole interview on Q School Live (opens in new tab) on golfontheedge.co.uk (opens in new tab), but suffice to say, the 22-year-old was on the floor in terms of his career. He didn't even make the four-round cut at Catalunya's Q School Final Stage. I feared for his future.
But Ollie has proved that any doubters were absolutely wrong. He knew that he would get a limited number of starts and invitations based on his 2009 season finish (125th) and that he had to make his money fast and furiously. However, the first six tournaments of the season in Africa and the Middle East saw no improvement and only one cut made. But from the Avantha Masters in mid-February to last week's Ballantine's event in Korea, Ollie has not been out of the top ten.
This means that by March 2010, just three months after being at his lowest ebb, Fisher's career is right back where it should be and a win on Tour is not too far away (he's had a second and third in the last few weeks). And it's been pretty much a case of renewed self-belief and sheer hard work. No fancy reasons from Ollie.
So a massive well done to him. And, to think that without the lack of travel out of Europe due to the volcanic ash crisis last week, Ollie Fisher might not have made the field in Korea and missed the chance to win £89,000 and move up to 28th in the Race To Dubai. His Tour Card worries are no more and that's another silver lining from the ash dust cloud! Ross Biddiscombe is author of two Golf On The Edge books. For details, go to golfontheedge.co.uk (opens in new tab)
Where next?
Win prizes: Win golf prizes Equipment: Latest gear reviews Tour news: Latest golfing news
Ross is a Q-School expert.