One of the Golfing Gods...
He changed the game's image and flew (no pun intended) in the face of golfing adversity. With looks and movie-star charm, Arnold Palmer was golf's greatest asset, Bill Elliott reveals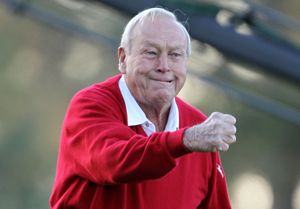 Few ever have flown higher. Even fewer ever have flown for longer. Or, as it happens, quicker. Age, however, catches up with us all and now it has even caught up with Arnold Palmer. When he landed his Cessna Citation X jet at Orlando on the final day of January, Arnie was at the controls for the last time. At 81 he has decided it is time to hand over the cockpit to someone younger. Roger and, rather sadly, out.
So ends one of the most remarkable love affairs in golf. If the old game remains Arnie's abiding love then it was flying that regularly ignited his passion. Long before the increasingly tedious Tiger Woods thought he was some kind of superhero, Palmer was up there with the gods - or at least he was high above the clouds.
He flew turbo-props in the fifties and sixties before acquiring his jet pilot's licence in 1966. The following autumn he flew his new jet down to the Ryder Cup that was being staged in Houston. Tony Jacklin still remembers it well.
"Arnold was full of it about his new jet at that Ryder Cup. He couldn't wait to show it off and when he invited a few of us to climb aboard for a trip we did," Tony once told me. "What he didn't say was that he intended doing barrel-rolls and flips and all sorts of crazy things. He frightened me to death that day so that when we got to the first tee the next morning I was still shaking."
Jacko remains convinced that Palmer's gung-ho flying contributed significantly to an American victory by 15 points that year. He does, however, still laugh at the memory of the wonderful daftness of it.
Fact is that Palmer rarely flew in a straight or level line. He loved the rolls and flips, steep climbs and steeper dives. He was a kid much of the time on the golf course, but he was always a kid in the air.
For a time the Masters never felt it could open properly for business until Palmer flew low and fast over Augusta National on his way to landing at Bush Field, his jet's wings dipping in salute to the course and the people gathered beneath. "Okay," the organisers would say. "Arnie's here, we can start this thing."
He did much the same at many other tournaments, his plane swooping in and over the heads of the other players as they queued for the keys to a courtesy car for the week. Courtesy cars, you see, were never Arnie's priority.
He did not do this to enlarge or improve what the suits would now call his brand, but by flying the way he did this, happily, is exactly what he did. His image as the sort of man other men envied was inevitably enhanced by his aerial derring-do. In a different era everybody thought he would have been flying something rickety and armed to the teeth, a white silk scarf billowing round his muscular neck, a beautiful woman eagerly awaiting his return.
It means he is now the old man other men continue to envy, a fascination that translates into at least $30 million a year so that Palmer remains one of the world's top-earning sportsmen, despite age and a game so declined he may casually refer to it as 'the Roman Empire'.
"I always have the urge to play," he laments. "But I play so badly now. I was asked the other day how I was hitting it and I told the guy that I am hitting it so hard I can usually hear the ball land."
Still, he has memories and, though he is now passenger rather than pilot, he still holds the round-the-world speed record he set in 1976 when he took off from Denver and returned 57 hours, 25 minutes and 42 seconds later having refuelled at Boston, Paris, Tehran, Sri Lanka, Jakarta, Manila, Wake Island and Honolulu. "Flying has been one of the great things in my life," he says. "It's taken me to the far corners of the world and enabled me to meet thousands of people I otherwise wouldn't have met. And I even got to play a little golf along the way."
And finally... those golf fans who scrutinise television broadcasts to spot miniscule rule infringements innocently perpetrated really are upholding the laws of the game. But they also need to get out more. Assuming they are actually allowed out of whatever scary institution they currently inhabit. I've no doubt that Arnold would be with me all the way in this thought. Agreed?
Bill has been part of the Golf Monthly woodwork for many years. A very respected Golf Journalist he has attended over 40 Open Championships. Bill was the Observer's golf correspondent. He spent 26 years as a sports writer for Express Newspapers and is a former Magazine Sportswriter of the Year. After 40 years on 'Fleet Street' starting with the Daily Express and finishing on The Observer and Guardian in 2010. Now semi-retired but still Editor at Large of Golf Monthly Magazine and regular broadcaster for BBC and Sky. Author of several golf-related books and a former chairman of the Association of Golf Writers. Experienced after dinner speaker.