Not in our back yard
Bill Elliott's final word on this year's Masters is reserved for a drunk man who tried to escape Augusta with a little momento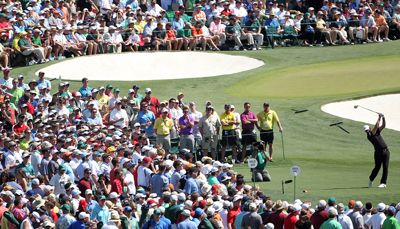 It's easy to run foul of the authorities during the Masters. Running anywhere may result in ejection from the property as will carrying a phone, switched on or not. Yelling inappropriately means you most definitely will not be the man who stays to watch the tournament while TV commentators walk a tightrope when it comes to describing anything.
David Feherty, for example, once told me that he likes to arrive under cover of darkness and exit as soon as his job for television is finished. Usually, David does not worry too much about what he is going to come out of his fertile imagination but at Augusta he frets like a schoolboy trying to sneak a girlie mag into school.
But now we can add another offence. And this is a big one. Stealing sand from a bunker leads not to eviction but to full-on arrest.
Clayton Price Baker, a 40-year-old bloke from Ohio, found this out the hard way on the final Sunday when, encouraged apparently by a few beers, he ducked under the spectator rope and was seen trying to fill his - now empty - beer cup with sand from one of the bunkers.
This led apparently to a short foot chase, Baker pursued by a posse of course security and local sheriff's deputies before he gave up. Following arrest he has been charged with disorderly conduct and is likely to end up with a criminal record for his silly, little jape. Heavy-handed? I'd have thought so, wouldn't you?
This, however, is how Augusta operates. For one week a year the gates are opened to the paying public but everybody who enters has to agree to abide by the rules of the Green Kingdom. Inevitably this leads to some daft things happening. Augusta National has a lot of things but one thing they consistently lack seems to be an occasional sense of humour.
Many years ago I saw at first hand what can happen. As I entered via a main gate a fan (I should of course say 'patron') tried to walk in while carrying a takeaway coke. This is another no-no by the way. Whether he heard the gateman tell him to get rid of the cup first I don't know. What I do know is that as this chap wandered on, a policeman pulled his gun on him. Okay, he didn't actually shoot but he did point it at him. We all ducked.
Just as well nobody picked up on the journalist who broke several rules a long time ago by sneaking an azalea cutting out of Augusta to plant back home in his garden as a small homage to the Masters. No, it wasn't me, all I can grow successfuly are dandelions and, no, I am not naming anyone.
If you can get arrested and charged for trying to put a few grains of sand in a beer cup - that, to be fair, might actually improve American beer, let's face it - God knows that would happen to anyone caught nicking an azalea. After all, they do still have the death penalty in Georgia.
Masters microsite: The 2012 Masters
Bill has been part of the Golf Monthly woodwork for many years. A very respected Golf Journalist he has attended over 40 Open Championships. Bill was the Observer's golf correspondent. He spent 26 years as a sports writer for Express Newspapers and is a former Magazine Sportswriter of the Year. After 40 years on 'Fleet Street' starting with the Daily Express and finishing on The Observer and Guardian in 2010. Now semi-retired but still Editor at Large of Golf Monthly Magazine and regular broadcaster for BBC and Sky. Author of several golf-related books and a former chairman of the Association of Golf Writers. Experienced after dinner speaker.