7 Wood vs Hybrid: Which Is Best?
Dan Parker takes a 7 wood and a hybrid out onto the course to discuss the key differences between the two clubs and which you should consider carrying in the bag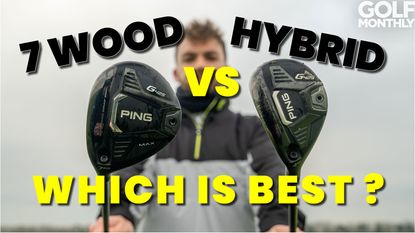 (Image credit: Future)
7 Wood vs Hybrid: Which Is Best?
The 7-wood has increased massively in popularity over recent years. That popularity has been especially seen on Tour, with some of the best in the game occasionally adding it to their bags. The 7-wood can offer the pros plenty of distance with some all-important stopping power when they're approaching greens from well down the hole. So, if they're good enough for the best in the world, why are so few amateur golfers using them? Here, I'm going to talk you through the key differences between a 7-wood and a hybrid, how they perform in the real world, and which might be best for your game.
VIDEO: Dan Parker takes to Prince's Golf Club to compare a 7 wood vs a hybrid golf club.
7 Wood
Most of the best fairway woods are available with a 7 wood loft and can be an incredibly useful club if you want distance and - most importantly - stopping power on a green. A 7 wood often comes with 21° of stated loft (the Ping G425 used in the video happens to come in at 20.5°), but it is all about the dynamic loft that makes the 7 wood so useful. With a much deeper and lower centre of gravity, the ball can launch much higher, hit a much higher peak height and therefore achieve a much steeper descent angle. As you will be able to see in the table below, the significantly higher peak height of the 7 wood gives it much more stopping power into a green than a hybrid. This club can also be useful off the tee if you're looking to lay up or hit a certain number onto the corner of a dog leg. Bare in mind this club creates a lot more backspin than a hybrid club though and will therefore have less rollout in the fairway.
Hybrid
We are all probably more familiar with the best hybrid clubs in the game, and this club's popularity has soared over the last few decades. Compared to a fairway wood, the hybrid club has a significantly shallower head with a forward CG. Hybrids also naturally have a hint more of a draw bias, which means they are harder to shape in both directions than a 7-wood.
The most significant difference between a hybrid and fairway wood is their interaction with the ball in the rough. A hybrid is significantly more versatile if the lie isn't ideal and the shallower head will have better turf interaction than a 7 wood, which is more likely to get grabbed by any long grass. It's in the name of a hybrid, and you'll find these clubs are versatile and usable in pretty much every part of the golf course. Off the tee, the hybrid club will spin and launch a little lower than a 7 wood, making it a little longer for overall distance once the ball has bounced and rolled.
Conclusion
If you find yourself with a lot of shots into greens from 180-200 yards (or however far you'd hit a club of this loft) I think a 7-wood could be a very valuable investment to help you hit more greens more often. A 7-wood certainly isn't a club I'd recommend using regularly off a tee box as it simply spins up too much - I'd recommend and 3 or 5-wood if you don't get on with your driver. While usable out of the rough, a 7-wood still can't compete with the overall versatility of a hybrid club from poor lies and this is something to bare in mind too. There's nothing to say you can't have both in the bag either!
Dan is a Staff Writer and has been with the Golf Monthly team since 2021. Dan graduated with a Masters in International Journalism from the University of Sussex and primarily looks after equipment reviews and buyer's guides, specializing in golf shoe and golf cart reviews. Dan has now tested and reviewed over 30 pairs of golf shoes for the website and magazine with his current favorite pair being the Ecco Biom C4. A left-handed golfer, his handicap index is currently 8.5 and he plays at Fulford Heath Golf Club in the West Midlands. His best day in golf so far was shooting 76 at Essendon Golf Club on his first-ever round with his Golf Monthly colleagues. Dan also runs his own cricket podcast and website in his spare time.
Dan is currently playing:
Driver: Ping G425 Max
Fairway: Ping G425 Max
Hybrid: Ping G425
Irons: Ping i59 (4-PW)
Wedges: Ping Glide Forged Pro
Putter: Wilson Staff Infinite Buckingham
Ball: TaylorMade TP5 Pix