10 Reasons Why A Beginner Golfer Should Attend The AIG Women's Open
Lili Dewrance explains why the AIG Women's Open is the perfect outing for newbie golfers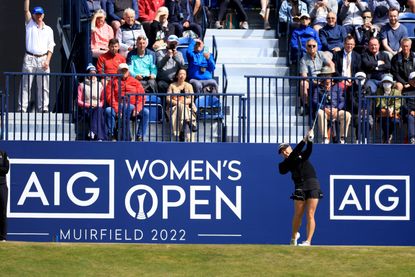 (Image credit: Getty Images)
Get the Golf Monthly Newsletter
Thank you for signing up to Golf Monthly. You will receive a verification email shortly.
There was a problem. Please refresh the page and try again.
Tournaments create the perfect environment to attract a new generation of golfers and can serve the purpose of making golf feel more accessible. But not all golf tournaments are designed and executed in the same way. For those new to their golf journey, deciding which tournament would be best suited to their needs may feel challenging.
As a beginner golfer myself, I recently attended a media day at Walton Heath Golf Club, host venue of this year's AIG Women's Open, which has been specifically designed to attract a new class of golfers. I came away from the day feeling confident that attending this championship will be such a valuable experience for me, offering the chance to witness high-level play, connect with others who enjoy golf and an opportunity to immerse myself in the atmosphere of a major golf tournament.
Below I have outlined the 10 reasons why I feel a beginner golfer would benefit from attending the AIG Women's Open from 9-13 August, and find out how you can get tickets.
1. Inspiring Female Athletes
I recognise that the AIG Women's Open is the R&A's showcase event, hosting the world's very best female golfers. These elite athletes not only excel in their sport but also serve as fantastic role models, demonstrating qualities such as dedication, skill, and sportsmanship. The tournament offers a unique opportunity to witness firsthand the power of determination and the potential to achieve greatness. I'm really looking forward to witnessing this top-level play firsthand and subconsciously picking up many tips to take into my own game.
2. Increased Prize Money
It's encouraging to see how the AIG Women's Open leads the way in rewarding the exceptional talent of female golfers. Last year's champion, Ashleigh Buhai, received over a million dollars in prize money, making it one of the largest women's major championship payouts ever. The tournament's commitment to increasing the prize funds is evident, with a remarkable 26% increase in 2022 alone. It's inspiring to witness the significant strides being made in terms of prize money, demonstrating that women's golf is receiving the recognition and support it deserves. Attending the AIG Women's Open will not only allow me to witness incredible golfing talent but also enables me to be part of a movement that is shaping the future of equality in sport.
3. Competitive Course
The AIG Women's Open 2023 utilises a composite course at Walton Heath Golf Club consisting of 16 holes from the old course and two holes from the new course, creating a unique experience for both the players and spectators. There are demanding par fours, challenging par threes, and scoring opportunities on par fives, all providing insights and learning opportunities. For myself, as a beginner golfer, this is particularly useful as I work my way up to playing a full course.
4. Festival Atmosphere
One notable highlight is the addition of a vibrant festival village, which aims to create a lively and inclusive atmosphere for all spectators. The village will host a diverse range of activities and entertainment, appealing to avid golf enthusiasts, families and beginners. I'm particularly excited about the session stage, where engaging talks and interviews featuring guests from the world of golf will take place. This festival environment provides the perfect opportunity to invite my non-golfing friends, allowing them to experience the magic of golf first-hand and feel welcomed regardless of their knowledge, experience and golfing ability.
5. Ellie Goulding As The Headline Act
Global pop star Ellie Goulding is set to take the stage on Saturday night, adding an exciting dimension to the tournament. Her presence as the headline act not only elevates the entertainment value but also underscores the uniqueness of the AIG Women's Open as a festival-like experience. As a beginner golfer, I definitely recognise that combining top-tier golf with world-class entertainment is not a common occurrence. I appreciate the opportunity this provides to invite my non-golfing friends and family members to feel welcomed into the golfing community and feel a part of this unforgettable celebration of women's golf.
6. Interactive Activities For All Abilities and Ages
Interactive activities for all abilities and ages are key to the R&A's approach for this year's tournament. In line with this vision, they have introduced "Golf It!" a dedicated golf experience zone to engage attendees of all ages. This interactive activity provides an opportunity for individuals of various capabilities to try their hand at golf and learn more about the sport. By offering this inclusive and accessible golf experience, the tournament will surely inspire beginners and spark their future interest in the game.
7. Innovative Food And Beverage Offerings
There's nothing better than sampling street food, and this year organisers have collaborated with innovative food and beverage operators to bring street food culture to the tournament. There will be a wide choice of London-based concessions to cater to diverse preferences and provide a unique food and beverage experience. Whether you're a food enthusiast, like myself, or simply looking to try something new, the innovative food and beverage options at the tournament will undoubtedly satisfy your taste buds and create a memorable experience for all attendees.
8. Ideal Location
Situated in close proximity to London, the tournament benefits from excellent accessibility and convenient transportation options. Walton Heath is located 4 miles south of the M25 motorway and is a 40-minute train journey from London Victoria. The organisers have implemented a complementary shuttle system from Redhill station and a park-and-ride option for drivers. This is a big plus, including for myself as I share a car so will likely look into the park and ride service. Convenience and ease of access create a seamless experience and make the tournament more appealing for beginner golfers across the country.
9. Fashion Inspiration
The AIG Women's Open presents a fantastic opportunity for beginner golfers to gather wardrobe inspiration from the female athletes competing in the tournament. These exceptional athletes are sponsored by leading brands such as adidas, Puma, Rohnisch and J Lindeberg, showcasing the latest trends in golf fashion, so it will be great to see what the pros are wearing and how they might influence my choice of golf fashion in the future.
10. Well Supported Championship
From what I understand, the AIG Women's Open is renowned for its high attendance and passionate crowds, creating an electric atmosphere that's sure to captivate beginners. With an average attendance exceeding 70,000 spectators, this championship attracts a diverse range of golf enthusiasts, families, and casual viewers. The inclusive nature of the event ensures that beginners feel welcomed and inspired, surrounded by a community of golf lovers from all walks of life. There's nothing better than the atmosphere of a live event and the enthusiastic support from the crowd, which is bound to ignite a sense of excitement and belonging in beginner golfers. I'm sure that attending the AIG Women's Open will be an unforgettable experience and I'm convinced that it will fuel my excitement for the future of female golf.
To purchase tickets visit www.aigwomensopen.com.
Get the Golf Monthly Newsletter
Tips on how to play better, latest equipment reviews, interviews with the biggest names and more.
Lili Dewrance is a freelance journalist and copywriter with over three years of media experience. She has taken commissions for prestigious publications such as The Telegraph, Forbes, and various trade publications. Lili holds a First-Class Honours degree in PR and Media from Bournemouth University. While new to the world of golf, Lili is driven to inspire more women, particularly young women, to overcome biases and feel confident in taking up golf as a sport. She is a member at Foxhills Country Club and recently joined the Adidas women's golf academy at Pitch London to immerse herself in the golfing community With her extensive writing experience and commitment to learning golf, Lili brings a unique voice and perspective to the publication, inspiring readers to embark on their own golfing journeys, regardless of their demographic and experience. Lili's role models in the golf world are content creators such as Mia Baker and Beth Roberts, who inspire more young females to feel confident to get involved in the game.