A golfer's guide to north-west Kent
Kent is famed for its eastern links, but the garden of England also has a west-side story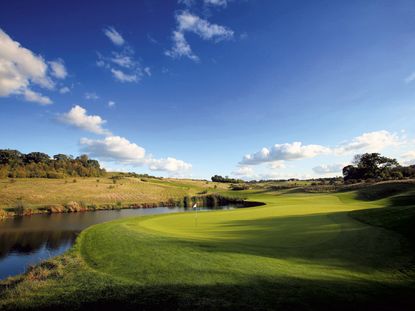 Kent is famed for its eastern links, but as Rob Smith discovers, the garden of England also has a west-side story
London Club (International)
The two excellent courses at the London Club opened for play in 1993, and while the Heritage has hosted two European Opens and is reserved for members and their guests, the International is open to all. Many now see it as the equal of its sister course – indeed, it was selected for the Volvo World Match Play Championship in 2014. The International offers a thrilling test with plenty of risk and reward, particularly at the water holes. Opening with a superb par 5 played down to a lakeside green, the course moves onto higher ground for a few well-bunkered holes before you approach the same lake at the stirring par-3 8th. The focal point of the course is probably the dramatic 12th and 13th – the former a short hole played over a pond from an elevated tee where club selection is key, the latter a multiple-choice-examination par 5 with bunkers, a split fairway, trees, water and, eventually, a green! The course is kept in tip-top condition, making it a treat to play throughout the year. The practice facilities are first-class, and in the clubhouse there is a relaxed approach that is as refreshing as the golf outside.
Stats: par 72, 6,594 yards W: londongolf.co.uk GF: Sun-Thu: £95-£105 per round, Fri-Sat: £110-£120 per round
Knole Park
JF Abercromby didn't design too many courses, but what he lacked in quantity, he more than made up for in quality. The layout at Knole Park is delightful and very individual, with some wonderful holes running over scenic parkland populated by deer. Overlooked by the beautiful Knole House, there is an exciting mix of six short holes and four par 5s. Highlights include the rollercoaster 3rd, the sharp doglegs at 4 and 11, the par-3 5th to a green framed in the hillside, the inviting par 5s at 15 and 17 and the closing hole over a pond down to the charming clubhouse.
Stats: par 70, 6,253 yards W: knoleparkgolfclub.co.uk GF: £70wd per round, £85wd per day
Rochester & Cobham Park
Hidden away at the end of an access road close to the M2 is a real surprise; a scenic, peaceful and expansive golf course which was the beneficiary of a major upgrade by Donald Steel around 20 years ago. Rather than particular standouts, the result is 18 strong, varied holes with subtle and consistent greens. The short par 4s at 4 and 17 are not as simple as they look, and throughout there is a premium on approaching the greens from the correct angle. The traffic-light control on the 15th is a novel but sensible feature, and the clubhouse offers fine views over the closing hole.
Stats: par 71, 6,597 yards W: rochesterandcobhamgc.co.uk GF: £40wd per round, £60we per round
Wildernesse
Just a mile or two from Knole Park is Wildernesse, but the two could hardly be more different. This superbly manicured and challenging layout runs through and round mature, attractive and at times impenetrable woodland. It will once again host Open Qualifying this summer and there are lovely short holes at 5 and 15. There is a fine balance to the course, with its greatest defence perhaps the tougher par 4s. The par-5 home hole offers a very enjoyable conclusion, sweeping round to the right to a green overlooked by the elegant and understated clubhouse.
Stats: par 72, 6,539 yards W: wildernesse.co.uk GF: £65wd per round, £95wd per day
Local Knowledge
Donnington Manor W: bw-donningtonmanor.co.uk
This Best Western 63-room hotel is close to all of the courses featured in this guide, as well as the motorway network. There is an intriguing mix of the old and the new, with the Italian-flavoured and very reasonably priced Osteria Chartwell restaurant situated in a beautiful and historic oak-timbered building. The smart and newly refurbished accommodation has all mod-cons and it's all just a few minutes from Sevenoaks.
The Farm House, West Malling W: elitepubs.com/the_farmhouse
A part of the small but highly regarded chain of Elite Pubs, the Farm House is found in a beautiful Elizabethan building. Open all day from late morning, there are various menus that change with the time, and the kitchen has a French influence. There are dishes to suit all tastes, such as Kentish wild rabbit and cider pie and Moroccan chickpea stew.
The Plough, Ivy Hatch W: theploughivyhatch.co.uk
Situated in an archetypal country village, the Plough is both at the heart of the local community and a draw to visitors from near and far. The menu has dishes for all appetites, all of which are home made. There is also a good selection of beer, such as the local Tonbridge Coppernob.
Other courses
Not as well known for its inland golf as some counties, Kent has a surprising strength in depth with the north-west corner particularly well endowed.
Although clubs such as Royal Blackheath, with its rich history and wonderful museum, rightly attract attention, there are many fine courses within an hour of London that deserve recognition.
Sundridge Park and West Malling each boast two parkland courses which make for an excellent day out, and the appropriately named West Kent, which celebrates its centenary this year, has a fine, peacefully located course. Newer designs such as Redlibbets near Brands Hatch and Nizels near Sevenoaks offer a more modern style of golf and a warm welcome.
David joined Golf Monthly in 2015 as a content editor for the magazine and regularly contributes to the website. He has worked in magazine publishing and editing since 2003. He is a keen golfer and up until recently was a member of Blackmoor Golf Club in Hampshire. He has covered various big events and tournaments for GM, the highlight of which was witnessing Tiger Woods win his 15th Major at Augusta in 2019. Email: david.taylor@futurenet.com