How To Stop Blocking Drives
PGA pro Ben Emerson shares his simple tips on how to stop blocking drives...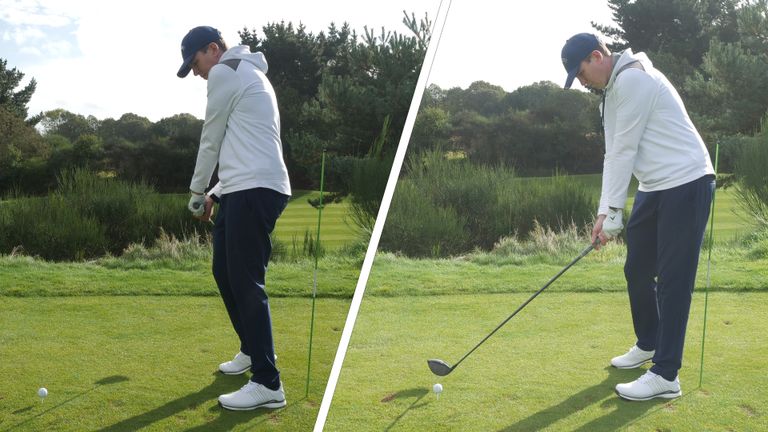 (Image credit: Golf Monthly)
By Andrew Wright published
This can be one of the most debilitating faults in the game, costing you plenty of shots and balls to boot. In this video and article, PGA professional Ben Emerson looks at one of the main causes and shares his top tips on how to stop blocking drives for good. Check it out below…
With the driver in hand, the best players in the world do a tremendous job of creating space between the body and the club. On the contrary, golfers who have a knack for hitting blocks, especially with the big stick, tend to do the opposite, invading this space as the lower half early extends and moves towards the ball.
RELATED: Best golf drivers
What this means for the club is that it gets trapped behind and becomes incredibly difficult to square up at impact consistently. So, how do we go about fixing this fault?
Identify the problem
First thing's first, it's vital to find out if this is a swing fault you are suffering with. Either put an alignment stick into the ground or film a swing from down the line to check if your lower body has moved towards the ball in transition and into impact. To emphasise, at no point should there be any daylight between you and the stick or the imaginary line.
However, don't fear if this is the case as there are drills and swing feels that can help you get back on track.
Backswing fix
If it transpires this is an issue in the backswing, try and feel like you are pushing into your trail side and into your trail heel as you take the club back - that'll keep you in a more sat down position against the line or stick. It's something you can rehearse on a day-to-day basis without a club to help ingrain this move the next time you go to play or practise.
Downswing fix
Alternatively, if you're standing up in the downswing, an opposite feeling would be more suitable. What we mean is that instead of sitting back into your trail leg, you want to feel like you're pushing into the toes on your lead side. That'll enable the lower half to get deeper as the club approaches impact.
Upper body drill
By improving how your upper half moves, it can have a knock-on effect on your lower half. For example, if you work on feeling like your lead shoulder works down from the top of the swing, your body will naturally get into more of a squatting position before unwinding through into a powerful impact.
RELATED: How to stop pushing iron shots
Something to always keep in mind is where the energy is going. Approaching impact, you want it to be tracking towards your target rather than towards the ball and therefore off to the right.
So, if you want to stop blocking drives, identify the problem and work on a feel that will enable you to power the ball towards your target on a more regular basis.
A lifelong golf fan, Andy graduated in 2019 with a degree in Sports Journalism and got his first role in the industry as the Instruction Editor for National Club Golfer. From there, he went on to enjoy a spell freelancing for Stats Perform covering football, and then for RacingNews365 covering Formula 1, but he couldn't turn down the opportunity to get back into the sport he grew up watching and playing. He now covers a mixture of equipment, instruction and news for Golf Monthly's website and print title.
Andy took up the game at the age of seven and even harboured ambitions of a career in the professional ranks for a spell. That didn't pan out, but he still enjoys his weekend golf at Royal Troon and holds a handicap of 1. As a side note, he's made five holes-in-one and could quite possibly be Retief Goosen's biggest fan.
As well as the above, some of Andy's work has featured on websites such as goal.com, dailyrecord.co.uk, and theopen.com.