Golf on the edge blog: Chris Wood USPGA
Golf blog on Chris Wood who made the cut at the USPGA, only to tail off badly. The Major experience in the States should serve Wood well, as explained by Q School expert Ross Biddiscombe.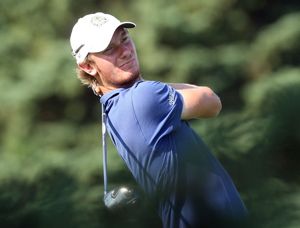 There was an Englishman who sneaked through the four days of the USPGA at Hazeltine without much fanfare or press coverage, but who will one day remember this tournament as the start of something big. That Englishman was Chris Wood. The 21-year-old from Bristol finished the four days tied 76th which meant only Scotland's Alastair Forsyth was behind him. But Chris should not be discouraged; this was his first golf tournament in America. In fact, his first golf of any kind ever in the States. And he made the cut whereas the likes of Nick Dougherty, Steve Webster and Anthony Wall (English hopefuls with much more experience) had already left Minneapolis and headed home. Chris was desperately disappointed with his performance when I spoke to him afterwards and he looked jaded. I had followed him all four days and he found it difficult to see the big picture just minutes after walking off the 72nd hole of only his third major tournament. He was proud to play all four rounds, but that will not be enough for the player the Americans dubbed "The Tall Guy". There were funny moments amidst the disappointment. No 1 - Chris was given the keys to a brand new Mercedes Benz when he arrived at Minneapolis International Airport which sounds good, but he had never driven a car in America and had a 30-minute drive to his hotel. Thank God for his sat-nav! No 2 – he put on his waterproofs when his ball was all-but in water on Sunday at he 17th hole and then got wolf whistles from the girls when the waterproof trousers were removed. No 3 (not so funny) – Chris was detained for 40 minutes by US customs officials when he arrived in Minneapolis because his visa looked amiss, plus they didn't believe someone who looked so young was playing in the USPGA.
On the downside, Chris didn't cope well with the jet lag and his whole body never adapted; tight hamstrings were causing muscle spasms in his back, so add those problems to a cold putter and you can see why the 21-year-old was glad to get the USPGA over and done with. When Chris gets home and talks to his coach Paul Mitchell in a couple of weeks, they will know that the learning will stand him in good stead for the WGC Matchplay next year, let alone the Masters. Plus, Chris has to remember that only last November, he was battling through Q School. Now, it looks like this elegant ball striker is – along with Rory McIlroy – probably our brightest young British hope. He is intelligent, focused and outrageously determined. Chris never settles for just OK and he will soon be rivaling Vijay Singh and Padraig Harrington in the time-on-the-range contest. The Tall Guy is a good bet to one day become The Main Guy. Ross Biddiscombe writes extensively about Chris Wood in his latest book, Golf On The Edge 2: Q School Complete available at golfonthedge.co.uk.
Where next?
- Enter Golf Monthly competitions - USPGA Championship news - USPGA history and records - Golf blog from Hazeltine - USPGA pictures from Hazeltine