Augusta's 19th hole that never was
Or did it once exist? Histories vary...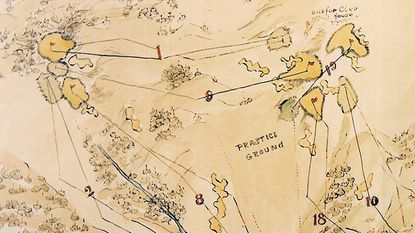 Or did it once exist? Histories vary...
The main course at Augusta was originally planned to have 19 holes. Augusta's 19th hole was to be a double or quits hole for those who had lost their match to reclaim their money – or to double their losses.
Course designer Alastair Mackenzie (opens in new tab) wrote an article explaining the reasoning behind Augusta's 19th hole
"Clifford Roberts, Grantland Rice and some of the other governors thought it might be interesting to have a real nineteenth hole, so that the loser could have the opportunity of getting his money back by playing double or quits.
"This nineteenth hole will be an attractive plateau green, narrow at one end, where the flag will usually be placed, but wide at the other end so as to give a safety route to the player who has not the courage or skill to pitch to the narrow end of the green.
"In this respect the hole will be somewhat similar to the short hole going out at Lakeside, near Los Angeles.
"I know of only two golf courses with an actual nineteenth hole. One is Knollwood (New York) and the other the Tam-O-Shanter Club (Detroit)."
This hole was to be 90 yards long, and the tee box was situated behind the original 18th green (now Augusta's 9th green (opens in new tab) after nines were reversed in 1935).
A name was even given to Augusta's 19th hole – Double or Quits, which an official history described for the benefit of any bewildered Americans as "the British variation of 'double or nothing'."
Despite the club's highly influential co-founder Clifford Roberts being behind it, the idea of Augusta's 19th hole was "ultimately abandoned for unknown reasons," according to the Augusta National archives.
One reason put forward is that the extra hole would obscure the view from the clubhouse of the then 18th green, now the 9th one.
Another reason might simply have been that the club did not have the money to spend on an extra hole. In its early days, the club struggled financially (opens in new tab) and also abandoned, for this reason, its plan to build a second 18-hole course.
However, although most histories agree this hole was never built, some historians believe it was.
This is based upon a contemporary Augusta Chronicle that ran during the Club's formal, five-day opening in January 1933 which stated: "Outstanding is the nineteenth hole — actually where ties are played off."
However outstanding does not have to mean superb, but can just mean 'has yet to be completed'. Which means that this article could still totally accord with the fact that Augusta's 19th hole was never built.
For more information and background on Mackenzie regarding the design of Augusta and other top golf courses see link.
Contributing Writer Golf courses and travel are Roderick's particular interests and he was contributing editor for the first few years of the Golf Monthly Travel Supplement. He writes travel articles and general features for the magazine, travel supplement and website. He also compiles the magazine's crossword. He is a member of Trevose Golf & Country Club and has played golf in around two dozen countries. Cricket is his other main sporting love. He is the author of five books, four of which are still in print: The Novel Life of PG Wodehouse; The Don: Beyond Boundaries; Wally Hammond: Gentleman & Player and England's Greatest Post-War All Rounder.