US Masters Top 10 moments - Seve Ballesteros and Greg Norman
Bill Elliott and European glory at the Augusta National US Masters. Seve claiming his first US Masters green jacket, Greg Norman's collapse in the 1996 US Masters and a birthday to remember.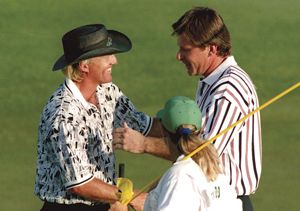 6. Watching as Seve Ballesteros ripped into Augusta National on his way to his first victory there in 1980. He had won the Open the year before, but it was this win that placed Seve at the top of the game's hierarchy. He was young, good looking and cavalier. Augusta has never seemed more exciting than it did that Sunday when he won. That evening at his celebration party he revealed to a handful of us present that his spine was damaged and that he had played in pain. He showed us the trapeze he hung upside-down from each morning for 20 minutes and encouraged me to try it. I lasted 20 seconds. Seve laughed, but we all knew how potentially serious this damaged back was to his career. Eventually, of course, it finished him and all but drove him mad in the process.
7. The first time I wandered along Broad Street in the centre of town and wondered at the breadth of this boulevard and the flowers that dance along its centre. The same sort of thought must have occurred to General William Tecumseh Sherman when he had led his troops into Augusta during the Civil War. Sherman was the arson-loving Yankee who reduced much of Atlanta to rubble prior to entering Augusta. As his men prepared their torches, Sherman is said to have raised an arm and said: "leave it alone. This place is too pretty to burn."
8. Standing awkwardly in front of Greg Norman after his collapse in the face of Nick Faldo's relentless pursuit during the final day of the 1996 Masters. I had consoled this decent bloke who I'm proud to call a friend several times before after Major losses. Usually I had achieved this by making him laugh, but that evening I found I had nothing to say. So we just looked at each other. Eventually we embraced. "Shit happens, Billy," said Greg. And we left it at that.
9. Taking an evening off from bar duty to go to see Mississippi Burning in an Augusta cinema. In front of me that night a young, black woman sobbed her way through the last 20 minutes. She wasn't alone. The next day I asked the ever-dignified Arthur, head barman at the club at the time, what it had been like to be a black guy in Augusta back then. After collecting himself for a couple of minute, his eyes never leaving mine, Arthur eventually took my hand in his too say: "Mr Elliott, you don't want to know sir." No explanation could have been more vivid.
10. I turned 60 in 2005. I only mention this because my birthday is April 4 and so often falls when I am at the Masters. This one, however, was special. My day started when I played the Par-3 course as the guest of Sandy Lyle and ended with dinner in a downtown restaurant during which the house band played Happy Birthday. The band, it turned out, was made up of musicians who usually performed as James Brown's backing group. This band played me the soul version of Happy Birthday and it ran on for 15 minutes, by which time the entire restaurant was jumping.
Where next?
- Augusta National hole-by-hole guide - US Masters Action Replay: Greg Norman and Nick Faldo 1996
Bill has been part of the Golf Monthly woodwork for many years. A very respected Golf Journalist he has attended over 40 Open Championships. Bill was the Observer's golf correspondent. He spent 26 years as a sports writer for Express Newspapers and is a former Magazine Sportswriter of the Year. After 40 years on 'Fleet Street' starting with the Daily Express and finishing on The Observer and Guardian in 2010. Now semi-retired but still Editor at Large of Golf Monthly Magazine and regular broadcaster for BBC and Sky. Author of several golf-related books and a former chairman of the Association of Golf Writers. Experienced after dinner speaker.