Masters 2011: A chance encounter
Bill bumps into Martin Kaymer in the Augusta pro-shop and chats to the world number one about his chances for the week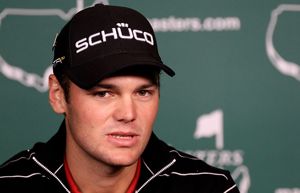 Having been catapulted out of bed by a severe lightning strike in the middle of the night - it missed me but knocked out the electricity in the house - I must say it's always fun here in Augusta for one reason or another.
Today is windy and cool (about 60F) compared to yesterday (windy and 90F) but the day was made by a chance encounter with Martin Kaymer in the pro shop. I've never spoken one-to-one with the world number one but can now confirm that earlier reports that he is a nice, articulate and polite young guy are absolutely spot on.
I asked him what he thought of the Masters given that he's played three times and has yet to make the cut and his reply was tantalising.
"I like the tournament but I don't like the week," he said. Turns out that by this he means that there are a lot of demands on his time to meet sponsors and the like so that his evenings are crowded and he'd prefer to sit quietly somewhere thinking about this hole or that or just daydreaming about winning the thing.
I couldn't resist pointing out that it's his fault for being number one in the world and that is he really, really wants a quiet life then all he has to do is to tear up the contracts and slide down the rankings. To be fair, he takes the point and laughs.
What I found interesting was his attitude towards the actual tournament. He finds playing the National difficult because, of course, he hits a natural fade and this place demands a draw almost all of the time but despite this and despite missing those cuts he enjoys the experience.
"I enjoy the challenge of having to try to hit shots I would not have to make anywhere else. It is a challenge and that is good. I may not have made the cut here yet but I do honestly believe that I have left Augusta each time a better, more rounded player and that the experience is good for me as a golfer and as a person."
It is without doubt the attitude you'd expect to hear from a world number one, but it was still good to hear it articulated.
Golf Monthly at the US Masters:
US Masters blogs Latest US Masters news Augusta hole-by-hole guide US Masters history and records
Bill has been part of the Golf Monthly woodwork for many years. A very respected Golf Journalist he has attended over 40 Open Championships. Bill was the Observer's golf correspondent. He spent 26 years as a sports writer for Express Newspapers and is a former Magazine Sportswriter of the Year. After 40 years on 'Fleet Street' starting with the Daily Express and finishing on The Observer and Guardian in 2010. Now semi-retired but still Editor at Large of Golf Monthly Magazine and regular broadcaster for BBC and Sky. Author of several golf-related books and a former chairman of the Association of Golf Writers. Experienced after dinner speaker.