What Does 'Open' Mean In Golf?
What does 'open' actually mean in golf?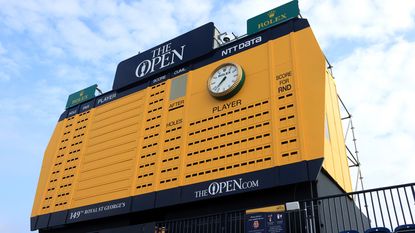 (Image credit: Getty Images)
A commonly used phrase in sport, we take a look at what the word Open actually means in golf.
What Does 'Open' Mean In Golf?
It is a phrase used across the world of sport, but in golf the word open is used commonly across a number of tournaments, including two Majors, The Open Championship and the US Open.
When a golf tournament is called open, what does that actually mean?
What Does Open Mean In Golf?
Well, it actually turns out to be fairly self-explanatory. Generally speaking, an 'open' tournament is open to all golfers, as oppose to being restricted to certain golfers like a Tour event or Amateur Championship.
Of course, being open to any golfer doesn't actually mean any golfer can show up to play and most opens will have minimum entry requirements that players must meet or qualifying events that they must attend first.
Eligibility requirements such as a minimum handicap index mean that not just any golfer can tee it up.
A lot of opens, including The Open and US Open, run qualifying events in order to advance into the open proper.
Related: Five Worst Open Golf Chokes
Open also means that golfers are eligible to play regardless of their professional or amateur status.
Of course, The Open and US Open fields are primarily made up of players who automatically qualify, but large portions of the field are reserved for those who enter local qualifying tournaments and advance through.
Comparing The Open at US Open to The Masters helps differentiate between an open and an invitational golf event.
Where opens are in theory open to any golfer who can meet minimum requirements, The Masters is not an open because the field only includes golfers who have received in invite to play.
The term 'open' dates back to 1861 when Prestwick Golf Club 'opened' its medal competition - an event exclusively for professionals the year before - to amateurs as well.
Related: 5 Perks Of Winning The Open Championship
Thus, The Open Championship was born and has since been open to all, whether via invitation or local qualifying success.
The description 'open' has developed over time in golf and is now used to describe premier national tournaments in respective countries - for example the US Open which began in 1895.
The open moniker has also found its way onto PGA Tour events such as the Buick Open, which ran on Tour in Michigan from 1958-2009.
It was first called the Buick Open Invitational, an oxymoron if ever we saw one, and was of course never 'open' in its true definition.
Get the Golf Monthly Newsletter
Tips on how to play better, latest equipment reviews, interviews with the biggest names and more.