The Grass is Greener: Open Blog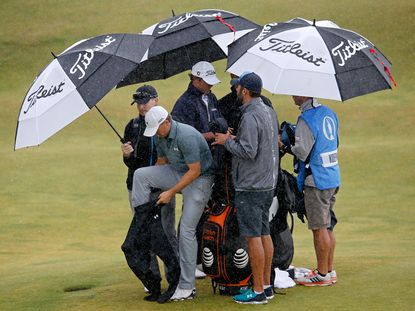 Bill Elliott talks in this Open blog about going for a stroll around St Andrews this morning, and finding a beautifully green Old Course ready for play
The Grass is Greener: Open Blog
WENT for a walk over the opening holes today, the drizzle sliding off my wet suit to dazzle like jewels in the grass beneath my feet.
And what grass. In forty years of St Andrews Opens I have never seen it so lush and so damn green. If it was any greener then we'd all need special glasses to look at it.
Top of the eternal wish list for a Championship in this ancient land is a two month drought before the action so the fairways turn brown and the ball runs as far and as unpredictably as a rabbit trying to escape something or other.
Three weeks ago hopes were still high in the R&A Command Module that this is how this Open would be. And then it rained for what seemed like forever as well as harder than it does now and then on the sub-continent.
"We suffered deluges here. There were lakes. I knew then that this Old Course Open was going to be green, " said chief executive Peter Dawson who is overseeing his 16th and final Open since taking charge.
Listen to Dustin Johnson talking about the Open below
Talking to players there are still some big bounces but the fact remains that one of this course's sharpest teeth has been removed.
Mind you the other thing that is hoped for is wind. Big wind, strong wind, wind to tear at a man's nerves like razorwire. In this respect we are now in for a hell of an Open.
If the forecast is correct and Friday is as good/bad as predicted then half this field are already up against a big obstacle as well as mostly behind an eight ball.
Friday morning is going to be wet with winds up to 20mph. Friday afternoon is set to be drier but – very big BUT! - the wind is set to rise to around 40mph and a speed to destroy the majority of scorecards.
Who is playing Friday afternoon? Let's see, in no particular order...Jason Day, Tiger Woods, Louis Oosthuizen, Luke Donald, Bubba Watson, Ernie Els, Brandt Snedeker, Shane Lowry, Lee Westwood, Sergio Garcia, Patrick Reed, Jordan Spieth and Dustin Johnson. Oh and Tom Watson. Bye Tom, thanks for all the fun.
Of course forecasts can be wrong and for the sake of the above mentioned golfers I hope that's the case this time. If the meteorologists are correct, however, then I suggest you look for your new Open champ among a small group of contenders led by Henrik Stenson and Martin Kaymer, Phil Mickelson, Justin Rose, Rickie Fowler and Adam Scott.
You have been warned. Enjoy.
Bill has been part of the Golf Monthly woodwork for many years. A very respected Golf Journalist he has attended over 40 Open Championships. Bill was the Observer's golf correspondent. He spent 26 years as a sports writer for Express Newspapers and is a former Magazine Sportswriter of the Year. After 40 years on 'Fleet Street' starting with the Daily Express and finishing on The Observer and Guardian in 2010. Now semi-retired but still Editor at Large of Golf Monthly Magazine and regular broadcaster for BBC and Sky. Author of several golf-related books and a former chairman of the Association of Golf Writers. Experienced after dinner speaker.