Missed putt hits Under Armour's share price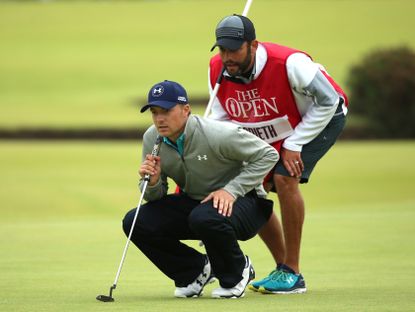 (Image credit: Andrew Redington)
One missed putt by Jordan Spieth at St Andrews knocked £90m off the share price of his clothing sponsor
When Jordan Spieth missed his putt on the 18th at St Andrews (opens in new tab) on the final day of the Open Championship his chance of winning £1.15 million had gone. This is what this year's Open Champion was to receive. Instead he finished tied in 4th, a shot behind the three-way tie for the lead. That fourth spot earned him £285,000 in prize money.
If a potential £865,000 drop caused by one missed putt sounds a lot, then what about £90m? That was what this putt might have been worth to his sponsors, Under Armour, it appears.
As Spieth was preparing to play the 72nd hole, Under Armour's share price stood at $89.46. By the time Spieth was in the recorder's hut (opens in new tab), his hopes of a Grand Slam extinguished, it stood at $88.79. Or to put it another way, the total value of all the firm's shares had dropped - unlike that pesky putt - by $140 million.
However, on the bright side, the company was still worth about $19bn.
Golf remains only a small part of Under Armour's business, albeit a rapidly growing one. Since signing Spieth in 2013, Under Armour's golf-related earnings have doubled. The firm's share price has also gone up 240%.
The share price took a dip at the end of Spieth Open week, but it had had a nice boost at the start of it. Spieth went into Open week on the back of his win at the John Deere Classic (opens in new tab), and the firm's share price climbed 3.5% on the first trading day after Spieth's win in that event.
Last year when the US speed skaters had a poor Sochi Olympics wearing Under Arrnour clothing, Under Armour's share price dropped 2.38% in a single day.
Spieth is paid, well you could almost say a major fortune to be clad in Under Arnour garments from head to toe. At the U.S. Open, someone counted that he was sporting no fewer than 16 UA logos about his person, from his logoed hat to his logoed shoes.
Optimum Sports, a marketing and sport consultancy firm, calculates that UA received $7 million worth of media coverage at the 2014 Masters when Spieth tied for second. When he won the Green Jacket the following year, the coverage the company received was calculated at being worth three times that.
The firm is getting quite a bit of coverage for his 4th spot in The Open, too...
Contributing Writer Golf courses and travel are Roderick's particular interests and he was contributing editor for the first few years of the Golf Monthly Travel Supplement. He writes travel articles and general features for the magazine, travel supplement and website. He also compiles the magazine's crossword. He is a member of Trevose Golf & Country Club and has played golf in around two dozen countries. Cricket is his other main sporting love. He is the author of five books, four of which are still in print: The Novel Life of PG Wodehouse; The Don: Beyond Boundaries; Wally Hammond: Gentleman & Player and England's Greatest Post-War All Rounder.