"All Of A Sudden The Open Is Right There For Me To Take" - Sandy Lyle On 1985 Open Win
Lyle almost caught Tony Jacklin's ball after his Open win at Lytham in 1969. Sixteen years later, the affable Scot would finally land another home win in the game's oldest Major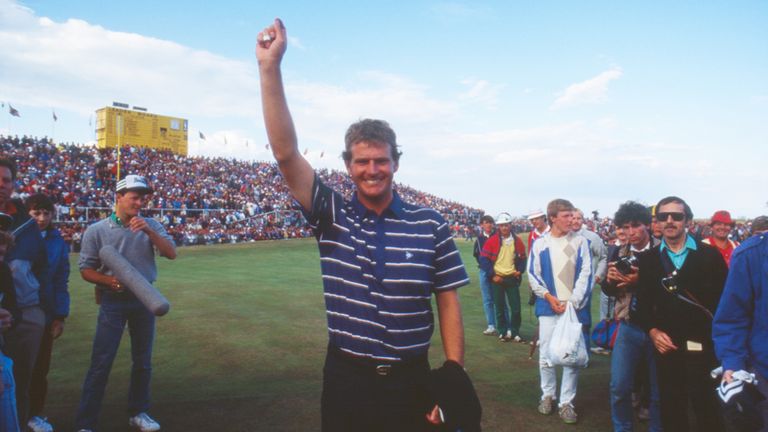 (Image credit: Getty Images)
Golf Monthly Newsletter
Golf tips and expert instruction, golf club reviews and the latest golf equipment.
Thank you for signing up to Golf Monthly. You will receive a verification email shortly.
There was a problem. Please refresh the page and try again.
Lyle almost caught Tony Jacklin's ball after his Open win at Lytham in 1969. Sixteen years later, the affable Scot would finally land another home win in the game's oldest Major
"All Of A Sudden The Open Is Right There For Me To Take" - Sandy Lyle On 1985 Open Win
A month before the 114th Open Championship, Sandy Lyle's game was in relative tatters.
In the Irish Open at Royal Dublin, bedraggled by both the weather and his swing, the Scot would wave the white towel halfway up the 18th hole in his first round.
"It's the highest score that I've taken since I was 12. I can't blame the weather for the way it began. I took five putts on the 5th for a seven and that left me deflated," explained Lyle.
"I've been working on my swing, but this was not the place to get it right. When I hit my second into the ditch at the 14th and eventually took three putts for an eight, I knew there was no hope."
Lyle would have needed to hole a 250-yard shot on the 18th to break 90 having just semi-shanked one out of bounds.
A few weeks later, The Open would be back at Royal St George's just four years after its previous hosting, when Bill Rogers triumphed.
Before that, you would have to go back to Bobby Locke in 1949.
David Begg was The R&A's press officer and his immediate memory of the week was of those who weren't there in Kent.
"A number of the major Americans didn't come, which was very unusual," he recalls.
"There was no Curtis Strange, runner-up at Augusta, and no Ray Floyd, who was also runner-up and had tied 3rd in 1981.
"Andy North had just won the US Open but he wasn't there. And Jack Nicklaus missed the cut for the first time ever at an Open. In 1981, he had shot 83 on the first day but still made the cut and finished 23rd."
Christy to the fore
On Thursday, only 11 players broke the par of 70 and one player, a silver-haired, ruddy-faced 36-year-old Irishman, would capture the headlines.
Christy O'Connor Jr three-putted the 1st and 3rd, but was round in 64 a few hours later to lead by four. It remains one of the most remarkable rounds in Open history.
"I had three three-putts. I also had seven straight birdies from the 4th and hit the hole at 11. I used to get runs like that," he told me a few months before his death in January 2016.
"My swing was like a steady rock. It was a three-quarter swing, but I was a very good driver and 90 per cent of the time I was on the fairway. They say drive for show and putt for dough. I think you also drive for dough.
"In my day, we would look at each other's swings. Someone like Eamonn Darcy would say something, and that was it. Know your own swing, and if you know where the clubhead is, then you have a great chance."
After Friday, only two players were still in red figures and just two back was a young Aussie playing in his second Open.
Golf Monthly columnist Wayne Riley had qualified at Littlestone and rounds of 71-70 had left him tied for 6th.
"All links courses are exposed, but Sandwich is seriously exposed," Riley says.
"You can play Birkdale or Troon in bad weather, but Sandwich and Muirfield are so open. It just hums through there and it's cold.
"The Yanks come over and halfway down the 1st must be thinking, 'What am I doing here?' You're playing for the Claret Jug. That's what!
"I played ten. The Open was always the one for us Aussies. We had it on TV all the time. We talk about The Masters, but that's 90 players. The Open has a full field that tees off at 6.30am and finishes at 4.20pm.
"Everyone gets a chance to win. You can get done over by the weather, but it's the truest form of the game.
"You go back to the hotel and the peace hits you. It really is the Holy Grail. The Dutch Open was always the week after and I slept for most of that week."
A new leader
Riley would slip to a weekend of 77-72, but another Aussie, David Graham, was leading.
Graham was a hard-nosed competitor who already had a US Open and PGA Championship in the bag.
Level with Graham after three rounds – this was the final Open to incorporate a second cut after Saturday – was new Masters Champion Bernhard Langer.
The German had been runner-up here in 1981 and again behind Seve Ballesteros in 1984 and much of the clever money was on him. Three back were O'Connor Jr and Lyle.
Things had turned round immediately after Dublin for Lyle. He had gone straight to Monte Carlo and finished 3rd and was 2nd in France the following week.
"The quicker you can press the delete button, the better," Lyle says.
"I ended up buying a driver head off Ian Woosnam. Eamonn Darcy didn't like it very much and he had passed it to Woosie. It was a MacGregor Keyhole head and they were going up in value as it was a mature wood.
"It worked wonderfully for about ten days and then I put it into retirement. It's now mounted.
"Even now I walk past it and that thing has not swollen or cracked or shrunk.
"It was stable, had a nice sound and I drove the ball really well.
"My 1-iron and driver were working well and it was then just a matter of getting the scoring right."
Lyle and O'Connor would be off in the third-to-last group and the pairing couldn't have been better.
"To be drawn with Christy was great," Lyle agrees.
"We would natter and he's good with the crowds and is a calming influence. You don't have to be on your toes with the rules. It's just, 'Let's go and have a good day and whoever wins, wins.'"
Related: Remembering Greg Norman's epic 1993 Open triumph
Drama right to the end
Certain big-name Americans may not have been there, but, by the time he had reached the turn, Tom Kite was leading by two before doubling the 10th.
His countryman, Payne Stewart, would close with a 68 to finish on three-over, a score which, over a frantic afternoon, would begin to look better and better.
Lyle's day was going nowhere ("Christy and I were putting like we had dark glasses") when he tugged it into thick rough at the notorious 14th.
He wedged out, smashed a long-iron to the back of the green and rolled it in from 30ft for the most unlikely of birdies.
"That just set the momentum for home. I don't really like the 15th. There's a minefield of bunkers off the tee and it's not an easy green to hit with a long-iron," Lyle says.
"I clattered a really good tee shot and an excellent 6-iron and knocked in a 15-footer.
"All of a sudden The Open is right there for me to take."
Lyle's putter remained on its best behaviour with a pair of five-footers, before he found himself just off the green on the 72nd hole.
"I couldn't putt it and couldn't even run it with a 7-iron as the lie was so bad. So I had to backfoot it," Lyle says.
"I thought, 'I've got to make four so you can't just bang it up there and leave yourself a 20-footer'. I had to get it close.
"The contact was lousy and I knew it didn't have enough energy. Then it comes rolling back almost to where my feet were.
"I then left myself another short one and you wonder, 'Is this the one I'm going to miss? The Golfing Gods have given you the last few holes and now they're going to step in with this bogey putt.'
"But I made it and had an agonising 40 minutes to wait."
With Graham and Langer trying to eke out a birdie to tie Lyle, the 27-year-old Scot was hidden away from the TV cameras and media.
"I put him in Michael Bonallack's office, dropped the blinds and left him in peace," explains Begg.
"We were just popping in now and again to see if he wanted to do anything different.
"In that time he phoned his dad, Alex, and when Langer and Graham failed to get the birdie at 18, all he did - only my secretary Katie McLean and I were with him - was to give a little sort of punch of the air and he had a wee smile on his face.
"There was no big yahoo, it was so typical - easy-going Sandy Lyle."
Mark has worked in golf for over 20 years having started off his journalistic life at the Press Association and BBC Sport before moving to Sky Sports where he became their golf editor on skysports.com. He then worked at National Club Golfer and Lady Golfer where he was the deputy editor and he has interviewed many of the leading names in the game, both male and female, ghosted columns for the likes of Robert Rock, Charley Hull and Dame Laura Davies, as well as playing the vast majority of our Top 100 GB&I courses. He loves links golf with a particular love of Royal Dornoch and Kingsbarns. He is now a freelance, also working for the PGA and Robert Rock. Loves tour golf, both men and women and he remains the long-standing owner of an horrific short game. He plays at Moortown with a handicap of 6.