Remembering Greg Norman's 1993 Open Triumph At Royal St George's
Robin Barwick speaks to Greg Norman and coach Butch Harmon about the Australian's epic victory in the 1993 Open at Sandwich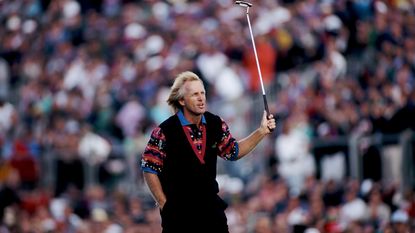 (Image credit: Getty Images)
Get the Golf Monthly Newsletter
Thank you for signing up to Golf Monthly. You will receive a verification email shortly.
There was a problem. Please refresh the page and try again.
Robin Barwick speaks to Greg Norman and coach Butch Harmon about the Australian's epic victory in the 1993 Open at Sandwich
Remembering Greg Norman's 1993 Open Triumph At Royal St George's
It was English poet Thomas Gray who wrote, "Far from the madding crowd's ignoble strife." The odds are stacked heavily against Greg Norman uttering this line of 18th-century poetry as he searched for a place to practise ahead of the 1993 Open Championship at Royal St George's but he shared Gray's sentiment.
The difference is that Gray was soaking in the tranquillity of a churchyard as he contemplated mortality, while Norman just needed to get away from the "white noise" to hit some golf balls off a sidehill lie.
"You get a lot of white noise at Majors," says Norman, now 66, but 38 at the time.
"People are always walking around you, talking to you and it can be very hard to concentrate on what you are there to do."
Australia's 'Great White Shark' was ranked 4th in the world, and hindsight shows he was sandwiched between multiple spells as World No.1, starting in 1986 and finishing as Tiger Woods rose to the fore in 1998.
Norman had won The Open at Turnberry in 1986 and was among the most likely to dethrone Nick Faldo, the defending champion and winner of three of the previous six Opens.
Norman wanted to practise uninterrupted with his coach, Butch Harmon, and as Royal St George's has the largest acreage of all Open venues, in 1993 it was still possible to find some empty practice space around a corner somewhere.
"Greg was getting into some old habits, like a bit of a slide into the ball," says Harmon, 77, talking to Golf Monthly from his academy at the Rio Secco GC, Las Vegas.
"I used to make him practise off a sidehill lie with the ball above his feet, which would flatten out his plane a little and make him rotate more. On the other side of the equipment vans, I found a little slope and Greg could hit the balls over the vans and back onto the range."
But hitting balls over the equipment trucks broke Open protocol and Norman soon had to fend off an agitated R&A official.
Harmon adds: "The official walked away and I said to Greg: 'What's he going to do? Disqualify you?' Greg said, 'Who knows, but we need to hit balls here, so let's do it.'"
"I felt so good about my game and about my ball flight," Norman recalls.
"I kept looking at Butch because every shot, the ball came out exactly the way I wanted it to."
"Hitting off the slope helped to flatten the ball trajectory," says Harmon.
"It got the club onto the path I wanted and, literally, once we started on that sidehill lie, Greg never missed a shot."
"Ball flight is everything on links," says Norman.
"It's all about how you spin the ball and I just felt in control, no matter the wind conditions. You just have to be aware of what you need. I say it a lot to players today, that sometimes you need to eliminate the white noise. I came away from that session thinking, 'Okay, I am really in sync right now.'"
An all-star cast
With the course softened by rain and only calm breezes skipping around, Norman posted a shining 66-68 in the first two rounds, despite opening the championship with a double bogey.
The 1993 Open was one where the stars aligned in dazzling formation.
After two days, Norman shared third place with Fred Couples, the 1992 Masters champion and World No.5, and Corey Pavin, who was progressing towards a career pinnacle with victory at the 1995 US Open.
One shot ahead of them was Germany's Bernhard Langer, the reigning Masters champion and World No.2, with Faldo holding a one-shot lead.
The Englishman was World No.1 and, in round two, he shot a course-record nine-under-par 63, cheered on by an excited home crowd.
Pavin putted magnificently in round three to post a 68 and claim a share of the 54-hole lead with Faldo.
They made the final pair for the fourth round, with Norman and Langer one shot back.
A third-round 67 brought Zimbabwe's Nick Price into the picture – World No.3 at the time – and he began the final round three shots off the lead, along with Australia's Peter Senior.
The chasing pack was made up entirely of past or future Major winners: Wayne Grady, Ernie Els, Couples, John Daly and Fuzzy Zoeller.
"It hit me going to the 1st tee on Sunday," says Norman.
"I looked at the leaderboard and thought, 'Whoa, this is the Who's Who of golf.'
"I knew half those players were probably going to come at me hard so I would have to go hard myself. I was excited because I knew those guys wanted to beat me just as much as I wanted to beat them."
Pavin's putter ran cold but Faldo, Langer and Norman went at it.
It was only after Norman came within an inch of holing his approach to the 9th to set up his fourth birdie of the day that he opened up a two-shot lead.
"Larry Bird [of Boston Celtics fame in the NBA] and I have played a lot of golf together," adds Norman, "and I always remember he said that if the Celtics were one point down with one second left, he always wanted the ball. I thought about that as I walked to the 10th tee: here we are, Larry Bird. Let's take it to the house now."
Royal St George's can unnerve golfers with all the peaks and hollows of its fairways, and by testing a golfer's confidence and course knowledge with an array of blind tee shots. Norman did his homework, attacked the course from the tee and reaped the reward.
"Once you know where to drive the golf ball, over all those blind sand dunes, your fairway becomes wider, because often you are driving across a fairway rather than straight down the middle of it," explains Norman.
"A lot of guys were laying up short while I was taking a line that would sometimes even go over the gallery."
"Greg was an aggressive player anyway," reflects Harmon, "but he drove the ball so well that week.
"The control of his ball flight, the shapes of his shots, he was in total control. In the final round, he put on a driving clinic, and the distance control of his irons, in strong winds, was perfect. Greg was as calm as I have ever seen him in the final round of a Major."
Outlasting his rivals
Faldo started to leave crucial putts short on the back nine, while Langer drove out of bounds on the narrow 14th. Norman was in tunnel vision.
"Langer drove out of bounds but I knew exactly my aim point," he recalls.
"It was four miles in the distance and that was all I saw. I didn't even think about out of bounds. I just got up to the tee and hit my shot. The wind was coming hard from ten o'clock and that is dangerous when you have out of bounds on the right."
Norman smashed it down the middle and marched to a two-shot victory over Faldo. The Queenslander had saved his best till last, shooting 64 and finding all 14 fairways.
"From Greg that day, that might have been the best round of golf I have ever witnessed," admitted Langer as he reflected on his third near miss at St George's.
"Greg played flawless golf, and I could have played a lot worse. I shot 67 in the final round."
At St George's in 1981, Bill Rogers won on 276; in 1985, Sandy Lyle won on 282; in 1993, Faldo finished on 269, Langer on 270, with Norman on 267 to set a new Open scoring record.
"It was phenomenal," adds Harmon.
"Faldo took a one-shot lead into the final round and shot 67. Usually, if you do that, guess what, you win."
Gene Sarazen – 91 at the time and the oldest living Open Champion, who had set a low scoring record next door at Prince's in 1932 – was on hand to tell Norman, "It was the most awesome display of golf I have seen in 70 years."
Watch: Royal St George's Open Vlog -
"That is one of the beauties of sport when the legends who have gone before you recognise what you have done," reflects Norman.
"When a legend recognises the quality of what you have delivered, it stays with you forever. You don't get those compliments often. You don't go out there seeking them but when you receive one, it is a validation of all of your preparation, your execution, all the hard work."
Henrik Stenson is the only champion to better Norman's 267, posting 264 at Royal Troon in 2016.
But Norman set the mark for today's generation of stars to chase at St Geroge's.
Get the Golf Monthly Newsletter
Tips on how to play better, latest equipment reviews, interviews with the biggest names and more.
Robin has worked for Golf Monthly for over a decade.