Lowry Returns Claret Jug Ahead Of Open Defence
Shane Lowry returned the Claret Jug to the R&A, as he looks forward to defending his title at Royal St George's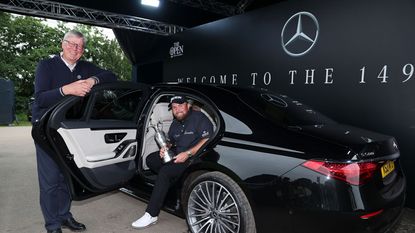 Shane Lowry returned the Claret Jug to the R&A, as he looks forward to defending his title at Royal St George's
Lowry Returns Claret Jug Ahead Of Open Defence
Shane Lowry climbed out of his Mercedes-Benz courtesy car to dutifully return the Claret Jug to the R&A at Royal St George's yesterday afternoon, but not before he had taken it to a silversmiths to be straightened.
"It has been sent back to be straightened once," admitted Irishman Lowry prior to his arrival on the Kent coast. "We actually noticed on an airport scanner that it had a little bit of a bend in it."
No information has been shared on how the famous Claret Jug received its bend in the neck, but Lowry was quick to try to deflect any inquisition towards another past Open champ.
"It's not just me," added Lowry, who won The Open at Royal Portrush in 2019. "I talked to Zach Johnson about this and he told me that he bent it as well, so it's not only me!"
American Johnson won The Open at St Andrews in 2015 and there are plenty of other past champions who have left their mark on the fabled Claret Jug.
Back in the 1950s, the Open champ was presented with the original Claret Jug and in keeping with longstanding sporting tradition, the champ was asked to organise the engraving of his name. When 1959 champion Gary Player returned the trophy in 1960, the R&A saw that his name had been engraved in lettering twice the size as in previous years. At that point the R&A took responsibility for engraving itself.
Related: Open Championship vlog - Royal St George's preview
By the 1980s, the Open champ would be presented with an identical replica of the priceless original Claret Jug, except that in 1982 there was a mix-up and Tom Watson unwittingly returned home with the original. Then he knocked it off a table while taking some practice swings at home. Handyman Watson fixed the bent jug himself and later claimed that no-one knew the difference.
The last time The Open was held at Royal St George's was in 2011, won by a countryman of Lowry's, Darren Clarke, and he managed to get off a speeding ticket when he let the traffic police pose for pictures with the Claret Jug.
If those are some of the escapades we know of, we can only imagine what other tales remain under the lid.
Get the Golf Monthly Newsletter
Tips on how to play better, latest equipment reviews, interviews with the biggest names and more.
Robin has worked for Golf Monthly for over a decade.