How To Hit Out Of Fairway Bunkers
Knowing how to hit out of fairway bunkers is critical if you want to put a good score together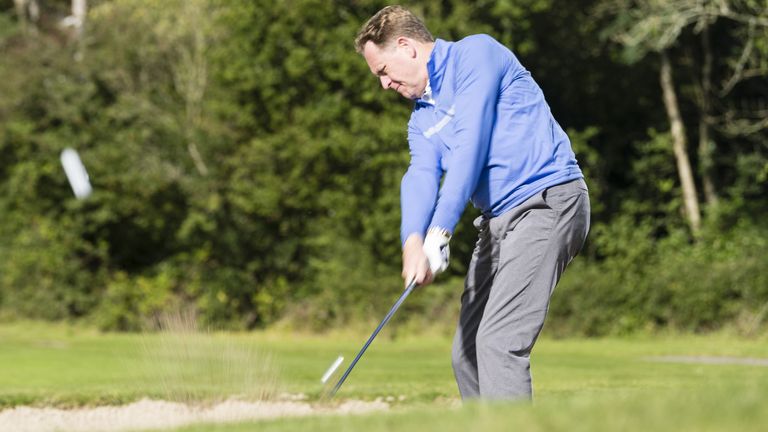 (Image credit: Tom Miles)
By Keith Wood published
As hard as you try not to, you're always going to end up in the traps at some point – so you may as well learn how to hit out of fairway bunkers. Whilst many amateur golfers fear this shot, there's no reason why you can't escape them without racking up a big number. In fact, it mostly comes down to adopting the correct set-up.
Assessing The Lip
Firstly, however, you need to assess the lip before you even touch your clubs. You can have the perfect set-up and strike the ball perfectly, but if you don't choose a club with enough loft, you're going to get yourself into trouble.
Experience will tell you how it's going to come out and whether you have enough loft to clear the lip, so you have to practise these shots to understand roughly how the ball will launch off each club.
'Knock' The Knees In
Now, let's talk you through the correct set-up. With greenside bunker shots, you shuffle your feet into the sand, but this is not something you should do in a fairway bunker – you don't want to lower your divot depth. Rather, you're looking to pick the ball clean off the top.
So, just create a little wedge into the sand with the instep - both ways. This way you're not really lowering in the sand, but creating a wedge of sand that just 'knocks' the knees in slightly and stabilises you.
Be mindful that this knocking the knees in and resisting the legs a little bit will restrict the swing slightly, so if you're aiming at hitting the green, you want to take an extra club. You'll probably want to go up a club from the sand anyway, but taking another extra one, on the assumption you can clear the lip, may not be a bad idea.
Go Down The Grip
Going down the grip slightly will also help you to catch the ball cleanly. Whilst the golf swing will remain the same, you don't want to be at the top of the grip because you're going to come in at divot depth, which is going to mean too much sand. For the same reason, position the ball fractionally back in the stance so that you get the ball early.
A Rhythmical Swing
Then it's all about making a quiet, rhythmical golf swing. Whatever you do, don't try and muscle the ball out, because your legs will go and you'll slip, and all the lovely work you did at set-up is going to be wasted.
Often, you'll see players trying to hit the ball too hard, which results in tilting, or you see golfers who are scared about hitting the lip, so they try and 'help' it out – all of which just upsets the golf swing.
There's one other factor to bear in mind. By taking the ball off cleaner, there's going to be less compression, and therefore less backspin. As a result, the ball is going to come out lower.
Taking the time to learn how to play bunker shots is going to help you to shoot lower scores, so take these golf tips to the range.
Location: Golfsmart International, Hertfordshire
Keith has worked with Golf Monthly for over 20 years. He's Director of Instruction for The Faldo Series and has coached multiple Tour winners, including Sir Nick Faldo and Seve Ballesteros. His academy, Golfsmart International, can be found in Hitchin, and coaching is still at the forefront of what he does.
Students learn best when...
They are secure and comfortable with their environment including you, the instructor. We need to listen to the player, establish their goals and break down their fears and barriers to change, establishing trust and confidence. Communication is everything and the use of today's technology is essential, especially visually, as it helps enormously to get our message across.
Advice for practice:
Hit less balls in shorter sessions and have a plan. Why are you practicing? (purpose). Whether it's a technical swing change or a drill, try and measure the outcome. It could be visually, target and result driven, but above all, don't be afraid to experiment in your practice sessions. You'll be amazed what you can discover on your own and have great fun doing it.
A typical lesson:
There is no typical lesson but I would like to think that I am a good listener and communicator. I want to establish what the student knows and wants to achieve as I assess the priorities of their improvement. I choose my words carefully as its about clear communication, so that the player understands my reasons behind any suggestions given. One commonality of my sessions would be that the player is fully immersed in the session; it's not about me telling them to do something but the player discovering how to improve with my help.