How To Think Like A Tour Pro
Follow this advice from a former tour caddie and you could save yourself multiple shots each round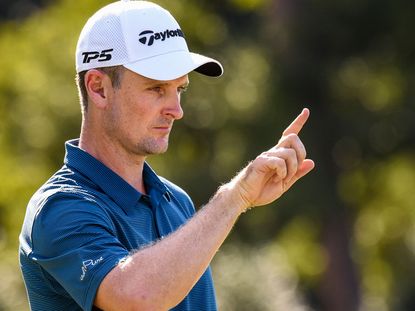 Follow this advice from a former tour caddie and you could save yourself multiple shots each round
How To Think Like A Tour Pro
Watching the very best on the main professional tours, many of us will feel that these super-talented protagonists are playing a game far removed from what we produce in our weekly chop in the Saturday Medal.
Most of us will probably never stripe a long iron like Adam Scott or raise our sand save percentage to double figures, but there are things amateurs can learn from the top pros that could be put into practice.
By considering the strategy, mental approach, preparation and patience of tour players, amateur golfers can save strokes.
Related: 10 ways to improve your golf strategy
Golf Monthly spoke to Peter Newby, long-time European Tour caddie, former Chairman of the European Tour Caddies Association and now European Tour representative for Bushnell Golf, to gain an insight into how tour players prepare and then think their way round the course, squeezing the very most out of every round by maximising opportunity and minimising mistakes.
Here, Peter reveals how amateurs can think like tour pros and score better...
Know your yardages
The fundamental starting point for any player seeking to plot their way round more effectively is to work out how far they hit every club.
Most amateurs will practise occasionally, but few use that time to accurately measure how far they hit each club.
When you practise, take your rangefinder and pick a spot, say 147 yards away, then practise hitting 147-yard shots.
After a time, you'll really get a feel for that precise yardage and what club you need in flat conditions to get it there consistently.
Usually with amateurs it's more club than they initially think.
Find out how far each club goes and note it down.
If you know a well-struck 5-iron goes 177 yards in flat conditions you can have great confidence when you face just that shot on the course.
As a caddie, you want to take away as many variables and doubts as possible so your player can concentrate purely on the golf.
If an amateur knows his or her yardages, and club selection becomes automatic, they can focus simply on execution.
Forget your pride
The skilled professionals I've worked with would never care what club it took to reach a target; only about the final result.
David Gilford was one of the very best at that.
He might have had a 150-yard tee shot that could have been an 8-iron in flat conditions, but perhaps the breeze would be against or the air a little cool and he would say, "I think I'll chip a 5-iron."
Amateurs often think it's a matter of pride to be able to bludgeon a short iron unrealistic distances, but the result is rarely satisfactory or controlled.
If it needs more club, take more club.
As I say, the result is all that matters in golf.
Related: Can a European Tour caddie save you strokes? We found out...
Know your home course
Before any tournament, players and caddies go out in practice rounds and note key yardages.
They look at the points they're hoping to reach from the tee on lay-ups and approaches, and have a selection of yardages at their disposal.
They will know how far to reach and avoid bunkers and other hazards, and how far to the fat parts of the green.
Amateurs often think they know their own course inside out, but it's not always so.
You might have always thought it was 150 yards from a certain tree to the middle of the green, but if it's actually 145 or 155, you're far less likely to get it pin-high.
You can't have too much information, so on a quieter day, venture out on the course and take measurements with your rangefinder so you know how far it is to certain points on the fairway, certain hazards, and the parts of the green you want to find.
If you know the exact distance to reach trouble from a tee and how far you hit each club, you can confidently select one that will leave you short.
Take away more things that could potentially go wrong and your scoring will improve.
Expand Golf Strategy Tips And Tricks
There is far more to building a good…
Expand 7 Tour Pro Iron Play Tips
European Tour pro Connor Syme gives us his top…
Expand Bob Rotella: How To Master The Mental Game
Bob Rotella: How To Master The Mental Game
Tips to improve your mind came from the…
Expand 10 Tour Pro Ball Striking Tips
10 Tour Pro Ball Striking Tips
Need help with your ball striking? Here are…
Preferred distances
Tour players work out how far their wedges go and will have a favourite yardage from which to attack the flag.
Amateurs should do likewise.
If you work out that your favourite wedge goes 85 yards, practise hitting that shot, then aim to leave yourself 85 yards wherever possible.
Look at each hole and find the best place to approach from – laser that spot and you can play the right shot, the right distance to find it.
Amateurs often try to get as near to the green as possible, but this often leaves a more fiddly shot.
Would you prefer 85 yards from a flat lie where you can commit to a full swing, or 30 yards over a bunker from a downhill lie?
Avoid costly misses
I often see amateurs lasering the flag then taking dead-aim, but if it's tight right and a miss just further right leaves you short-sided, you shouldn't go straight at it.
Tour players actually rarely fire directly at flags.
They aim for a spot from where the ball might feed in.
The key to consistent good scoring is not missing in the wrong places, so they allow for room to manoeuvre.
If there's space short of the pin but a devilish run-off just past it, they'll play to come up a couple of yards short.
Amateurs can aim to do the same.
They might not execute the plan as often, but that's no reason not to have one!
Take your medicine
Tour players are highly skilled at keeping really big numbers off the card.
They can assess a situation and estimate the risk.
They are very much prepared to hack back to the fairway or take a penalty drop to reset and try to minimise the damage.
Amateurs often see a big score looming and attempt something crazy to prevent it.
But very rarely does a positive result come from trying to force the situation.
It's a cliche, but amateurs should take their medicine whenever they find a difficult situation.
Make a bogey, even a double, and move on… just don't make a ten!
Know your limits
Not every pro can hit it as far as Dustin Johnson or have Phil Mickelson's short game and it's crucial for the top players to recognise their limits.
It might be tempting to try and keep up, but there's more than one way to skin a cat!
David Gilford was a tremendous example of that.
He kept it in play, knew his limits and played to his strengths.
His game is one that amateurs could learn from – he would never play beyond his limits.
He wasn't a long hitter, but he played the percentages and found the fairways, the correct spots and the fat parts of the green.
He would limit mistakes.
He was thorough in his preparation but never over-complicated.
He remained patient and never pushed too hard - a great model for the average amateur.
Fergus is a golf obsessive and 1-handicapper. Growing up in the North East of Scotland, golf runs through his veins and his passion for the sport was bolstered during his time at St Andrews university studying history. He went on to earn a post graduate diploma from the London School of Journalism. Fergus has worked for Golf Monthly since 2004 and has written two books on the game; "Great Golf Debates" together with Jezz Ellwood of Golf Monthly and "The Ultimate Golf Book" together with Neil Tappin (also of Golf Monthly)... Fergus once shanked a ball from just over Granny Clark's Wynd on the 18th of the Old Course that struck the St Andrews Golf Club and rebounded into the Valley of Sin, from where he saved par. Who says there's no golfing god?