Data Reveals Huge Impact Of Water On Wedge Shots
Golf Monthly Top 50 Coach Murray Patterson tests how water affects spin, flight and distance on 60-yard wedge shots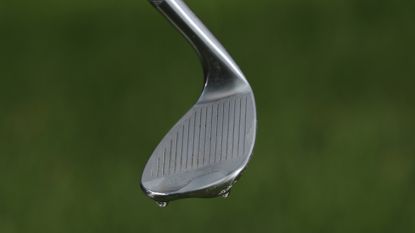 (Image credit: Kevin Murray)
Knowing how to spin the golf ball is only half the battle. In order to see the ball grab and even stand to attention, there's a lot that has to come together. One of the influencing factors is moisture so, with that in mind, I was keen to identify if water (on the ball and/or clubface) altered the consistency of a 60-yard wedge shot.
Watching golf on TV, one of the things tour players do that you don't is hit that 50-80 yarder that seems to skip, skip and spin right next to the hole. Without getting too technical, they are hitting low-launching, high-spinning wedge shots, but I know I'm not alone in wondering how on earth they do it so consistently.
Now, fresh wedges hot off the tour van certainly help, as does the endless supply of the best golf balls. This article isn't going to tell you to upgrade your equipment yearly, more how you can control certain factors so you too can hit that saucy spinner.
The test
This test was carried out using a Titleist Vokey 58-degree wedge along with a Pro V1 golf ball. The aim was to see the difference in consistency (spin, height and flight) when the environment of the shots was manipulated. The different environments were:
Dry face and dry ball
Dry face and wet ball
Wet face and wet ball
Wet face and dry ball
The dry face and ball combination obviously simulates a perfect golfing day and course conditions.
The dry face and wet ball is likely to happen when the ground is wet but it's not raining, meaning you are able to dry the clubface before hitting your shot.
The wet face and ball simulates wet ground conditions and poor weather. Alternatively, it could represent a player who doesn't dry their wedge after a practice swing on wet turf.
A wet face and dry ball is the rarest scenario but it can still be created when preferred lies are in operation. Sometimes a player will lift, clean and place their ball (dry) but forget to dry their wedge.
The results
The data returned some interesting results. Perhaps predictably, the dry ball and face combination produced the most spin (8,079 rpm), an average of 2,360 rpm more than the wet face and wet ball. And if you look at the second row on the report below, you will see the consistency of this number. There is a much larger fluctuation in spin with the wet face and ball, which results in greater inconsistency in launch and carry.
The trend with this report is that when the clubface is dry, spin numbers are better. For example, shots hit with a dry face and wet ball produced more spin (7,591 rpm) than those hit with a wet face and dry ball (6,631 rpm).
If you look at the images of the ball flights, you can also see the consistency of the flight when the face and ball are dry. Now, sometimes you obviously can't control when the ball is wet, but we are approaching the start of the season and most clubs will have adopted the preferred lie rule. This allows you to lift, clean (dry) and place.
We are talking small margins here but if a simple wipe of the club is going to improve your chances of getting your ball to stop quicker (especially if the pin is tucked) then it's worth it.
The common fault I see with my players is they make practice swings and fail to wipe down the face. If the ground is wet, the face will naturally get wet, and that is going to compromise the level of friction (spin), therefore impacting the consistency of flight and carry distance.
While you can't control the weather and ground conditions, keeping your grooves clean and your club dry is something everyone can do, so don't overlook this key aspect of performance.
I hope this helps you make a few more birdies in 2023 and beyond.
Location: Cruden Bay Golf Club
Murray took up the game aged ten, when he became a junior member at McDonald Golf Club in Ellon. From an early age, he was determined to become a teaching professional, and during his time at Cruden Bay, he's established a terrific relationship with the club's members, and worked with a number of mini Tour professionals and collegiate golfers.
Teaching philosophy:
Everyone is different and there is no single way to swing a club.
Greatest success story:
My greatest success stories aren't of those who win competitions or tournaments. My greatest success is when a player is ready to give up and I am able to bring back their love for the game again through them playing better golf.
Biggest challenge:
In a world where everything is instant, you naturally come across players who expect immediate success from little tuition and little practice or play. Getting the player to buy into the long-term process can often be challenging.