Beginners Guide To Pitching
Golf Monthly Top 25 coach Gary Alliss covers the basic fundamentals of pitching, including the set-up and the grip.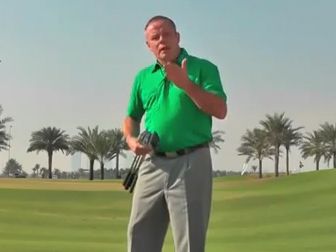 Golf Monthly Top 25 coach Gary Alliss provides his beginners guide to pitching to help you get up and down from inside 100 yards.
The set-up
Any beginners guide to pitching should start at the very beginning - the address. This is where you can set the basics that will help you strike the ball sweetly every time and you will find similar principles throughout our beginners guide to golf. The stance should be slightly narrower than for a full shot, with more weight on the front foot. This discourages too much weight transfer and creates a slightly more descending blow, with a steeper angle of attack, to put a little more spin on the ball.
Because you're not making such a big swing, you're not going to have time to clear the left side out of the way.
To help you get through the shot you need to open up the stance. For half shots, pull the front foot back an inch, and for shorter pitches, take it back by two inches
Don't quit
Perhaps the biggest single pitching mistake I see is quitting. By this, I mean too big a backswing, followed by too short a follow through, which I believe should be a little longer than the backswing, as I'll explain in the 'clock-face routine'.
The next time you ware watching golf on the TV, watch how Rory McIlory pitches with good rhythm and aggression. This is a great image to have in your mind.
If quitting is the biggest problem, then moving too much weight and not keeping still are next. With pitching, people move the body too much and don't swing their arms enough. This creates inconsistencies of strike that are actually relatively easy to rectify. You want your body to rotate but not sway.
Grip control
Gripping further down the handle takes some width out of the swing, so you can't create as much speed, but can gain more control.
Holding the club halfway down the grip might be ideal for a 60 to 80-yard pitch, while you might be almost down to the shaft for those 35 to 50-yarders.
You won't get as much weight transfer or shoulder turn, either, so swing speed becomes the key to hitting it the right distance.
The further you grip down, the more weight you should place on the front foot – around 60 to 75 per cent, depending on length of shot.
Pitch, chip or full shot?
Before looking at ways to control pitching distance, it's important for any beginners guide to pitching to establish where the boundaries lie between chips, pitches and full shots.
I would say a chip becomes a pitch at about 35 yards – perhaps 25 yards for women. You then need to work out how far you can hit a comfortable full shot with each of your pitching clubs.
The average golfer is likely to be playing a pitch, rather than a chip or full shot, from around 35 to 100 yards.
Clock-face routine
Good distance control is essential when you are pitching. In this exercise, we're focusing on how far the arms should swing back and through. For example, a '9 to 3' swing would mean the arms reaching horizontal halfway back, and again on the follow through.
The perceived wisdom is that both should be the same length, so 9 to 3 or 8 to 4. However, if the follow-through is going to be quicker than the backswing – as it should be – I think it should actually be a little higher, so 9 to 2/2.30, rather than 9 to 3.
If the clock-face image doesn't work for you, then try to find something else that does, such as back to belt high, and through to chest high.
Filming your swing can be very useful, as you can instantly see if what you feel is 9 or belt high actually is.
Tom Clarke joined Golf Monthly as a sub editor in 2009 being promoted to content editor in 2012 and then senior content editor in 2014, before becoming Sports Digital Editor for the Sport Vertical within Future in 2022. Tom currently looks after all the digital products that Golf Monthly produce including Strategy and Content Planning for the website and social media - Tom also assists the Cycling, Football, Rugby and Marine titles at Future. Tom plays off 16 and lists Augusta National (name drop), Old Head and Le Touessrok as the favourite courses he has played. Tom is an avid viewer of all golf content with a particularly in depth knowledge of the pro tour.