Beginners guide to hybrid play
Gary Alliss explains how you should vary your technique for hybrids, long irons and fairway woods.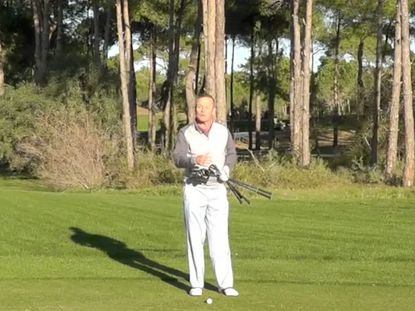 Golf Monthly Top 25 coach Gary Alliss offers a simple beginners guide to hybrid play explaining how these crucial clubs differ from fairway woods and long irons.
Hybrids, long irons and fairway woods video
Top coach Gary Alliss offers a beginners guide to hybrid play explaining how these clubs fit between your fairway woods and long irons. His advice is a must for anyone looking to use these crucial clubs effectively. Of course, hybrids are incredibly versatile and can be used effectively to chip with around the greens, but for this piece he will focus on full shots.
Hybrid keys
To start I want to explain how to address your hybrid for a normal, fairway lie as this realtes to all other areas of our beginners golf guide. The key here is to understand that the shaft is longer than your irons but shorter than your fairway wood. That's why the ball position at address should be a fraction forward of where you'd have it for an iron shot but not as far forward as with your fairway wood. Your stance should also be a little narrower than for a fairway wood shot. If the lie is poor, feel free to move it back in your stance - this creates a steeper angle of attack to help you strike the ball before the ground. You may wish to make a few more simple adjustmenst if you want to hit your hybrid from a divot.
Your hybrid is incredibly useful when the ball is in the rough and in this scenario set the ball centrally in your stance and place a little more weight on your left side than you normally would, about 55%.
I also advocate hovering the club above the grass, this will prevent the club from getting snagged in the takeaway.
Crucially, feel that you are hitting 'down' on the ball and take a divot through impact. By having more weight on your left side and setting the ball back in your stance, you can see that my angle of attack into the ball is steeper than usual. This will help me hit the ball before the grass with maximum force.
Whether in the rough or on the fairway, the sole of the hybrid is designed to glide through impact helping you find a powerful strike.
Fairway wood keys
The shafts of your fairway woods are obviously longer than your irons or hybrids and this will help create extra clubhead speed and distance but to get the most from the design of the club itself you need to find a 'sweeping strike'.
Set the ball forward in your stance an inch and a half inside your left heel. Your sternum should be slightly behind the ball at address and you'll have a little more weight on your right side.
These elements will ensure the club attacks the ball on a shallow angle, helping you to find that sweeping strike you're after.
One trap to avoid is leaning back through impact… Yes, you want a sweeping strike but if you lean back through the downswing, you're likely to strike the ground before the ball. Make the adjustments at address and then swing as you normally would.
Long iron keys
The modern trend is for players to drop long irons for hybrids due to the extra forgiveness and playability from the rough. However, I think there is still a place for long irons.
I'm using my 4-iron here, I have 180 yards to the flag and I'm on a tight, 'summer' lie. The narrow sole is what will help me with the strike but I also need to set up correctly to the shot.
From a bare lie, I set the ball central in my stance with my hands slightly ahead of the ball at address. This is where you really need to trust the design of the club.
You might not think there's a lot of loft on offer but what there is, combined with the speed of your swing will create the backspin required to get the ball up.
The descending blow will allow you to strike the ball before the ground.
Subtle differences
So to re-cap on the basics, as the shaft gets shorter, the stance gets a fraction narrower and the ball moves further back each time.
These differences might look small but they are absolutely essential. Be fastidious about your ball position with your longer clubs. It is this that will determine the quality of strike and flight you're able to generate.
You can make small changes to these positions to create different flights with each club but ensure this is always your starting point for straightforward fairway wood, hybrid and long iron shots.
Lie detector
When you get to the shot, your first and most important consideration should be the lie. Modern fairway woods (especially 3-woods) are very powerful clubs that can be used as an extra option off the tee.
However, to strike them well off the deck, you do need a little grass under the ball. If the lie is completely bare or you are in a relatively heavy lie in the rough, discard your fairway wood – you'll get more yardage from other clubs.
If the lie is really tight, use a long iron. The narrow sole will help you pinch in behind the ball and the shorter shaft will help you find a steeper angle of attack.
In this scenario, the hybrid can be used but the sole is more likely to 'bounce' through impact causing a mis-strike.
The hybrid comes into its own from the rough, this is where you'll get a lot more distance than either of the other options.
This really is a great solution on modern courses where the rough off the fairway is particularly lush.
Gary's workout plan
From a normal fairway lie, hit three balls with each club and measure how far the average ball goes with each
Find a tough lie in the rough and hit two balls with your long irons, hybrids and fairways to see which goes furthest
Shot on location at the Montgpomerie Maxx Royal, Turkey by Paul Severn
Tom Clarke joined Golf Monthly as a sub editor in 2009 being promoted to content editor in 2012 and then senior content editor in 2014, before becoming Sports Digital Editor for the Sport Vertical within Future in 2022. Tom currently looks after all the digital products that Golf Monthly produce including Strategy and Content Planning for the website and social media - Tom also assists the Cycling, Football, Rugby and Marine titles at Future. Tom plays off 16 and lists Augusta National (name drop), Old Head and Le Touessrok as the favourite courses he has played. Tom is an avid viewer of all golf content with a particularly in depth knowledge of the pro tour.