Voice Caddie SL3 Active Hybrid GPS Rangefinder Review
Mike Bailey put the new Voice Caddie SL3 to the test, running through all its features as a rangefinder and GPS device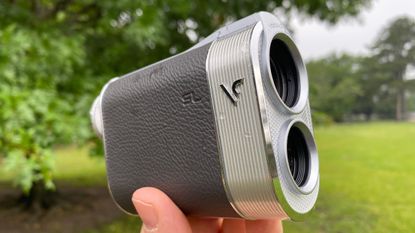 (Image credit: Mike Bailey)
The new SL3 Active Hybrid Laser Rangefinder from Voice Caddie is everything you want in a distance measuring device and then some by combining laser and GPS functionality. Given the tech, it's surprisingly easy to use and was accurate in testing.
Reasons to buy
+

Very fast and accurate

+

Can measure all sorts of course features

+

Will help you read greens

+

Comfortable to hold
Reasons to avoid
-

Requires regular recharging in golf mode
Voice Caddie SL3 Active Hybrid GPS Rangefinder Review
One of the debates regarding distance measuring devices has always been what's better: a laser rangefinder or a leading GPS device (like a GPS golf watch, for example)? The overriding argument for rangefinders is accuracy, while the case for GPS devices can be made that they are more convenient and provide much more detail of the course you're playing.
In the case of the new Voice Caddie SL3 Active Hybrid GPS Rangefinder, there's no need to compromise, because with this unit you have both, placing it among the very best golf rangefinders on the market. We like it so much, we selected it for Editor's Choice 2023. Just like the previous version, the SL2 Active Hybrid rangefinder, the SL3 ($599.99) has both an accurate and easy-to-use laser rangefinder and a color touch LCD screen under the eyepiece where you can change settings and most importantly see maps of the holes and the greens with the ability to glean all sorts of information.
And If you've never thought you might need a hybrid, consider this: On drizzly, foggy days, or when you hit a very wayward shot, you can't always shoot the pin, so having the GPS feature can be invaluable. It also works great on blind shots, too, so it's more than just a luxury.
But let's start with the SL3's ability to shoot targets. First off, it's fast, accurate, and the display is easy to read. You can adjust the brightness of the OLED two-color display with a button on top. It's also easy to find your target, both manually and with the help of the new Pin Tracer, pin-filtering feature with GPS assist. It recognizes the closest object as the pin and then vibrates and gives you a visual ring. This eliminates the possibility that you might have shot a tree or another object beyond the green, assuring that you have an accurate reading.
Like many higher end rangefinders, the SL3 also has a slope option, and it works really well. Not only does it give you the adjusted yardage, but it also tells you the degree of slope. That part can be particularly helpful around the greens if you're trying to figure out how uphill or downhill a chip or pitch shot is, for example.
But what really sets the SL3 apart are the GPS features. You can pair it with an app on your smartphone, but you don't have to, which is really nice. In other words, just show up to the course, turn on the rangefinder and put it in golf mode, and it will find the satellite and tell you where you are on the course. There's no need to enter courses or advance the holes.
It starts out with basic maps of the holes, showing where water, bunkers and the green are, of course. You can touch the screen to find out how far certain features are from you as well. You can also use it to measure your drives and get heat maps of greens, which reveal the undulations of the greens. For the SL3, a new feature called Putt View was also added. By standing next to the ball and locating the pin position, Putt View literally give you the read on the putt, much like a caddie (your playing companions might not like you using this if there's an ongoing wager.)
The green maps and Putt View features aren't available on every course, but Voice Caddie is constantly adding new ones. As this review was being written, more than 13,000 courses in the United States and 15,000 worldwide are part of the library.
Finally, the SL3 is sleek and easy to handle. It fits in the hand easily and comes with a leather carrying case with magnetic closing flap. If you use the GPS feature, you'll want to recharge every two or three rounds. Fortunately, if the battery life gets low, the LCD display shuts off to enable the use of the laser rangefinder to complete the round.
Mike has worked in the golf industry for nearly 30 years with full-time staff positions at publications and websites that include PGA Magazine, the Golfweek Group, and GolfChannel.com. He is currently writing for several different sites and magazines and serves as a contributing equipment writer for Golf Monthly, focusing on irons, shoes and the occasional training aid or piece of technical equipment.
Mike has experienced a number of highlights in his career, including covering several Ryder Cups and PGA Championships, writing instruction pieces and documenting the best places for golf travel for more than a decade.
Mike carries a 7.6 handicap index and has two hole-in-ones, the most recent coming in February 2022. A resident of Texas for more than 40 years, Mike plays out of Memorial Park Golf Course (home of the Houston Open on the PGA Tour).