WATCH: Sir Nick Faldo Plays Golf With Movie Star Chris Pratt In New Series
Sir Nick Faldo debuts new YouTube series with Hollywood actor Chris Pratt sharing Tiger Woods Pro-Am story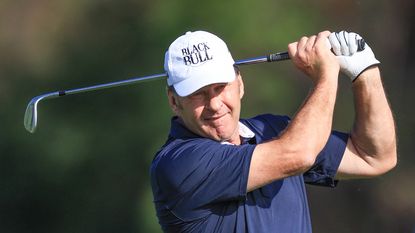 (Image credit: Getty Images)
Sir Nick Faldo may have left his commentary position but he's back on our screens and back on the golf course after launching his new YouTube series '18 With Sir Nick' (opens in new tab) with a real bang as film star Chris Pratt joins him in his first episode.
The six-time Major champion tees it up with the Hollywood actor at Jupiter Hills golf club in Florida for 18 holes and plenty of chat about life on and off the course for confirmed golf nut Pratt.
So how does the Guardians of the Galaxy star deal with the greens? And we've seen him dealing with dinosaurs in Jurassic World but does he get many birdies?
First there's an in-depth range session where Sir Nick gets his hands on, quite literally, the Hollywood movie star to help him improve his game, with almost instant results.
"Wow, how lucky am I that I'm getting a hands-on lesson from Sir Nick Faldo, this is the kind of stuff that every golf geek dreams of, it's cool," says Pratt.
"He's the voice of the PGA Tour Sunday for me hearing him calling events – and then his attitude, he's like this renegade Brit.
"When you think about golf it's a gentleman's sport, but really it's a bunch of alpha males competing out here against each other and you get that sense from him – he's like Liam Neeson to me."
We find out all about Pratt's experience in the game, including a brilliant Tiger Woods story from playing at the Genesis Invitational Pro-Am, and how the film star fell in love with golf.
Played a few holes with the LEGEND, @NickFaldo006! Spoiler alert: it was a big mistake. 😂 Check out his new series, 18 with Sir Nick right now! https://t.co/MR78XXJ8tz pic.twitter.com/RjArrhSNA5February 23, 2023
See more
"I became obsessed about five years ago, in my 20s I had a stretch of 12-15 months when I played a lot but never broke 100 so now I feel like I'm relatively obsessed. I've never broken 80 but I've touched it a few times and my index is about a nine."
As always there are some good shots and some bad shots but once again we see why golf is the great leveller as it brings together one of the biggest movie stars in the world with one of the greatest golfers of all time – with plenty of common ground on the course.
Watch the first episode of 18 With Sir Nick, with Chris Pratt, below or on YouTube.
Paul Higham is a sports journalist with over 20 years of experience in covering most major sporting events for both Sky Sports and BBC Sport. He is currently freelance and covers the golf majors on the BBC Sport website. Highlights over the years include covering that epic Monday finish in the Ryder Cup at Celtic Manor and watching Rory McIlroy produce one of the most dominant Major wins at the 2011 US Open at Congressional. He also writes betting previews and still feels strangely proud of backing Danny Willett when he won the Masters in 2016 - Willett also praised his putting stroke during a media event before the Open at Hoylake. Favourite interviews he's conducted have been with McIlroy, Paul McGinley, Thomas Bjorn, Rickie Fowler and the enigma that is Victor Dubuisson. A big fan of watching any golf from any tour, sadly he spends more time writing about golf than playing these days with two young children, and as a big fair weather golfer claims playing in shorts is worth at least five shots. Being from Liverpool he loves the likes of Hoylake, Birkdale and the stretch of tracks along England's Golf Coast, but would say his favourite courses played are Kingsbarns and Portrush.