WATCH: NFL Stars Show Big Hitting Ability In Pro Bowl Longest Drive Contest
Jordan Poyer smashes a 320-yard drive to win the long drive contest at the NFL Pro Bowl with the very last swing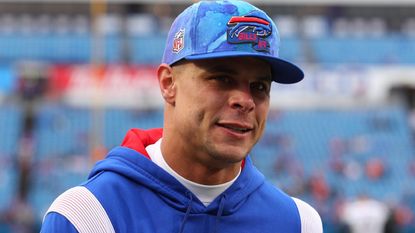 (Image credit: Getty Images)
We're used to seeing some big hitting on the gridiron, but the NFL's all-star players showed they could also give the golf ball a healthy whack during their Pro Bowl Longest Drive competition in Las Vegas – which was won with an impressive hit of 320 yards.
Buffalo Bills safety Jordan Poyer is known for his big hits on the field, and he left his golf ball wishing it had worn shoulder pads (can golf balls have shoulders?) after he smoked his final effort 320 yards to grab a dramatic victory on the very last swing of the competition.
The NFL Pro Bowl Games see a collection of skills competitions played out over the weekend as the AFC and NFC all-star teams gather for a more fun and relaxed weekend than the previous half-hearted full game on the field.
Things like the greatest catch and dodgeball have been introduced, but to reflect how many NFL stars are now taking up golf, a longest drive competition has been introduced with team captains Peyton and Eli Manning selecting five players each to represent them on the tee.
Ability ranges were vast, from Poyer and Minnesota Vikings tight end TJ Hockenson battling it out for top spot, to Hockenson's team-mate Za'Darius Smith – who revealed just before the off that this was his first trime golfing.
Smith said he had watched YouTube videos in preparation – but those videos must all have been Happy Gilmore as he attempted the run-up before having a big swipe at the ball a couple of times, and mainly catching nothing but thin air.
The big fella almost injured himself on one occasion, but then did magically connect with the ball, and when someone of Smith's size connects the ball stays hit – to the tune of 275 yards. Not bad for a novice.
The was some brutal hitting all around from a collection of rather large NFL stars, before Hockenson stepped up as the penultimate competitor to take the lead with a bomb of 316 yards, leaving just Poyer left to play.
Poyer, who says he is a member at Coral Ridge Country Club in South Florida, then proclaimed in his intro "during the (NFL) season my handicap's at 18, during the offseason it's at three!".
And Poyer showed the variety in his game, launching his opening effort 295 yards with a high fade, before over cooking his second and carving it miles out of bounds to the right, before the money shot and the last swing of the event.
Poyer put a lovely swing on it, with that bit of extra juice in the follow-through that projected a hammer blow all the way down the long drive grid to the 320-yard mark for a walk-off victory.
If only his Buffalo Bills quarterback Josh Allen could've seen him he would've been mightily proud, as confirmed golf nut Allen skipped the Pro Bowl through "injury" which was not serious enough to stop him from playing in the AT&T Pebble Beach Pro-Am.
Maybe Poyer will get an invite to the PGA Tour event next season after his efforts in Las Vegas, and maybe, like Allen, he'll also decide that since it's officially the NFL offseason that means it's golfing season for the league's growing army of golf fanatics.
Buffalo Bills quarterback Josh Allen is skipping the Pro Bowl festivities due to "injury" but is competing at Pebble Beach this week, which is totally relatable for all of us who have called in sick to work just so we could play golf.January 31, 2023
See more
Paul Higham is a sports journalist with over 20 years of experience in covering most major sporting events for both Sky Sports and BBC Sport. He is currently freelance and covers the golf majors on the BBC Sport website. Highlights over the years include covering that epic Monday finish in the Ryder Cup at Celtic Manor and watching Rory McIlroy produce one of the most dominant Major wins at the 2011 US Open at Congressional. He also writes betting previews and still feels strangely proud of backing Danny Willett when he won the Masters in 2016 - Willett also praised his putting stroke during a media event before the Open at Hoylake. Favourite interviews he's conducted have been with McIlroy, Paul McGinley, Thomas Bjorn, Rickie Fowler and the enigma that is Victor Dubuisson. A big fan of watching any golf from any tour, sadly he spends more time writing about golf than playing these days with two young children, and as a big fair weather golfer claims playing in shorts is worth at least five shots. Being from Liverpool he loves the likes of Hoylake, Birkdale and the stretch of tracks along England's Golf Coast, but would say his favourite courses played are Kingsbarns and Portrush.