Joe Miller Wins World Long Drive Championship
Joe Miller won the 2016 World Long Drive Championship in dominating fashion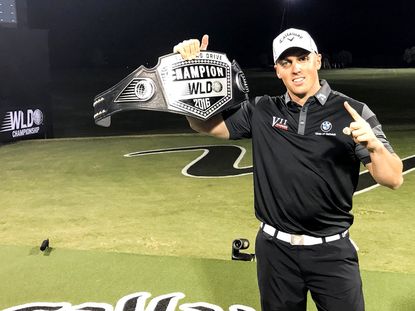 (Image credit: @CallawayGolf)
Joe Miller won the 2016 World Long Drive Championship in dominating fashion, including a huge 423-yard effort in the final
Joe Miller won the 2016 World Long Drive Championship in dominating fashion, after a huge 423-yard effort in the final.
That wasn't even the 31-year-old Englishman's longest hit of the night though, after he whacked a 439-yard effort to win his semi-final.
The 2016 World Long Drive Championship was Miller's second win at the event, and this time he saw off American Ryan Steenberg in the final. Steenberg hit first, posting a drive of 412-yards, before Miller clocked a hit at 423 to win the title.
Miller received $125,000 for his efforts and a boxing-style title belt.
En-route to the final Miller eliminated Mitch Dobbyn from Texas with a 437-yard drive - 74-yards past Dobbyn's best of 363 - before he then hit his longest drive of the night to eliminate Justin Moose in semi-final.
Speaking to Golf Channel after his win, Miller said: "It's a real honour to be standing here." Asked if he wanted this title more than his first one in 2010, he replied, "Yeah I did, I think. It's been building up since 2010. I've been working hard, training hard."
Related: How to get more power into your drives
Miller will be familiar to many Golf Monthly readers who have attended our Kings of Distance events, where the popular Englishman holds long drive clinics that include his power tips.
How does Miller's 439-yard drive compare?
The record distance achieved in a European Long Drive Championship is 473-yards by Allen Doyle back in September 2005.
The record distance achieved in a South African Long Drive Championship, where the ball travels further thanks to the warmer climate, is 506-yards by Nico Grobbelaar in September 2012.
But the world record recognised by Guinness Records as the longest drive in a competition is 515-yards by 64-year-old Mike Austin. He acheived this feat in 1974 at the US Senior National Open Qualifier, and incredibly was using a 43.5" steel shafted persimmon wood driver.
Jake O'Reilly specilaises in equipment coverage, and joined the Golf Monthly team in 2013. Before this he graduated from the University of Huddersfield with a Sports Journalism and Media degree, and worked at a number of British golf magazines. Follow Jake on Twitter
@jake0reilly