Tiger Woods Needs To Show 'Some Sign Of Being Competitive' For Ryder Cup Consideration
US Ryder Cup captain Zach Johnson insists Woods will play a major part in Rome whether or not he qualifies for the team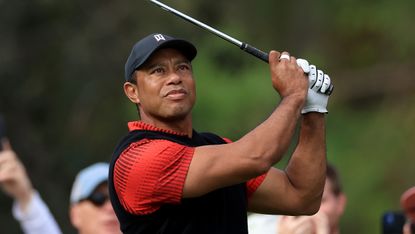 (Image credit: Getty Images)
Tiger Woods will be a key figure in Zach Johnson's US Ryder Cup team for Rome's Europe vs USA match at Marco Simone Golf and Country Club later this year but the question is, will he be playing or not?
Johnson underlined two factors in which will have to be considered for the 15-time Major winner to make the team in a playing capacity while speaking at the Sony Open: "I would only contemplate having him on the team if he was putting up some numbers and some scores, No.1, showing some sign of being competitive," Johnson said.
"And then No.2, that discussion would be had with the other guys that are a part of that team, and specifically him. If there is anything I trust in Tiger Woods, is that he's extremely invested in this team and the future Cups. Extremely invested. I can't speak that enough."
The 46-year-old also believes that Woods will give an honest indication of his own physical fitness and whether or not he will be able to tackle the rigours of the Ryder Cup.
"And then I think you would do anything and everything for betterment of the team. I assume he would say, I don't like basing on assumptions, but I'm confident that he would say, yeah, I can play, or no, I can't, if that makes sense.
"Now, from all accounts, and we're communicating with him quite a bit. Actually trying to get a phone call here shortly, but nothing of any substance. He's a part of the team. It's just a matter of to what degree, right?"
Qualifying for the Ryder Cup could prove to be extremely difficult for Woods, as his limited playing schedule this year will play a major factor. He plans to tee it up at the four Majors while maybe adding in a few other PGA Tour events, but it looks likely that he will have to rely on a captain's pick in order to make the team.
Woods withdrew from his own Hero World Challenge event due to suffering from plantar fasciitis, however he did manage to play 12 holes in The Match last month alongside Rory McIlroy – albeit using a cart – as they were defeated by Jordan Spieth and Justin Thomas. He also completed 36 holes at the PNC Championship with son Charlie, again using a cart.
September seems a long way away, but Woods will have to do something very special, and see a drastic improvement in his fitness, before then to have a chance at making it onto Team USA.
Ross Kilvington is a freelance writer from Scotland who has had his work published by acclaimed publications such as Nutmeg alongside popular online blogs including the Gentleman Ultra, North Section and Engrossed in Football. Ross holds a passionate interest in golf and tries to play as often as possible, although having two daughters under the age of four means his quest to break 80 will have to wait a little bit longer. He writes about golf in his spare time, most recently having an article published in the Golf Memories anthology Mind the Links, which was released in July with all proceeds going towards Alzheimer charities. With a handicap that floats between 13-14, highlights are few and far between on the golf course, with an eagle on the par 4 16th at Kinghorn one that stands out (it doesn't matter that it was only 290 yards!).