The UK Long Drive Championship Launches At Over 35 Trackman Venues
The UK Long Drive Championship has launched at over 35 Trackman venues throughout the country as contestants battle it out to reach the Grand Final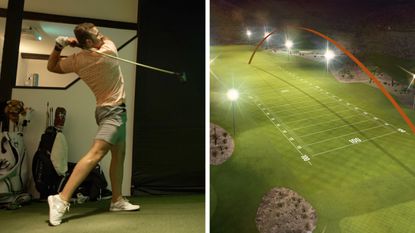 (Image credit: UK Long Drive)
The UK Long Drive Championship will return this Autumn, with regional sections allowing both male and female golfers the chance to have fun, hit a few drives and look to qualify from one of the 35 Trackman venues across the UK.
Qualifying events started on the 13th of October and there is a change to the format from previous years, with the competition being held entirely on indoor simulators while in conjunction with the technology partner.
The Trackman game 'Hit It' will be used for open qualifying, with contestants buying six balls to hit in just a three-minute period, ramping up the pressure as they look to record their best drive. Local qualifiers will progress to regional finals before the best make it through to the UK Grand Final.
This will seriously test the mentality of the final qualifiers, especially with TV cameras everywhere and a boisterous audience, while the winner will be decided by a series of timed head-to-head battles.
"Long Drive is a fantastic sport which has been yearning for a new platform," said Martin Westney, who is the CEO of the UK Long Drive Championship. "By bringing the sport indoors we're allowing fans to get really close to the action and are creating an experience like no other. Through the qualifying and regional finals we'll be ramping up the excitement and the pressure, heading into the UK Grand Final which will rival the PDC World Darts Championships for atmosphere and excitement!"
While plenty of players will have a go at trying their best to record crazy distances and attempt to outdrive PGA Tour professionals such as Bryson DeChambeau – which might be impossible considering his longest drive is a 480-yard effort that he hit last year – the chance for many to have fun and participate in such a unique event will be more than enough.
Ross Kilvington is a freelance writer from Scotland who has had his work published by acclaimed publications such as Nutmeg alongside popular online blogs including the Gentleman Ultra, North Section and Engrossed in Football. Ross holds a passionate interest in golf and tries to play as often as possible, although having two daughters under the age of four means his quest to break 80 will have to wait a little bit longer. He writes about golf in his spare time, most recently having an article published in the Golf Memories anthology Mind the Links, which was released in July with all proceeds going towards Alzheimer charities. With a handicap that floats between 13-14, highlights are few and far between on the golf course, with an eagle on the par 4 16th at Kinghorn one that stands out (it doesn't matter that it was only 290 yards!).