'The Irony' - Ian Poulter Mocks PGA Tour For Copying LIV Golf Format
Ian Poulter says he is looking forward to hearing LIV Golf critics backtracking after the PGA Tour proposed changes to designated events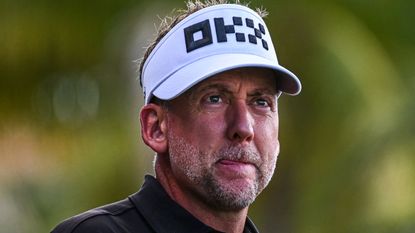 (Image credit: Getty Images)
Ian Poulter joined Lee Westwood and various other LIV Golf players in mocking the proposed new changes to the PGA Tour – saying the limited-field, no-cut policy sounded "somewhat familiar".
Rory McIlroy has admitted that LIV Golf played a part in the PGA Tour looking to make their new designated events smaller in terms of players in the field and removing the cut to ensure their top players play all four rounds.
It's a commercial move that was one of the bedrocks for Greg Norman and LIV Golf as it ensured all of their players would be around for the entirety of the tournament – and for the PGA Tour that should make these events more attractive to sponsors.
Westwood fired back at the PGA Tour and focused on what these changes would do for the Strategic Alliance with the DP World Tour, while also having a dig at the Official World Golf Ranking (OWGR) being too heavily-weighted towards the PGA Tour.
Poulter joined in and replied to Westwood on Twitter about his point on the rankings and the Strategic Alliance, saying: "When will the penny drop with so many of what's actually happened here."
The Englishman also couldn't resist a dig at those in the media who had used the no-cut argument against LIV Golf, adding of the new PGA Tour changes: "Sounds very similar to another product that's been spoken so badly about by Media and commentators. I'm all ears now."
Poulter also said on Twitter that he: "Can't wait to hear all the back tracking of comments from the last 7 months" as he again, like Westwood, feels that some of the criticism of LIV Golf also now needs to be applied to the PGA Tour.
Oh my my my…. When will the penny drop with so many of what's actually happened here. 🤷🏼‍♂️ It really doesn't take a 🚀 👩🏼‍🔬 to work out. And sounds very similar to another product that's been spoken so badly about by Media and commentators. I'm all ears now 👂🏼 I'm waiting https://t.co/lxYg6B8goyMarch 1, 2023
See more
Many players and followers of LIV Golf are almost rejoicing in the latest from the PGA Tour, as small fields with no cut was a big aspect of the Saudi-backed event that supporters had pushed as a positive, while detractors insisted were huge negatives.
They were also used by some as reasons LIV Golf should not be awarded ranking points, so having the PGA Tour adopt a similar policy for their biggest events on the schedule will continue to be a big talking point.
Poulter, for one, is sure that Jay Monahan and company are just copying LIV Golf's model though, even posting a Tweet with a quote from George Bernard Shaw to sum up his feelings – which stated: "Imitation is not just the sincerest form of flattery – it's the sincerest form of learning."
Paul Higham is a sports journalist with over 20 years of experience in covering most major sporting events for both Sky Sports and BBC Sport. He is currently freelance and covers the golf majors on the BBC Sport website. Highlights over the years include covering that epic Monday finish in the Ryder Cup at Celtic Manor and watching Rory McIlroy produce one of the most dominant Major wins at the 2011 US Open at Congressional. He also writes betting previews and still feels strangely proud of backing Danny Willett when he won the Masters in 2016 - Willett also praised his putting stroke during a media event before the Open at Hoylake. Favourite interviews he's conducted have been with McIlroy, Paul McGinley, Thomas Bjorn, Rickie Fowler and the enigma that is Victor Dubuisson. A big fan of watching any golf from any tour, sadly he spends more time writing about golf than playing these days with two young children, and as a big fair weather golfer claims playing in shorts is worth at least five shots. Being from Liverpool he loves the likes of Hoylake, Birkdale and the stretch of tracks along England's Golf Coast, but would say his favourite courses played are Kingsbarns and Portrush.