Players Felt Shocked And Blindsided - PGA Tour Pro Lifts Lid On Monahan Meeting
Mackenzie Hughes says PGA Tour players felt shocked and blindsided when they tackled Jay Monahan at the players meeting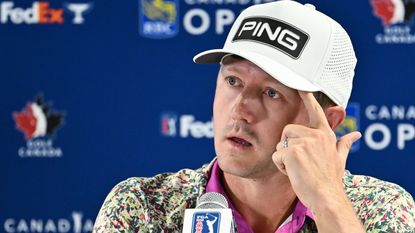 (Image credit: Getty Images)
Get the Golf Monthly Newsletter
Thank you for signing up to Golf Monthly. You will receive a verification email shortly.
There was a problem. Please refresh the page and try again.
Mackenzie Hughes says he and his fellow players felt frustrated and blindsided by the news of the PGA Tour's deal with the Saudi Arabia Public Investment Fund (PIF) as they tried to get answers during their infamous meeting with Jay Monahan.
Monahan himself described the meeting as "intense" as he faced plenty of questions, anger, and even calls for him to resign after performing a huge U-turn on the prospect of partnering up with the Saudis.
Hughes says that feelings of frustration – given all that Monahan had said previously only to go back on – were the overriding ones initially when he discovered the news, like most PGA Tour pros did, via TV or social media.
"I started out feeling a little frustrated," said Hughes. "A little confused and betrayed - not betrayed, but just blindsided in the fact that we just, to us, we didn't see this coming in any capacity.
"Maybe not for another five or six years. But now we are here and this is the news that we're dealing with."
Hughes gave an insight into what that meeting of around 80 PGA Tour pros and Monahan was like, with some players lashing out through shock, others trying to find answers and some just trying to take it all in.
"The player meeting. I just feel as though the first feeling that guys had was just that they were a little bit shocked. Shocked by the news. I don't really think many people had this on their radar as a possibility. So that was probably the first emotion.
"Then the other thing was just now guys were trying to take it all in, gather information, ask questions, figure out what the next steps were. So there was a lot of good discussion in there yesterday and a lot of things on both sides that were said that I think will lead to good decisions going forward.
"Golf has just never been disrupted like this before. We're dealing with a lot of stuff right now. So I think once we get kind of past the initial phase of this or the initial part of this.
"Like I said, it could be a great thing for golf. We just, we don't know. So that was kind of the majority of the emotion or the feeling yesterday."
Like the rest of the golfing world, Hughes says that PGA Tour pros are getting used to bombshells being dropped now, with the likes of LIV Golf and the fallout and the golf ball rollback all adding to the most tumultuous time in the sport.
"We've been through a lot," Hughes admitted. "So while there's some aspects of it that may surprise you, you're also kind of used to having bombshells dropped every now and then with LIV forming and having their first events and then to where we are now.
"There's just been lots of big news over the last year or so. We're essentially, I guess, we just know you're in a bit of a chaotic time. So there's lots of stuff happening and we're just trying to deal with it the best we can on the fly."
Get the Golf Monthly Newsletter
Tips on how to play better, latest equipment reviews, interviews with the biggest names and more.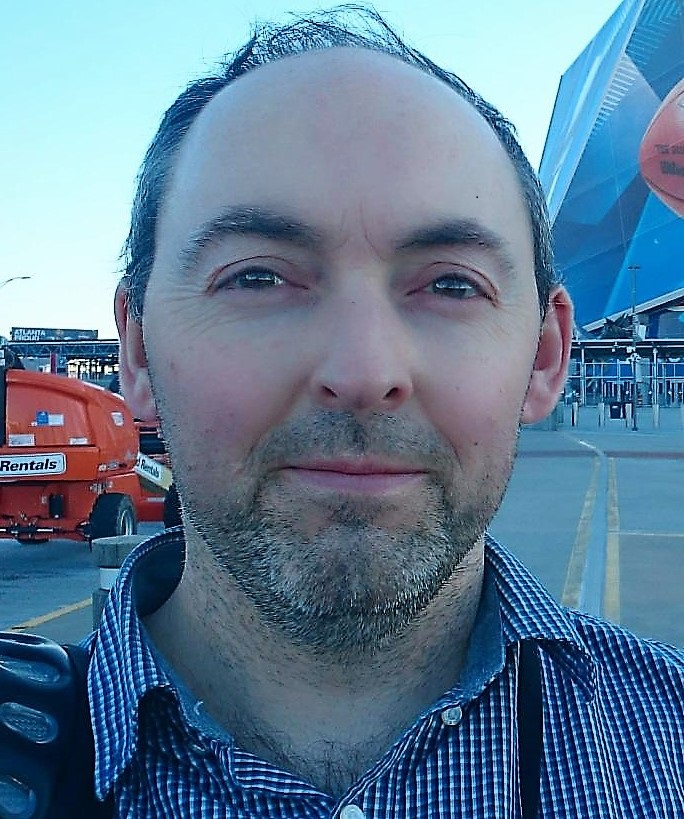 Paul Higham is a sports journalist with over 20 years of experience in covering most major sporting events for both Sky Sports and BBC Sport. He is currently freelance and covers the golf majors on the BBC Sport website. Highlights over the years include covering that epic Monday finish in the Ryder Cup at Celtic Manor and watching Rory McIlroy produce one of the most dominant Major wins at the 2011 US Open at Congressional. He also writes betting previews and still feels strangely proud of backing Danny Willett when he won the Masters in 2016 - Willett also praised his putting stroke during a media event before the Open at Hoylake. Favourite interviews he's conducted have been with McIlroy, Paul McGinley, Thomas Bjorn, Rickie Fowler and the enigma that is Victor Dubuisson. A big fan of watching any golf from any tour, sadly he spends more time writing about golf than playing these days with two young children, and as a big fair weather golfer claims playing in shorts is worth at least five shots. Being from Liverpool he loves the likes of Hoylake, Birkdale and the stretch of tracks along England's Golf Coast, but would say his favourite courses played are Kingsbarns and Portrush.