Jay Monahan Faces Calls To Resign From Angry PGA Players After 'Backtracking' On Merger
Several players called for Jay Monahan to step down as PGA Tour boss as they grilled him over backtracking on merger with LIV Golf.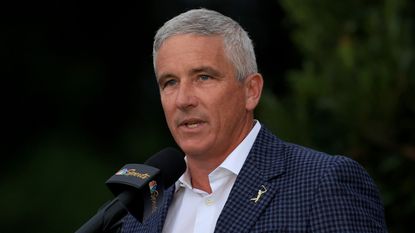 (Image credit: Getty Images)
Get the Golf Monthly Newsletter
Thank you for signing up to Golf Monthly. You will receive a verification email shortly.
There was a problem. Please refresh the page and try again.
Calls for PGA Tour commissioner Jay Monahan to resign received "standing ovations" at what he himself called an "intense" meeting with furious players following the shock news of a merger with LIV Golf.
With Monahan going back on previous comments about joining forces with the Saudi-backed new tour, it was always going to be a tense atmosphere as he faced players who had stayed on the PGA Tour through loyalty or morality reasons.
With some missing out on millions by turning down LIV Golf's advances, only to now face the prospect of working with players who have cashed in and for employers they never wanted to work for – Monahan is on shaky ground with the membership.
And he faced several calls to step down from players who felt betrayed by the new joint venture with the Saudi Arabian Public Investment Fund (PIF).
Veteran Johnson Wagner listened in to the meeting on an audio stream, and reported back to Golf Channel that "there was a lot of anger in that room from players. The players were calling for resignation."
"It was contentious, there were many moments where certain players were calling for new leadership of the PGA Tour and even got a couple of standing ovations," Wagner said.
"I think the most powerful moment was when a player quoted commissioner Monahan from last year when he said as long as I'm commissioner of the PGA Tour, no player that took LIV money will ever play the PGA Tour again. It just seems like a lot of backtracking."
Wagner did add that: "If it's possible, I gained even more respect for Jay because he was taking it from every single angle. Players were mad, players are calling for resignation, and Jay sat there and took it like a champ."
The Golf Channel also quoted a number of anonymous players from the meeting with the main anger surrounding Monahan's backtracking on the merger and the feeling of being betrayed.
'I'm glad I'm not Jay today'
Geoff Ogilvy said a lot of the anger came from the membership wanting "the loyal players rewarded and not almost punished for staying" – referencing those who turned down huge sums only to end up basically playing for the LIV owners anyway.
"I'm glad I wasn't Jay today," Ogilvy added. "There's some grumpy players in there. I feel a little bit sort of, I'm not lied to, but just that the Tour has sort of changed its position quickly and dropped it on us really fast. So, maybe there's a feeling of a lack of trust a little bit in the leadership."
Ryan Armour, one of 16 members of the Player Advisory Council on the PGA Tour, said that they held a separate "less aggressive" call after the meeting with Monahan to discuss next steps, with the overall feeling being one of betrayal.
"There's a lot of disappointment today," said Armour, who did add that he previously thought Monahan did a good job for the players.
"What I have been told by my peers is that they feel betrayed right now. There must have been 20-25 guys who used that word. They feel backstabbed. And they feel slighted.
"For a year and a half now, we have been told how evil certain golf leagues are, how evil their funding is and where it's coming from. And now, no financials have changed hands yet, but the mood in the room is that guys feel used."
McIlroy, who reportedly clashed with Grayson Murray in the meeting, said little but how Monahan handles his relationship with the Northern Irishman and the likes of Tiger Woods will have a huge say in how this merger develops.
If he can't settle the players down quickly then things could unravel before they've even seriously got the ball rolling on this incredible switch in the direction of pro golf.
Get the Golf Monthly Newsletter
Tips on how to play better, latest equipment reviews, interviews with the biggest names and more.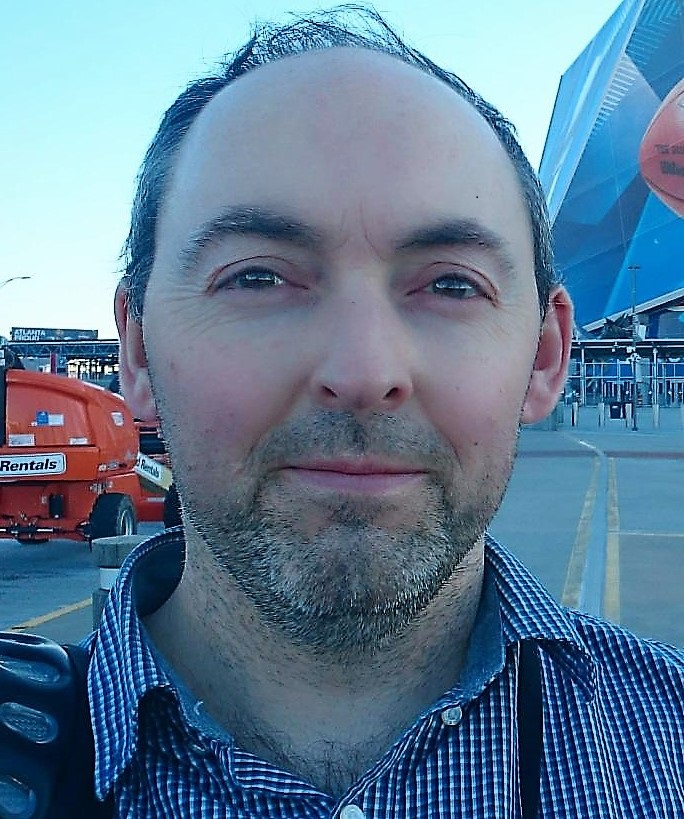 Paul Higham is a sports journalist with over 20 years of experience in covering most major sporting events for both Sky Sports and BBC Sport. He is currently freelance and covers the golf majors on the BBC Sport website. Highlights over the years include covering that epic Monday finish in the Ryder Cup at Celtic Manor and watching Rory McIlroy produce one of the most dominant Major wins at the 2011 US Open at Congressional. He also writes betting previews and still feels strangely proud of backing Danny Willett when he won the Masters in 2016 - Willett also praised his putting stroke during a media event before the Open at Hoylake. Favourite interviews he's conducted have been with McIlroy, Paul McGinley, Thomas Bjorn, Rickie Fowler and the enigma that is Victor Dubuisson. A big fan of watching any golf from any tour, sadly he spends more time writing about golf than playing these days with two young children, and as a big fair weather golfer claims playing in shorts is worth at least five shots. Being from Liverpool he loves the likes of Hoylake, Birkdale and the stretch of tracks along England's Golf Coast, but would say his favourite courses played are Kingsbarns and Portrush.