Patrick Reed - 'I'm Getting Hammered' In The World Rankings
Former Masters champion down to 56 in the world since joining LIV Golf and says OGWR system is becoming 'insignificant'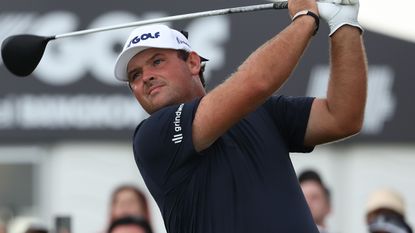 (Image credit: Getty Images)
Patrick Reed is the latest LIV Golf player to bemoan the current lack of recognition from the Official World Golf Ranking (OWGR) after seeing his own ranking take a big hit.
Reed started the year 25th in the rankings, and had slipped to 38th by the time he moved over to LIV Golf in June – he's now down to 56th, and is not happy.
"I'm getting hammered," said Reed. "The only thing I'll say about all of that is the longer that you have competitive golf and competition with such great players and top players, the longer they're playing events that aren't getting World Ranking points, it just makes the World Ranking system insignificant."
With the LIV Golf Jeddah event this week being played in its home of Saudi Arabia, who are pouring their seemingly endless wealth into turning Greg Norman's dream into reality, it has seen several of the big names come out firing.
Reed is just the latest to hit out, and even though LIV Golf is still a limited invitational field with no cut, insists they meet "every criteria" for being awarded ranking points – and the decision not to do so is political.
"Let's be honest; it's not a true system if you're not counting all the events and having points for everybody," he continued.
"If you're competing for a golf tournament and they meet every criteria that you're supposed to meet in order to have World Ranking points, then they should be getting World Ranking points no matter what.
"If you're trying to say that we don't deserve World Ranking points, this and that, then it's a political battle, it's not an actual true system.
"Last time I checked, every sport you play, it's based off of competition and who you're playing, how strong that field is and who wins, and you're allocated certain things. It doesn't matter what tour you're playing on."
LIV Golf has been on a media offensive this week in Jeddah – with a beaming Phil Mickelson claiming the PGA Tour is "trending downwards" while a chuckling Dustin Johnson joked about "regretting his decision" to join after pocketing $30m in prize money already.
Graeme McDowell has also hit out at the World Ranking situation after a late failed bid by LIV to get ranking points by joining up with the MENA (Middle East and North Africa) Tour before last week's Bangkok event.
That bid was rejected by OWGR due to the application coming in so late, as the wrangling over ranking points looks set to continue for some time.
Having failed to get points by joining up with the MENA Tour, LIV may consider doing something about the two main sticking points cited by many - having closed off fields and no cut.
There has been reports of a cut being introduced by LIV at some point, as even having some form of ceremonial cut could be a way for LIV to force the hand of OGWR.
Paul Higham is a sports journalist with over 20 years of experience in covering most major sporting events for both Sky Sports and BBC Sport. He is currently freelance and covers the golf majors on the BBC Sport website. Highlights over the years include covering that epic Monday finish in the Ryder Cup at Celtic Manor and watching Rory McIlroy produce one of the most dominant Major wins at the 2011 US Open at Congressional. He also writes betting previews and still feels strangely proud of backing Danny Willett when he won the Masters in 2016 - Willett also praised his putting stroke during a media event before the Open at Hoylake. Favourite interviews he's conducted have been with McIlroy, Paul McGinley, Thomas Bjorn, Rickie Fowler and the enigma that is Victor Dubuisson. A big fan of watching any golf from any tour, sadly he spends more time writing about golf than playing these days with two young children, and as a big fair weather golfer claims playing in shorts is worth at least five shots. Being from Liverpool he loves the likes of Hoylake, Birkdale and the stretch of tracks along England's Golf Coast, but would say his favourite courses played are Kingsbarns and Portrush.