Wentworth Finalises New Membership Structure
The Surrey club has released details of its new scheme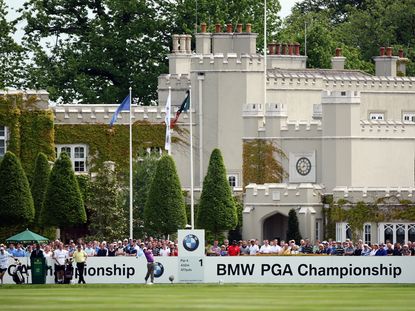 (Image credit: Getty Images)
The Surrey club has announced the new membership structure for the future
There has been a huge amount of discussion about the future of Wentworth Golf Club, with reports of increased membership fees.
The club has released the following statement
Wentworth Finalises New Membership Structure
New and enhanced membership offers for existing members and local Wentworth Estate residents
Today, Wentworth Club is pleased to announce the final enhancements and improvements to its new membership structure, which will take effect from 1st April next year.
The membership enhancements, which will be made available to existing members and local residents of the Wentworth Estate, are the result of a significant number of positive and constructive meetings with member and resident representatives and an extensive consultation period since October 2015.
Stephen Gibson, Chief Executive of Wentworth Club said, "I am pleased to be announcing these new membership offers and enhancements. A great deal of time has been well spent discussing with members, residents, numerous elected committees and other interested groups, the new vision and plans for the future of Wentworth Club. I believe that these changes we are announcing clearly show our commitment to our existing members and local residents, who are an integral part of the Club's past and our future. All of the improvements we have planned as part of our new membership structure will ensure a Club of exceptional quality, which sets unparalleled standards on and off the course, while - very importantly - being centred around families and local residents."
Mr. Songhua Ni, Reignwood Group commented, "It has been my priority to meet with member and resident representatives over the recent months. I believe that the improved changes to our membership offering that we are announcing recognise and accommodate the variety of differing interests of members and local residents, which we have listened to extensively over our consultation period. We are now looking forward to achieving our vision of making Wentworth Club the world's premier private golf and country club."
The membership changes include:
New and preferential offers for existing members:
Individual membership
Over 75 Loyalty membership
Tennis & Health membership
Deferred Debenture/Joining Fee payment
Fixed annual subscriptions to 2022
New and preferential offers for Wentworth Estate residents:
Eligibility during launch period
Lease of membership to tenant
Individual Membership A separate membership has been introduced for current members who wish to apply on an individual basis. A preferential annual subscription fee will be offered that entitles that individual member to full access of all Club facilities for a preferential annual fee.
Over 75 Loyalty Membership For current members over the age of 75 on 1st April 2017 who have been members of the Club for 20 years, there will be no requirement to purchase a debenture, and these longstanding members will have a preferential annual subscription which will be fixed for life.
Tennis & Health Membership To continue to support the Tennis & Health members, a preferential annual subscription will be offered, giving current Tennis & Health members access to all the Club facilities (except the 18 hole golf courses) at 50% of the Full Family or Individual annual subscription rates for the first five years. Following which, in keeping with the Club's decision to become a combined golf & country club, Tennis & Health members would have to upgrade to a core membership with full access to all Club facilities.
Introduction of Deferred Debenture/Joining Fee payment During the 90 day launch period (1st April to 30th June 2016), current Wentworth Club members will be able to pay a non-refundable deposit of £20,000 towards their debenture and membership, with the balance deferred to and payable by 31st December 2019. Members who take up this preferential payment right may, if they so choose, cease their membership and redeem their debenture on 31st December 2019 without any further payment, other than their annual subscription fee to that date.
This preferential payment offer is in addition to the preferential payment offers previously announced to all members for during the 90 day launch period, whereby joining fees paid by current members to date are deducted from the headline debenture and membership amount.
Fixed Annual Subscriptions to 2022
The annual subscriptions for all memberships will be fixed for the 2017 and 2018 membership years, and then rise only in accordance with RPI for the following three years up to 2022, giving members certainty of the level of future membership subscriptions for at least five years.
Wentworth Estate resident offers Wentworth estate property owners are invited to apply to join the Club during the 90 day launch period together with existing members. After this period, Wentworth estate property owners can apply to join and will be placed at the top of any waiting list. Additionally, Wentworth estate property owners may buy a separate debenture and membership for each of their properties on the estate which they can lease to their tenants (subject to their successful application).
All these changes are in addition to the membership offers previously announced on 19th October, including: the Intermediate membership for 23-30 year olds whose family have purchased a Full Family membership; and the Generational membership enabling members to pass on their Full Family memberships to their son or daughter.
Future announcements
The Club looks forward to announcing to members shortly the designers and experts who will lead the exciting refurbishment and renovations of the golf courses, the Clubhouse and the Tennis and Health facility that will be carried out over the coming year.
Tom Clarke joined Golf Monthly as a sub editor in 2009 being promoted to content editor in 2012 and then senior content editor in 2014, before becoming Sports Digital Editor for the Sport Vertical within Future in 2022. Tom currently looks after all the digital products that Golf Monthly produce including Strategy and Content Planning for the website and social media - Tom also assists the Cycling, Football, Rugby and Marine titles at Future. Tom plays off 16 and lists Augusta National (name drop), Old Head and Le Touessrok as the favourite courses he has played. Tom is an avid viewer of all golf content with a particularly in depth knowledge of the pro tour.