Jon Rahm's World Ranking Misery Set To Continue At American Express
Scottie Scheffler and Patrick Cantlay could become world No.1 this weekend but even a win not enough for Jon Rahm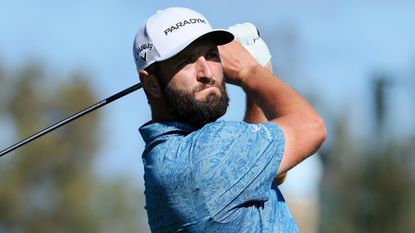 (Image credit: Getty Images)
Critics of the current format for the Official World Golf Rankings (OWGR) will think their point has been proven correct judging by the weird and wonderful permutations around who could become the new World No.1 golfer this weekend.
Rory McIlroy still sits in top spot but he's not playing this week while Scottie Scheffler, Jon Rahm and Patrick Cantlay, who sit in second, fourth and fifth respectively are all playing in The American Express on the PGA Tour.
As world No.2, Scheffler obviously has the best chance of moving back above McIlroy, but in a quirk of how the ranking is compiled, Cantlay can also move up from fifth to first, but the best fourth-placed Rahm could achieve is a move up one spot to third.
🚨#OWGR is full of fancy stuff this week. This is one of the craziest projections I've seen in a long time...Patrick Cantlay is currently ranked #5 and he could reach No.1 with a win at @theamexgolf Jon Rahm is currently ranked #4, but he could only reach #3 with a win!! 🫣January 19, 2023
See more
Due to the way the OWGR operates on a two-year rolling results average then players can lose as well as win points, and has many have been pointing out recently there are certain perceived flaws in the system.
This weekend does not help – as Rahm could win The American Express and yet move up just one spot, while Cantlay can go from fifth to first with a win, as long as Scheffler finishes lower than eighth.
Scheffler is in pole position though, as he needs to finish just eighth on his own or higher to climb back to the top of the rankings, while he could also finish ninth or in no more than a three-way tie for eighth and go top as long as Cantlay doesn't win.
🚨#OWGR No.1 watch:- Scheffler will become No.1 if he finishes solo 8th or better @theamexgolf- Scottie will also become No.1 if he finishes solo 9th or 3-way T8 or 2-way T8 and if Cantlay doesn't win- Cantlay will become No.1 if he wins and Scottie finishes solo 8th or worseJanuary 19, 2023
See more
These metrics are set out by OWGR ranking expert Nosferatu on Twitter, and look to show a bit of a flaw in the process as it seems harsh that Rahm could win from fourth and only move up one while Cantlay could shoot right to the top.
The OWGR have come in for plenty of criticism of late, with the furore surrounding whether LIV Golf should gain ranking points opening up a can of worms about just how indicative they are of who is the best golfer on the planet.
Rahm himself labelled the OWGR as "laughable" last year after new changes were made to the strength of field calculations, but he's far from the only critic.
Ian Poulter also claimed the OWGR was becoming "more and more obsolete" while Greg Norman has also obviously voiced his opinion of the situation while he tries to get points for LIV Golf.
If Rahm does happen to win this weekend and move just one spot up then we'll hear even more criticism of the OWGR - with a tough future seemingly lying in wait for them.
Paul Higham is a sports journalist with over 20 years of experience in covering most major sporting events for both Sky Sports and BBC Sport. He is currently freelance and covers the golf majors on the BBC Sport website. Highlights over the years include covering that epic Monday finish in the Ryder Cup at Celtic Manor and watching Rory McIlroy produce one of the most dominant Major wins at the 2011 US Open at Congressional. He also writes betting previews and still feels strangely proud of backing Danny Willett when he won the Masters in 2016 - Willett also praised his putting stroke during a media event before the Open at Hoylake. Favourite interviews he's conducted have been with McIlroy, Paul McGinley, Thomas Bjorn, Rickie Fowler and the enigma that is Victor Dubuisson. A big fan of watching any golf from any tour, sadly he spends more time writing about golf than playing these days with two young children, and as a big fair weather golfer claims playing in shorts is worth at least five shots. Being from Liverpool he loves the likes of Hoylake, Birkdale and the stretch of tracks along England's Golf Coast, but would say his favourite courses played are Kingsbarns and Portrush.