'It's Going To Be Great' - LIV Golf's Bubba Watson Excited For Masters Champions Dinner
Bubba Watson says that LIV and PGA Tour players will put their differences aside when they gather for the Masters Champions Dinner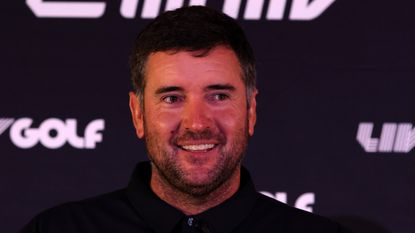 (Image credit: Getty Images)
Bubba Watson says it will be great to be at the Champions Dinner at the Masters and reunite with his former PGA Tour colleagues – as "when you're wearing the Green Jacket at the dinner, everything goes out the window" so is not fearing any negative atmosphere.
Watson will take his seat at Scottie Scheffler's Masters Dinner alongside fellow LIV Golf players and former Masters champions Phil Mickelson, Patrick Reed, Dustin Johnson, Sergio Garcia and Charl Schwartzel.
The split in golf has caused plenty of arguments among players past and present, but Watson believes that when the past champions gather at Augusta National it will be in a friendly atmosphere.
Scheffler even joked that Watson would be sat on his own table in the corner, but Watson says if there's ever a time to put differences aside, it's at that iconic venue at the opening Major of the year as part of a very special club.
The two-time Masters champion has no concerns about any possible frosty atmosphere between the two camps when they join together for the Champions Dinner ahead of the Masters.
"I think it's going to be great," Watson said of the Champions Dinner. "I still talk to guys on the PGA Tour. I still talk to people that work on staff at the PGA Tour. It's been amazing communicating with them.
"I still reach out on their birthdays, reach out at Christmas. We still talk. I still watch and pull for my guys. So I can't wait to get there because when you're wearing the green jacket at the dinner, everything goes out the window.
"You know how blessed you are to be in that room and how thankful you are to be in that room. I've already talked to guys, and we can't wait to hang out because I haven't seen Ted Scott in a while."
And Watson, a self-confessed fussy eater, gave defending champion and host Scheffler's menu a big thumbs up, after revealing that he usually eats beforehand in case he doesn't like the menu.
"I can't wait for that food. I'll give you a secret, normally I eat before, eat a couple burritos before I go to the dinner because I don't know what they're going to have," Watson admitted. "I'm very picky when it comes to food.
"But when I saw his menu, definitely want the dessert and I definitely want a couple sliders. So yeah, I can't wait. It'll be fun."
There are a few players that it may be best are sat apart during the Champions Dinner though, with Fred Couples in particular ripping Mickelson and Garcia in a recent speech.
The 1992 Masters champion called Mickelson a "nutbag" and Garcia a "clown" in his recent outburst, so it would be interesting to be a fly on the wall when they meet again at Augusta.
Paul Higham is a sports journalist with over 20 years of experience in covering most major sporting events for both Sky Sports and BBC Sport. He is currently freelance and covers the golf majors on the BBC Sport website. Highlights over the years include covering that epic Monday finish in the Ryder Cup at Celtic Manor and watching Rory McIlroy produce one of the most dominant Major wins at the 2011 US Open at Congressional. He also writes betting previews and still feels strangely proud of backing Danny Willett when he won the Masters in 2016 - Willett also praised his putting stroke during a media event before the Open at Hoylake. Favourite interviews he's conducted have been with McIlroy, Paul McGinley, Thomas Bjorn, Rickie Fowler and the enigma that is Victor Dubuisson. A big fan of watching any golf from any tour, sadly he spends more time writing about golf than playing these days with two young children, and as a big fair weather golfer claims playing in shorts is worth at least five shots. Being from Liverpool he loves the likes of Hoylake, Birkdale and the stretch of tracks along England's Golf Coast, but would say his favourite courses played are Kingsbarns and Portrush.