In The Mag: Fix Your Fundamentals, 2023 New Gear Special, Get Fit For Golf, Charley Hull Exclusive & More...
Get your hands on the latest issue of Golf Monthly magazine – available in print or on iPad and iPhone – from Thursday, February 9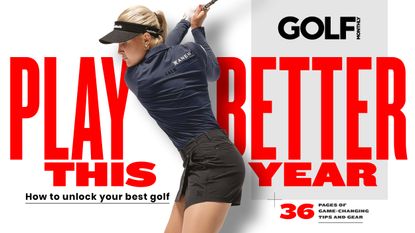 (Image credit: Future)
A message from the editor, Mike Harris:
It's set to be a stellar year in competitive golf and I think a significant one in the women's game. Interest in women's golf – and in women's sport in general – is, quite rightly, on a significant upward trajectory. With this year's exciting golfing calendar and the superb players packing the upper echelons of the game, that ascent should be expedited.
The international strength of women's golf has never been higher. From North America, the Kordas, Lexi Thompson and Canada's Brooke Henderson; from Oceania, Lydia Ko and Minjee Lee; and from Asia, Thailand's Atthaya Thitikul and the likes of Jin Young Ko and In Gee Chun of Korea. Closer to home, Ireland's Leona Maguire is widely tipped to make a Major breakthrough. Then there's England's Charley Hull, about whom Lewine Mair has written an excellent feature in this issue. Could she be Britain's next Major Champion?
When I started my tenure as editor of Golf Monthly some 18 years ago, I wouldn't have been writing this letter. Our focus was very much on men's golf. Our target audience was the average male golf club member and we delivered content appealing to them. It was a successful but restrictive approach. Golf Monthly has moved forward as this century has progressed and we now aim to deliver a product that appeals to all golfers, irrespective of gender and age, both in print and online.
Fix Your Fundamentals
Having solid fundamentals is the bedrock of a good golf swing, no matter the level of player. It's something the best golfers in the world know all too well, which is why if you watch them at the range during the off-season or in the lead-up to a tournament, you'll see them regularly checking that bad habits haven't crept in. As for their amateur counterparts, it's an area of the swing that should represent the easiest win, but it is often neglected. Here, GM Top 50 Coach Dan Grieve helps you get back to basics.
New Gear Special
With prices going up and income being squeezed, it has never been more important to do your research when it comes to investing in new golf gear. The last thing you want is to part with your hard-earned cash, only to realise there was something better or more suited to your game. Our ten-page special will give you the lowdown on all the latest drivers, putters and everything in between.
Charley Hull Exclusive
Lewine Mair meets Charley Hull to run the rule over her life to date and discuss her no-nonsense approach to the game.
Get Fit For Golf
Strength and conditioning coach Jamie Greaves runs through eight exercises to boost your golf fitness and well-being this year.
'Golf Helped Me Rebuild My Life'
Owen Langshaw-Lee has been battling long Covid since 2020. He tells us how golf has helped put him on the path to recovery.
Rules
Our regular section explains rules you may not know and features our popular quiz so you won't be caught out on the course this season.
Thriston Lawrence
South African Thriston Lawrence's first year on the DP World Tour will be a hard act to follow. But, as he tells Michael Weston, he's sure the best is yet to come.
The Best Courses You Can Play
We travel the length and breadth of the UK and Ireland to find the best courses you can play. This month we visit Trump Turnberry, tour Oxfordshire, look at some of the best nine-holers and much more.
David joined Golf Monthly in 2015 as a content editor for the magazine and regularly contributes to the website. He has worked in magazine publishing and editing since 2003. He is a keen golfer and up until recently was a member of Blackmoor Golf Club in Hampshire. He has covered various big events and tournaments for GM, the highlight of which was witnessing Tiger Woods win his 15th Major at Augusta in 2019. Email: david.taylor@futurenet.com