Golf's At An All-Time High, Don't Mess With It - Watson On Distance Debate
Bubba Watson questions why golf authorities want to pull golfers back instead of celebrating their achievements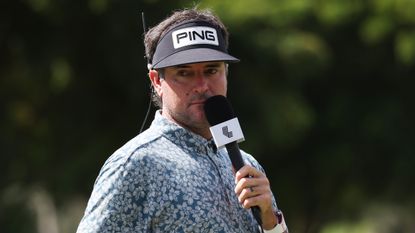 (Image credit: Getty Images)
Bubba Watson has questioned why golfing authorities are messing with the game when it's "at an all-time high" while adding to the criticism of the recent plans to rein in the distance golfers can hit the ball.
The R&A and USGA have proposed a Model Local Rule for 2026 where elite players would use different golf balls to recreational golfers.
The proposed bifurcation in the game of golf has largely drawn criticism, and even united the worlds of PGA Tour and LIV Golf, with Justin Thomas and Bryson DeChambeau both against the move.
And big-hitting Watson is also unsurprisingly critical, as he agreed with Thomas and DeChambeau as two of the more vocal opponents.
"I do not like it," was Watson's initial response to the proposed rule changes. "There's many reasons, but first off, the commercialism is the one that's paying all these bills for USGA and all these other organizations, and now you're asking them to spend millions to change a ball or design a new ball and do all those things.
"Why? Professional golfers are a small, minute in the game of golf as a whole, so why not make a driver that lets some guy hit it straighter, further. Make a ball that lets a guy or a woman, kid, hit it further.
The two-time Masters champion added that there is still jeopardy involved in hitting the long ball off the tee, so why not let the pros take their chances.
"Just because you hit it further doesn't mean it's going to go straighter. I'm not trying to throw Bryson under the bus, but Bryson tried to do something, he did do it, but he dialed it back a little.
"He still hits it further than everybody but he dialed it back a little because he realized your misses are further - because I've been dealing with that for a while, my misses are further off."
And adding a new perspective, Watson compared the desire to rein pro golfers in to other sports that celebrate excellence and players pushing the envelope – questioning why golf would want to limit players.
"Going back to the ball, I just don't see the reason why. We're the one sport that's changing what we do, and we get mad when a guy shoots 10-under for three straight days, but we celebrate when a guy scores 50 points or scores three home runs or four home runs, a guy throws seven touchdowns.
"We celebrate that. We don't make him, hey, you can't throw that many passes the next game, so why are we messing with that.
"The sport is at an all-time high, so let's don't mess with it, let's just keep it growing. That's my short answer."
Paul Higham is a sports journalist with over 20 years of experience in covering most major sporting events for both Sky Sports and BBC Sport. He is currently freelance and covers the golf majors on the BBC Sport website. Highlights over the years include covering that epic Monday finish in the Ryder Cup at Celtic Manor and watching Rory McIlroy produce one of the most dominant Major wins at the 2011 US Open at Congressional. He also writes betting previews and still feels strangely proud of backing Danny Willett when he won the Masters in 2016 - Willett also praised his putting stroke during a media event before the Open at Hoylake. Favourite interviews he's conducted have been with McIlroy, Paul McGinley, Thomas Bjorn, Rickie Fowler and the enigma that is Victor Dubuisson. A big fan of watching any golf from any tour, sadly he spends more time writing about golf than playing these days with two young children, and as a big fair weather golfer claims playing in shorts is worth at least five shots. Being from Liverpool he loves the likes of Hoylake, Birkdale and the stretch of tracks along England's Golf Coast, but would say his favourite courses played are Kingsbarns and Portrush.