Early Crowds Storm The Gates At Phoenix Open In Race To Get To 16th Hole
Fans ran through barriers at 5.30am at TPC Scottsdale in order to try and get into the stadium surrounding the infamous 16th hole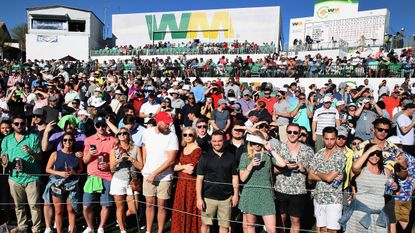 (Image credit: Getty Images)
It's the PGA Tour's biggest party at the WM Phoenix Open but it also made for one of the most chaotic scenes in golf as fans embarked on a mad rush to the 16th hole stadium on Friday, breaking through gates at 5.30am.
Gates were not scheduled to open until 7am, but some fans were so eager they burst through 90 minutes early, although local police insisted they did not actually get onto the golf course at that time – merely into another check point.
As has now become the norm, huge crowds gathered before the sun came up at TPC Scottsdale but an alarming sight captured by a local news crew saw some fans seemingly storm the barriers to try and get into the course ahead of schedule.
JUST IN: Crowd rushes into WM Phoenix Open 90 minutes ahead of opening time #abc15 https://t.co/GppDoNjpog pic.twitter.com/qMNGVLAhi7February 10, 2023
See more
Local police told ABC15 news that none of the early fans running in managed to get on the course and that security decided to open the first gates early when the crowd started to get a bit rowdy and create a public safety concern.
The little par three with a huge reputation is one of the most well-known on the PGA Tour and fans are just desperate to get their place in the grandstand at TPC Scottsdale's signature hole.
It's actually become almost like a tradition now, as back in 2020 local news captured a massive herd of golfing fans charging in again before the sun was even up early in Scottsdale, when hundreds, if not thousands, of golf fans had arrived at the gates to try and bag a top spot on the 16th hole.
Before the sun was even up, fans made a mad dash to get a good spot at the 16th Hole at the Waste Management Phoenix Open on Saturday. 😲🏌⛳ pic.twitter.com/Eud55ZASZcFebruary 1, 2020
See more
It actually looked more like the start of a fun run than a day at a PGA Tour tournament three years ago, when stewards managed to get fans to line up while barriers were removed, and the race began.
The undoubted rowdiest PGA Tour event on the circuit has now seemingly become one with the earliest start for fans trying to get in, but much like the action in the infamous stands around 16, organisers will just need to keep an eye on it to avoid these early stampedes from becoming a dangerous tradition.
Trying to figure out what happened. About a thousand people waiting outside #WMPhoenixOpen just ran through gates. Security said gates weren't set to open until 7. Some are saying a supervisor gave permission to open early #abc15 pic.twitter.com/L3yui6og8uFebruary 10, 2023
See more
Paul Higham is a sports journalist with over 20 years of experience in covering most major sporting events for both Sky Sports and BBC Sport. He is currently freelance and covers the golf majors on the BBC Sport website. Highlights over the years include covering that epic Monday finish in the Ryder Cup at Celtic Manor and watching Rory McIlroy produce one of the most dominant Major wins at the 2011 US Open at Congressional. He also writes betting previews and still feels strangely proud of backing Danny Willett when he won the Masters in 2016 - Willett also praised his putting stroke during a media event before the Open at Hoylake. Favourite interviews he's conducted have been with McIlroy, Paul McGinley, Thomas Bjorn, Rickie Fowler and the enigma that is Victor Dubuisson. A big fan of watching any golf from any tour, sadly he spends more time writing about golf than playing these days with two young children, and as a big fair weather golfer claims playing in shorts is worth at least five shots. Being from Liverpool he loves the likes of Hoylake, Birkdale and the stretch of tracks along England's Golf Coast, but would say his favourite courses played are Kingsbarns and Portrush.