'Definitely A Benefit To The Viewers' - Fowler 'Not Opposed' To On-Course Interviews
Rickie Fowler says the new on-course interviews on the PGA Tour offer a good insight for viewers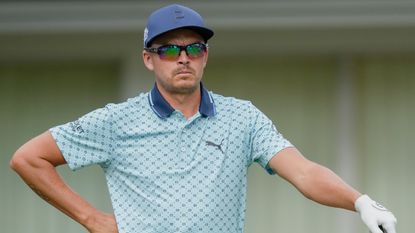 (Image credit: Getty Images)
Rickie Fowler says the new trend for on-course player interviews during tournament rounds is a benefit for viewers watching on TV, and is in favour as long as golfers have the final say and the right questions are asked to them.
Many viewers were taken by surprise when Rory McIlroy led the way at The Masters, popping in the ear buds for a walk and talk with CBS – with Justin Thomas also taking part at Augusta National.
Fowler has also previously taken part in an on-course interview at Bay Hill, and says that they do offer an extra insight fore the golf fans watching on TV.
The 34-year-old also says that players are given the final say as to whether the chat goes ahead or not depending on how their round is going and whether they feel it'll be too much of a distraction.
Thoughts on McIlroy's in-play interview at #themasters? pic.twitter.com/SKcJuptT1VApril 6, 2023
See more
"Not opposed to it," Fowler said of the on-course interviews. "They also give you an out as far as if it ends up not being a good time. So ultimately, the player has the final say.
"If you're coming off of a bad stretch or maybe in the mix and, hey, this just isn't a good time, they do give you that out.
"So I feel like it's - you know, when the right questions are asked and it's getting people a little more of an inside look of either what we're thinking or going through or stuff like that, I feel like it's definitely a benefit to the viewers.
"It seems like there's been some good feedback to it."
The American was also a big fan of the ear buds being used, rather than players having to be wired up with a microphone.
"Yeah, a lot easier than having to put a pack and a wire and stuff like that. It's just like you're talking to someone on the phone."
Opinion was divided in response to McIlroy's interview at Augusta, but plenty of the players seem to be in favour so for now they look set to continue.
Paul Higham is a sports journalist with over 20 years of experience in covering most major sporting events for both Sky Sports and BBC Sport. He is currently freelance and covers the golf majors on the BBC Sport website. Highlights over the years include covering that epic Monday finish in the Ryder Cup at Celtic Manor and watching Rory McIlroy produce one of the most dominant Major wins at the 2011 US Open at Congressional. He also writes betting previews and still feels strangely proud of backing Danny Willett when he won the Masters in 2016 - Willett also praised his putting stroke during a media event before the Open at Hoylake. Favourite interviews he's conducted have been with McIlroy, Paul McGinley, Thomas Bjorn, Rickie Fowler and the enigma that is Victor Dubuisson. A big fan of watching any golf from any tour, sadly he spends more time writing about golf than playing these days with two young children, and as a big fair weather golfer claims playing in shorts is worth at least five shots. Being from Liverpool he loves the likes of Hoylake, Birkdale and the stretch of tracks along England's Golf Coast, but would say his favourite courses played are Kingsbarns and Portrush.