Butch Harmon Says PGA Tour Players Should 'Thank' LIV
Butch Harmon insists that players on the PGA Tour should thank LIV Golf due to an increase in prize money on Tour since the Saudi-backed series' inception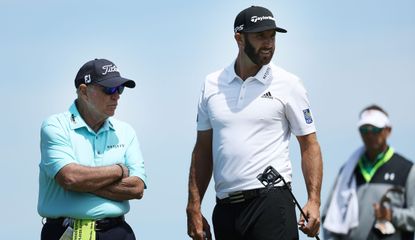 (Image credit: Getty Images)
Butch Harmon has insisted that players on the PGA Tour should be appreciative of LIV Golf and it's players, as he believes that is the exact reason why the Tour has introduced more cash incentives for its players.
"Now I will say this, that the guys on the PGA Tour that have been very vocal against the guys on the LIV Tour ought to thank them because all of a sudden the Tour found $250 million to raise their prize money to get those elite tournaments up to $20 million prize money — oh yes, just like LIV," Harmon said whilst speaking on the Five Clubs Podcast. (opens in new tab)
Harmon also mentioned that he isn't "anti-LIV Golf like a lot of people" and also stated that he was fed up with "all the verbal pillow fighting that's going on" between LIV and the PGA Tour.
With LIV heading into its second year as an operation, their fight with the PGA Tour is still ongoing with very little evidence to show that it will end any time soon as the court case picks up pace.
The PGA Tour is also fighting back financially and has since expanded its 'Player Impact Programme' to 20 spaces for the 'top players' on Tour. This will see $100m dished out between said players. There are also 12 new 'elevated' events with improved purses alongside major tournaments.
Harmon insists that he understands why players jumped ship for LIV, stating: "I think we live in a society of free enterprise. I think you have the right to do anything you want to do. Guys that were offered a lot of money, I would say you would be a fool to turn it down. But you have to understand, and this is true in golf and in your whole life, every decision you make there are certain circumstances that go with the decision.
"The guys that left the PGA Tour to go play in LIV, I have no problem with it, I'll be honest with you. Their circumstances were they knew they weren't going to be able to go back over here and play at the present time, so just stay over here and play."
Harmon's words echoed those from August 2022 when, appearing on his son's podcast - Son of a Butch with Claude Harmon, the legendary coach stated that: "I think the players that went to the LIV — you're probably not going to agree with me on this — they created the problem because they went for the money, there's no doubt about it.
"That's BS about I'm going to play less and I'm going to spend more time at home. No, you went for the money. So just say that. Because the average guy that works — if somebody is in a job and somebody comes up and says I'm going to give you 20 times more money to come over here, they're going to go over there."
Cieran joined the Golf Monthly team having previously written for other digital outlets like Reach PLC and Northern Golfer. After studying Journalism at Northumbria University, Cieran went on to complete an MA at the University of Sunderland. A big golf fan, he currently plays at Blyth Golf Club, where he holds a handicap of 8. Citing his favorite golfer as Tiger Woods, Cieran regards himself as the best snap hooker of a ball in the North of England.