Bubba Watson To Name LIV Golf Team The Range GOATS?
Bubba Watson is pictured with a new LIV Golf team logo ahead of making his playing debut in the upcoming second season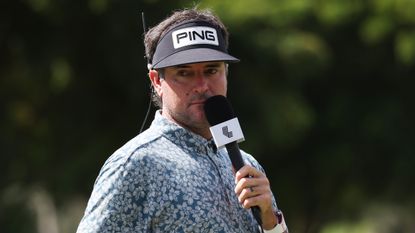 (Image credit: Getty Images)
The second season of LIV Golf is almost upon us and rumours continue to circulate about certain rebranding of the teams involved in the expanded LIV Golf League for 2023.
Bubba Watson for one, who was a non-playing captain of the Niblicks last season, has been spotted wearing a cap that would suggest he has changed his team name to the Range GOATS.
Obviously, everything needs to be taken with the usual pinch of salt, but with the team aspect being the big driver for LIV Golf in this crucial second season, it's imperative that they take off and become as popular as Greg Norman hopes for his franchise model.
Two-time Masters champion Watson is certainly a fan of the team aspect, and he can't wait to get started and finally make his playing debut in LIV Golf after sitting out last season with a serious knee injury.
🚨⛳️#LIVGolf Official: Niblicks GC ➡️ Range GOATs GC pic.twitter.com/pnW3KDsdF3February 2, 2023
See more
And Watson has already been in the headline ahead of the new season by comparing the LIV Golf teams – the all-conquering 4 Aces in particular – to the likes of the New York Yankees and Dallas Cowboys. The comparison did not go down well…
However, Watson insisted that his young son, and young sports fans like him, would be more inclined to watch golf with a team aspect rather than just individual events.
"My son is used to the Yankees, he's used to the Dallas Cowboys, the Kansas City Chiefs," said Watson. "He's used to watching teams, and that's the one thing that golf, high school golf has a team, college golf has a team, and then one of the biggest events in the world is the Ryder Cup, and that's a team event.
"Now that professional golf has a team, we're going to be able to get the below 60-year-olds watching Golf Channel to the 10-year-old who want to watch."
In his press conference Watson also hinted at a new logo and colours for his team for the upcoming season, so it could well be that his young children have had their say in the Range GOATS being formed.
"I think we're on to something with LIV, and that's why I want to be part of it. When my 10-year-old who never watches golf and now watches golf, when my eight-year-old daughter now understands the teams, and she knows my new logo, she was part of it.
"My family was a part of making the new logo and the new team colours. That's what we're trying to do. To grow the game is not getting 60 and 70-year-olds to play, it's getting the young kids to play."
Paul Higham is a sports journalist with over 20 years of experience in covering most major sporting events for both Sky Sports and BBC Sport. He is currently freelance and covers the golf majors on the BBC Sport website. Highlights over the years include covering that epic Monday finish in the Ryder Cup at Celtic Manor and watching Rory McIlroy produce one of the most dominant Major wins at the 2011 US Open at Congressional. He also writes betting previews and still feels strangely proud of backing Danny Willett when he won the Masters in 2016 - Willett also praised his putting stroke during a media event before the Open at Hoylake. Favourite interviews he's conducted have been with McIlroy, Paul McGinley, Thomas Bjorn, Rickie Fowler and the enigma that is Victor Dubuisson. A big fan of watching any golf from any tour, sadly he spends more time writing about golf than playing these days with two young children, and as a big fair weather golfer claims playing in shorts is worth at least five shots. Being from Liverpool he loves the likes of Hoylake, Birkdale and the stretch of tracks along England's Golf Coast, but would say his favourite courses played are Kingsbarns and Portrush.