Classic Darren Clarke interview
A classic Golf Monthly interview with Darren Clarke from 2007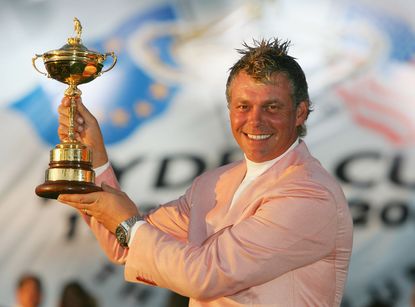 (Image credit: Getty Images)
EVEN during the hardest times you have to laugh. Well, okay, you don't have to, but it certainly helps if you can.
My personal templates to back up this theory are Oscar Wilde and WC Fields. Wilde, knowing he was about to draw his last breath, filled his lungs with as much oxygen as he could, looked up at the group of people gathered anxiously round his bed, glanced at the wall behind them and said: "Either that wallpaper goes or I do." With this the great man closed his eyes on a world diminished by his passing.
WC Fields, the funniest man ever to stride on to a stage or a film set, settled for a scribbled note on which he wrote the epitaph for his gravestone. "It's better than playing Philadelphia" were his final words.
Why all this stuff about death and laughter, gaiety through salty tears, in a golf magazine? Because I am now going to write about Darren Clarke, an outstanding player obviously, but a man now condemned to spend the rest of his life in the shadow of his wife Heather's death from cancer last summer. This shadow will, of course, subside but it will never, ever go away. This is the reality, this is the backdrop to any discussion about where the cuddly, big Ulsterman goes now.
Where he hopes to go, where he is battling to go, is forward. Or at least not backwards. In Darren's case, however, one suspects that while the spirit is willing, the flesh is still terribly weak. Could it really be any other way?
While his performance in last year's Ryder Cup was an exuberant example of high grace under hideous pressure, it was a sporting performance fuelled by adrenalin and supported by his grasping of a vibrantly trivial opportunity to escape momentarily a particularly bleak time.
If this is too much hearts and flowers for any of you then tough. Try even a little to put yourself into Darren's situation and you feel the pain. Either that or you don't have a heart to begin with. I'm sure you do.
Before I chatted with him a well-meaning and sensitive PR guy from his management company ISM urged me not to ask anything about last year and Heather. "He wants to concentrate on the rest of his life, on the beginning of something new, " he said. I understood perfectly.
As it happened, however, Darren wanted to talk about the things I'd been asked not to mention. Why? Because his future, as with us all, will be created out of his past. For the big man to talk only about the future without reference to the recent past would have been dribbling nonsense and although he is as capable of dribbling nonsense as the rest of us this usually only emerges after the eighth, maybe the seventh, pint.
"Obviously last year was a very traumatic year but I've never been one much for excuses. Fact is that I'm bloody frustrated with the way I'm playing golf right now. I know I have the talent to play this game well but I just don't seem to be able to get it out and just do it, " he said.
"It's been a while now since I've really been able to concentrate entirely on my game. The last couple of years have been non-stop medical things with hospital visits and treatments for Heather. Life took on a different perspective for us all. Now, without Heather, it is different again.
"I've said it before but I'll say it again: my sons (Tyrone and Conor) are now my number one priority. So I'm trying to figure out that old work/like balance that haunts us all to some extent. Leading the life of a pro golfer is difficult enough when you have a partner who is taking care of the home stuff.
"Heather was brilliant at that. She involved me in all the big decisions when I was away working but, really, she took care of them, whether it was something to do with one of the boys at school or whatever and so I could rest easy and get on with my job. Now it's down to me and sometimes I wonder if I'm up to it. I'm trying though, really trying.
"Before, if I was filling in a form that asked for my occupation, I'd put down Professional Golfer" but now it would have to be Full-time Father or at least attempting to be."
He is, of course, more fortunate than many who find themselves in his lone-parent position. He has, for example, the money to employ full-time helpers as well as the latest computer technology that allows him to call in via a web-cam to say goodnight to the lads. Cut this how you wish, however, and it remains just a giant sticking plaster for a still very large and very raw wound.
Still, life, as they say, goes on.
"What I know is that I want to get back on track again as a pro, " he said, his voice suddenly toughening up as he expressed this wish. "My desire and my determination to do what I do to the best of my ability are as strong as they ever were. Hence it's frustrating to be playing the way I have been recently. But what else can I really expect?
"Look, I can stand here and beat balls until I'm blue in the face but I'll still lack competitiveness. Practice doesn't make perfect in this game, it just prepares you for the competition and it is this competition that makes you as perfect as you are going to be."
By the time you read this article he, and we, will have a better idea which direction he is presently taking as he moves through his first really serious tournament romp of the year starting with last month's Spanish Open and climaxing with the PGA Championship at Wentworth from where at least he will be able to return home each evening, his house lying within two miles of the first tee of the West Course.
This Mini-odyssey of of intent and purpose will give us all a relevant clue just how the new Darren Clarke is likely to fare. What is for certain is that he faces some serious challenges now if he is to reignite the old fire and find some, if not all, of the old form.
As I write he is around 75th in the World Rankings, a position so lowly he probably never fully realised it existed. For the past 15 years Clarke's pro life has been one of mink-lined cosiness as he snuggled up among the planet's elite and plundered the many treasure chests on offer. Not enough victories for sure but still pretty good and certainly very lucrative.
Prior to Spain, however, his 2007 record reads like the diary of a man tumbling in all the wrong directions at once. Three events played in the USA and one cut made. Five played in Europe and two cuts made. Highest finish 20th (in Dubai). By the time he exited Augusta early he had made £60,000 in prize-money for his year's work. Not bad by mortal standards but take out the expenses involved and it doesn't add up to enough to pay his annual cigar bill.
"No, you're right enough there, " he laughed when I pointed this out. "It's a good job I've made a few bob out of years past isn't it? I've found it very weird to find myself watching World Championship events instead of being there. I feel as though I've lost the key to a big door and I know I want to get back into that special place again."
There is, of course, at least a small chance that what Darren has been through over the last few years may yet work in his favour as a competitor. Either that or it will break him. My own suspicion is that a head that too often was filled with harsh self-criticism may
now be freed up to allow a prodigious natural talent to blossom fully.
Too often in the past he has got down on himself when everything was not fluttering perfectly around him. Now, if he knows nothing else, he knows that all this golf stuff does not matter much of a damn, that there are indeed many more important things in this life as he approaches his 39th birthday.
This may be a crucial move. Certainly he offers a hint that he has moved in exactly the right direction when he says: "I am trying very, very hard not to be too hard on myself. But, you know me, I find it hard."
This wonderful piece of Irish whimsy is delivered with a throaty giggle that is good to hear. Seizing the moment, I decided to slip in the big question.
Where the hell did he get that suit he wore on the BBC Sports Personality Of The Year show? It was appalling, the sort of shiny thing even Shane Fenton and The Fentones might have rejected years ago.
He paused before answering and then gave it to me straight…"Och now, be fair that was a great suit. All I will admit is that the one I later saw me wearing on television didn't bear much resemblance to the one I thought I was wearing when I left the hotel for the show that evening."
Bill has been part of the Golf Monthly woodwork for many years. A very respected Golf Journalist he has attended over 40 Open Championships. Bill was the Observer's golf correspondent. He spent 26 years as a sports writer for Express Newspapers and is a former Magazine Sportswriter of the Year. After 40 years on 'Fleet Street' starting with the Daily Express and finishing on The Observer and Guardian in 2010. Now semi-retired but still Editor at Large of Golf Monthly Magazine and regular broadcaster for BBC and Sky. Author of several golf-related books and a former chairman of the Association of Golf Writers. Experienced after dinner speaker.